With over 20 years experience organising trips to the mountains, we know they're a great place to unwind. Flexiski can take all the hassle out of a group ski break and leave you to simply enjoy the good stuff.
Great wine, good books and amusing stories, some things are just meant to be shared and a ski holiday is no exception. With great company and excellent après alongside friends and family, group ski holidays are one of the best ways to enjoy the slopes. Group breaks can be the highlight of your year and there's plenty of reasons why.
Group freedom
With a larger group, it strangely makes it easier to do the things you want to do. The group can easily split into smaller groups if some want to party and others want a quiet night in. If you have different abilities it's easy for some to go on extreme adventures such as Heli-skiing in Canada whilst others chill out on the mellow slopes and you can still meet up for lunch. As long as you pick the right resorts you'll get a great mix of options that the whole group will enjoy - this is where our ski specialists knowledge comes in to take the hassle out of selecting the right resort for you. Let us know what you want on a ski trip and we can recommend places you'll love.
Learning together
Now we all know group après is great fun and roaming around the mountains with your mates is a blast but we think it's learning as a group that you see the most benefit. Whether you're just a little rusty after a few years off the slopes or it's your first time on skis having a mate or two to laugh through all the falls, mishaps and aching legs is invaluable when getting to grips with the mountain. Even if it's just to boost your confidence you'll be half way there before you start.
Offers and group savings
There'll be plenty of savings you can make on a group booking, especially if you book early. We regularly roll out some early booking offers you can take full advantage of such as BOGOFF equipment, per person discounts or chalet incentives and we have dedicated group offers as well.
For every 9 lift passes you book, we'll throw in a tenth for free - call it goodwill
Taking the hassle out of a group booking is where we come in. We can tailor make any duration for any dates you require. Avoiding peak dates such as New Year and Half Term is always a little easier as well as considerably more pocket-friendly. Give our ski specialists a ring on 0208 939 0862 and they can talk to you about the best options available.
We can offer anything from accommodation to the full package with flights, transfers, lift passes, equipment hire, restaurant bookings, dog sledding, off-piste guiding, or anything else you fancy. You're on holiday after all.
Have your own space
Depending on your group size, you can hire out a whole chalet and have your own private lounge or go for a hotel with a decent spa to relax in after hitting the slopes each day. Our new self-catering apartments offer another alternative, many of them have all the facilities of top hotels yet give you the communal space and freedom that makes chalet holidays so great.
Where should we stay?
Choosing where to stay can be the hardest part for friends and family to agree on, it's difficult to find somewhere that will keep everyone happy. Big ski areas are always good as they offer a range of pistes to suit all abilities, après is another popular request with lively resorts drawing the majority of our groups. Also having something for the non-skiers in the groups is definitely on our radar. With all that in mind here are some of our top recommendations for groups.
We will tailor your trip based on the requirements of the whole group as well as individual needs, so whether you've been skiing since you could walk, or are a complete novice, everyone can join in the fun. Organising group ski holidays for over 15 years, we can advise on the best resorts for your group, find accommodation to suit your budget and book all aspects of your trip to save you any hassle. 
Our top 3 resorts for group skiing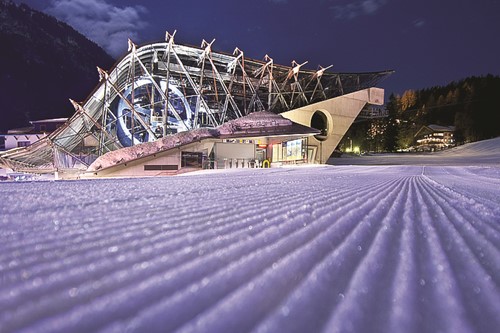 ST ANTON
Austria
Consistently amongst our most popular resorts, it's not hard to see why. For groups, a major draw is the lively après, slopeside huts turn up the Europop and distribute some serious amounts of beer. We wouldn't be surprised if someone told us it's here on the slopes of St Anton where ski shoe clad table dancing originated. Besides its party reputation, St Anton has a great town with facilities such as climbing walls and wellness centres open to the public so there's more to do if you want a quieter evening.
The ski area was joined with Lech and Zurs last season 2016/2017 which opens up a huge area to ski without the need to catch a ski bus. St Anton itself may be more suited to the adventurous intermediates but the areas around Lech have plenty for beginners and those wishing to take it easy as well. In summary, it's a winner for small and large groups a like.
MERIBEL
France
Ingrained in the English psyche, whilst Courchevel is unofficially tagged the Russian resort, Meribel is quite certainly the English village within the three valleys. It's how you'd imagine a ski resort to look, full of low rise, chalet style buildings only interrupted by evergreen trees and mountains. Sandwiched between Courchevel and Val Thorens, Meribel is the heart of the largest linked ski area in the world. Pop over to Courchevel for some mellow skiing or Val Thorens for some high alpine steeps, The central valley has plenty of tree lines to explore and enough skiing to keep everyone occupied.
The nightlife is also present with après venues such as the Rond Point or the Folie Douce to wet your appetite in style, it continues down in the town. We have a number of hotels on the slopes here that make for great group skiing destinations try the L'Eterlou if you're looking for great facilities and a wicked location.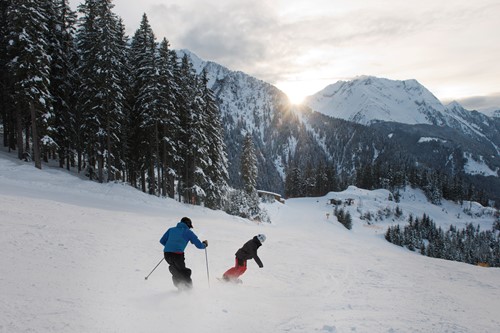 MAYRHOFEN
Austria
Mayrhofen hasn't been part of our programme for long but has firmly established itself as a big group favourite. The resort follows a similar line to our other popular group destinations in the sense that the après ski is top notch with loud music and flowing drinks. The Ice Bar is popular straight off the slopes complete with polar bear mascot, there's plenty around here to branch out to. The Bruckenstadl is great if you fancy a live band or if you feel comfortable hurling darts after a few beers then head to Scotty's Bar with a more laid back seasonaire vibe.
The resort has great links with plenty of ski areas in close proximity and most are included on the lift pass so it's well worth a day trip to some smaller areas. Kaltenbach & Hochfügen are 20 minutes away by tram and you'll have empty slopes your group can claim as their own.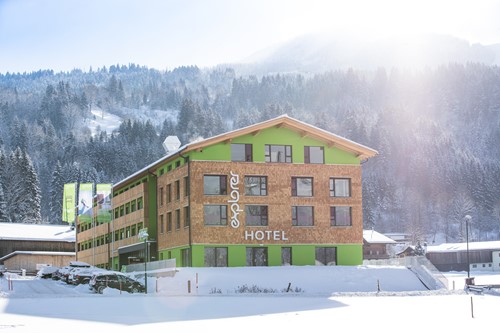 Our top hotels for group skiing
Some hotels are far more flexible when it comes to groups than others. Here's a couple that we have a great relationship with and they love the idea of group skiing as much as we do.
Hotel Banyan, St Anton - Austria
It's not the biggest hotel in St Anton by a long way, in fact, it has less than 50 rooms but sat just off the main street, within easy walking distance to lifts, bars and restaurants, it's a definite group winner.
Hotel Terrace, Engelberg, Switzerland
Engelberg is one of our most easily accessible resorts for a short ski break and the skiing doesn't have as strong a reputation as it deserves. When the hotel throws in the lift passes with each room who can say no?
Explorer Hotel, St Johann, Austria
Brand new to flexiski it's right next to the slopes and the hotel concept is one of simple and comfortable convenience. Walk to the lifts or the town and it's 10 minutes from Kitzbuhel as a little bonus.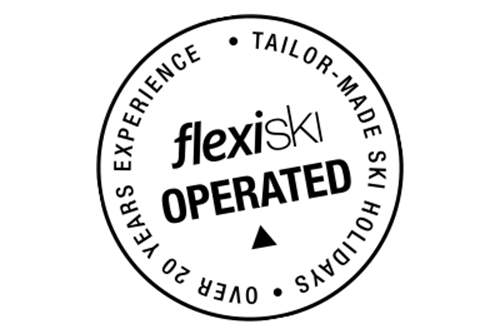 Our ski chalets
The flexiski operated stamp of approval means the chalet is operated by our own team of staff. What that means is that you'll get excellent service throughout your ski holiday. There are currently four flexiski operated chalets on our programme across Europe of varying sizes, all of which are perfect for groups. Find out more about our chalets below:

- Chalet Amalien Haus, St Anton - sleeps 30
- Little Haus, St Anton - sleeps 8
- The Retreat, Morzine - sleeps 14
- Chalet des Cascades, Les Arcs 2000 - sleeps 14
What's the best time to book?
For groups, it's always better to start organising early on. Especially if you are looking for a weekend break. Weekends tend to get booked up early and whilst there may still be available for small groups of 6 for example, anything over 10 and you'll be struggling by the time November comes around. Flights also only tend to go up as it gets closer to your departure date, group rates can be very good if booked in advance. So in general, the sooner-the-better, peak dates can get booked up a year in advance. It doesn't hurt to get the ball rolling now, it'll make life easier in the long run.
What's the price of a group ski break?
The price of a group ski break can vary dramatically, anything from around £500 per person up to, well a lot more than that. There are also group incentives to take into account such as every 10th lift pass is free when you book with flexiski. To get a better idea of possible costs, take a look at our example prices on our group ski break page.
Where is the best après ski?
Having a lively après scene can be a big draw for a group ski break. Even if the whole party doesn't want to party each evening you're almost guaranteed to have a few amongst you who do. Even if you don't fancy dancing on the tables, having a little life in resort makes for a much better atmosphere all round. It's why places such as St Anton and Ischgl are perennially busy with groups of friends. But where are the best resort for arpès, where are the hidden gems? Take a look at our blog post on the best resorts for après ski and pick which resort you fancy most.
Newsletter signup
Keep up to date with all the latest flexiski news