The idea of a holiday apartment is to have complete freedom and flexibility during your stay, yet, the suggestion of self-catering ski apartments may conjure up ideas of dingy and cramped, French purpose built concrete blocks, not the most appealing of prospects.
However, times are changing. Or indeed changed. Apartments all over the Alps are significantly better, it's not just improving the existing, its new builds too; planned for luxury, built for convenience and run on flexibility. At flexiski, we've visited plenty over the summer (2017) and have put together some of our favourites. Apartments for short transfers, reliable snow records, proximity to pistes or town and all without forgetting comfort.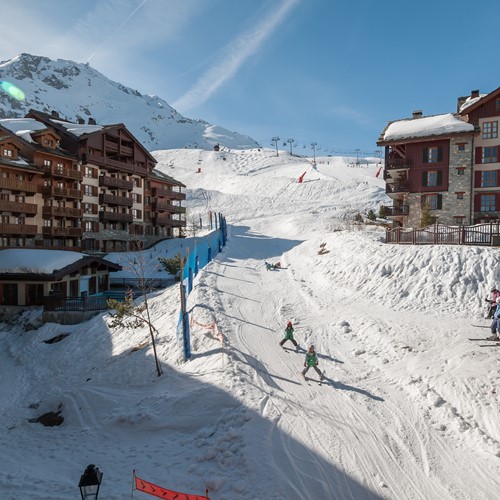 5* Le Village Apartments Arc 1950 - Les Arcs, France
With a heavy influence from the North American ski model, Le Village Apartments are a village. You can ski through the centre making each building ski in, ski out. Your own little winter retreat, complete with 4 heated outdoor pools, hot tubs, sauna, hammam and a fitness studio. Bars and restaurants are also dotted around the village, there's very little walking to do here if you don't want to.
From one bedroom up to four bedroom apartments sleeping up to 10 people.
What you may like:
Ski in, ski out village with heated boot rooms opening onto the slopes
The facilities, from the 4 outdoor pools to the 1000 square metre Deep Nature Spa with ice and volcanic caves as well as massage and beauty treatments
Having your own spacious apartments with great service from the lobby area staff
The altitude screams snow reliability, you shouldn't struggle for snow during the fringe seasons
Prices start from £56pp per night, accommodation only based on two sharing. For a full quote give our ski specialists a ring on 0208 939 0862.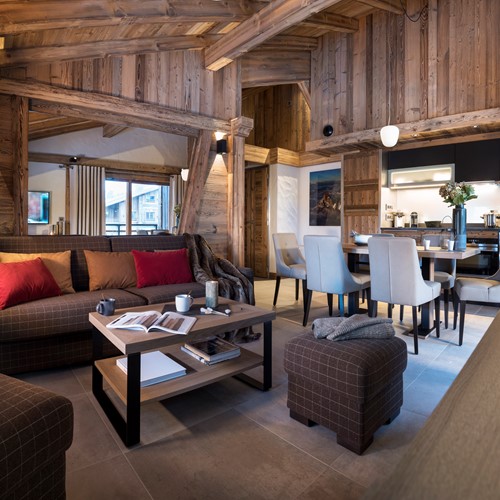 5* Le Cristal De Jade Apartments - Chamonix, France
Bringing a lot of luxury to Chamonix's self-catering scene. The modernist design with its clean lines broken up with plenty of wood, soft furnishings and clever lighting to give a refreshing alpine chalet sort of vibe. Split across three buildings you're right on top of the off-piste Aiguille de Midi lift and Chamonix's centre is a pleasant stroll across the river.
Apartments sleep from 2 up to 8 people and start at a whopping 40 square metres - twice the space of the average hotel room.
What you may like:
The centre building houses some swanky facilities including indoor pools, sauna, hammam, hot tubs and a gym open to all guests from 10am - 8 pm
Grab tea and biscuits on your way to the slopes with a complimentary station by the boot room
Chamonix's town centre is a three minute walk away and the ski bus stops right out front
Bakery delivery service, you can collect your fresh pastries at reception where you can also pick up the daily newspapers - it's a tough life
Prices start from £59pp per night, accommodation only based on two sharing. For a full quote give our ski specialists a ring on 0208 939 0862.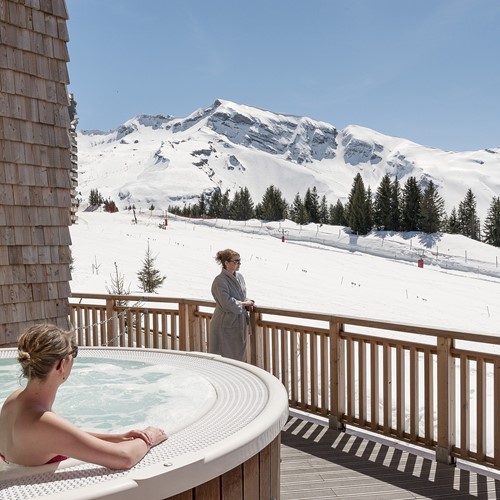 5* Residence L'Amara - Avoriaz, France
Another top Pierre & Vacance property just like Le Village Apartments Arc 1950, Residence L'Amara has some top facilities with numerous pools, wellness facilities and a Deep Nature Spa. Five buildings complete the residences, there's a roaring fire in the lobby and each are ski in ski out. The view here sets it apart, fantastic panoramas down the Morzine valley as well as south facing balconies to make the most of the sun.
Apartments range from one to four bedrooms sleeping up to 10 people as the lounge has a sofa bed.
What you may like:
Every apartment has a balcony or a terrace to enjoy some outside space
Ski in, ski out location 10 minutes walk to the ski school meeting point though it's quicker to ski there
Extras include a shopping delivery service and a pre-bookable fresh bread and pastry delivery
There are two restaurants as well as a bar on site if you don't fancy cooking
Underground parking is available
Playstations are available to hire if you feel the urge for some button bashing
Prices start from £69pp per night, accommodation only based on two sharing. For a full quote give our ski specialists a ring on 0208 939 0862.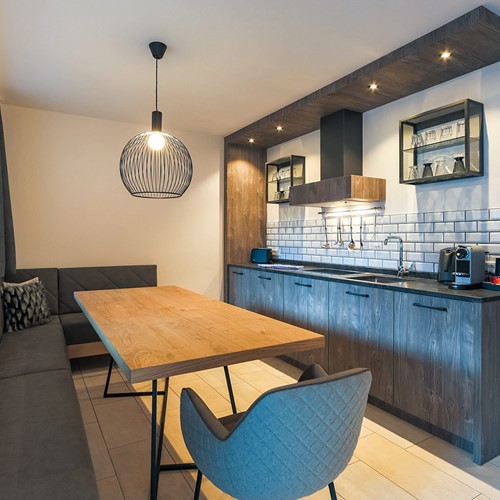 4* Avenida Panorama Suites - Kaprun, Austria
Part of the Alpin Rentals group known for their beautiful luxury apartments in some cracking locations the Panorama Suites are no exception. A slight cheat in the fact that these are actually on a bed and breakfast basis, however, you still have a full kitchen and plenty of private space. You may even find a bath on your terrace - not a bad spot to enjoy the views.
One to four bedroom apartments, you can even bag yourself a private sauna
What you may like:
Facilities such as the sauna and steam room are free to use as well as heated ski and boot lockers for each apartment.
The first stock of the mini bar is free to eat, drink and share, including the alcohol
Complimentary shuttle bus runs from 8am - 5pm taking you to the slopes or town
Nespresso machines in every room
Modern industrial style softened by natural materials including birch pillars and live moss walls
Delicious afternoon biscuits, well worth getting back from the slopes for - that's our opinion anyway, we have a weakness for a good bake
The staff have an in depth knowledge of the ski area, tap them up for some insider knowledge
Prices start from £103pp per night, accommodation only based on two sharing. For a full quote give our ski specialists a ring on 0208 939 0862.
North American ski apartments
If you want to look across the pond there are plenty more ski apartments available in Canada and the US. It's a more common form of ski accommodation over there and plenty of the hotels also offer a kitchenette or full kitchen if you fancy rustling up some evening meals or even just a bowl of cereal and cup of tea in bed each morning. Take a look at some of the following, but there are plenty more options out there:
3* Coast Blackcomb Suites - Whistler, Canada
4* Delta Whistler Village Suites - Whistler, Canada
3* Coast Sundance Lodge - Sun Peaks, Canada
4* Juniper Springs Resort - Mammoth, USA
5* One Ski Hill Place - Breckenridge, USA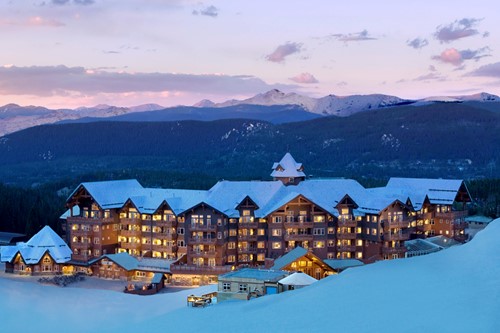 What should I expect from a stay in a ski apartment?
Our ski apartments err on the side of luxury, plenty of storage space for all your baggage in the bedrooms, ample kitchen to be able to comfortably rustle up some home comforts or experiment with new ingredients. The lounges are full of mod cons with HD TV's and WiFi seemly a universally standard, Nespresso machines are constantly cropping up and outside space is taken for granted. They're certainly places you could see yourself having or outright love to have as your own home.
Facilities are a draw for hotels, however, all our apartments have access to a range of decent facilities. Saunas and steam rooms, gyms even pools in some with lounges and bars a common occurrence. Staff are on hand to offer ski route advice or help out with any issues you may have. Morning bakery deliveries aren't uncommon, you can wake up to straight out the oven goods on mornings of your choosing as a little luxury.
If you're thinking about your food situation, apartments give you complete flexibility. You're not limited to hotel set menus all week or their own brand of muesli in the mornings. You can explore the restaurants and taste the local delicacies and, if you fancy putting your slippers on one night, the kitchen is at your disposal or order in a pizza. There's something exciting about heading to a French boulangerie in the mornings grabbing freshly baked almond croissants and a creamy espresso, something you just can't get at a buffet breakfast.
What dates and duration's can I book an apartment for?
Self-catering apartments are built around their flexibility so you can realistically go for any duration on any date throughout the season. Within reason of course, one night on the 31st December may be pushing it. We'll tailor make your trip for you, whichever time of flight suits you best, whether you'd prefer private, shared or even train transfers in some cases, we can put together a ski break based on your requirements.
Why choose an apartment over a hotel or chalet?
You get your own space. A full kitchen and dining area with a living room with actual sofas and HD TVs. Make coffee when you want, lounge about on the sofas or take a glass of wine out onto the balcony. Generally being smaller than chalets, apartments are perfect for smaller groups and families as you won't have to share the communal spaces with strangers and all our apartments have the facilities you'd expect from great hotels. It depends on what you're looking for from a ski break. Ski apartments will give you more space, more freedom with plenty of convenience, plus, they're full of home comforts and great design.
Newsletter signup
Keep up to date with all the latest flexiski news