5 reasons to ski Breckenridge, Vail and Beaver Creek
Back in December I packed my bags and headed off for the distant ski slopes of Colorado. This multi-stop trip involving 2 nights in Breckenridge, 3 nights in Vail and 2 nights in Beaver Creek is a very common ski holiday for us as a ski company, as we firmly believe that if you're travelling that far, you should experience as much as possible.
And that's what I did.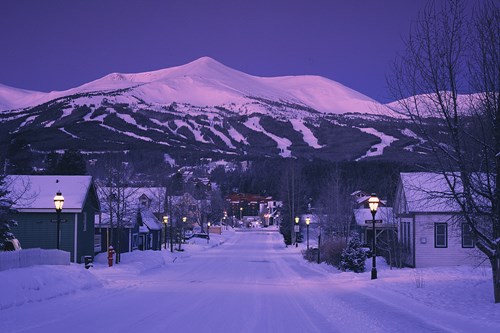 The location
I was surprised to see just how close the three resorts of Breckenridge, Vail (pictured below) and Beaver Creek are to each other. Flexiski currently offer accommodation in Breckenridge and Vail but a day or evening trip to Beaver Creek is certainly not out of the question. Whilst you can't ski between the three, the transfer between Breckenridge and Vail takes 45 minutes and between Vail and Beaver Creek only 20 minutes. This is all also made considerably easier by the fact that you can pick up equipment in one resort and drop it off at another and there's one lift pass that covers all three areas – the epic pass.
The variety
The size of ski area, variety of slopes and ski village atmosphere differ hugely from resort to resort...
Breckenridge, the middle of the three resorts in size, is home to 2908 acres of skiable terrain and 187 trails, accessible by 34 lifts. Main Street is where the majority of the off-mountain action happens and has a really lovely, authentic feel to it – it's home to one of the prettiest Starbucks I've ever seen. You get the feeling not much has changed since everything was built 100 or so years ago, and that's a good thing.
Vail is the largest resort, boasting 5289 acres of skiable terrain with 195 trails accessed by 31 lifts. Here alone you've got two very different villages – the more relaxed, après geared Vail Village and the quieter, slightly higher-end Lionshead Village. Both have comparable access to the mountain and if you don't fancy a 15 minute walk, are connected by an easy to use, free shuttle that runs on a constant loop for most of the day. For me, a choice between the two of these would come down purely to the type of accommodation you were looking for. Both villages have plenty to offer.
Beaver Creek, the smallest of the three resorts with 1832 acres, 150 trails and 25 lifts, didn't earn the slogan "not exactly roughing it" for nothing. As a whole, it's an upscale resort with 5* hotels taking the main stage but you will be pampered, smiled at and welcomed by friendly people everywhere you go. Rumour has it that at 3pm every day they serve freshly baked, warm cookies at the base of the mountain. It's that kind of place.
For me, the beauty of the North American resorts I've visited is that whatever the ability of your group, you can all catch the gondola up together and ski down your separate ways. Beginners aren't restricted to the flat slopes at the bottom of the mountain – almost everywhere I've been, I've been able to ski a green run top to bottom which is a huge bonus for me. I haven't looked at every route in every resort, but in Vail at least, there is a green, blue and black run down from all of the major lifts.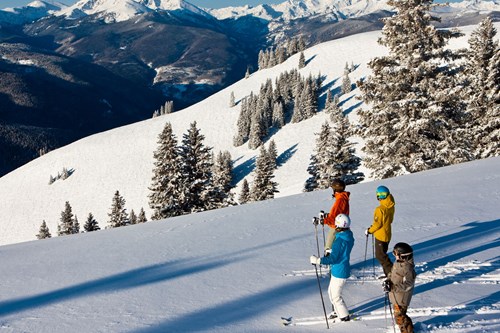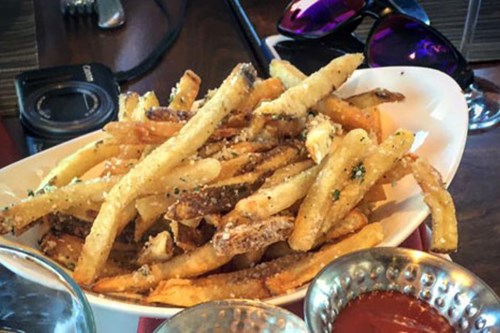 The food
As to be expected in America, the food is tasty and in abundance, but special mentions must go out to the following places:
The Hearthstone, Breckenridge. The best way to describe this would be someone's home that's been turned into a fine-dining restaurant; the atmosphere is warm and relaxed and the food is to die for – especially the lamb. I could easily have returned here again during the trip had we not got so many other great dinner plans.
The 10th, Vail. This ski-in ski out bar/restaurant in mid Vail (accessible via gondola one from Vail Village for non skiers) is a must, if only for their truffle fries. It's the perfect place for a late lunch; have a tasty bite to eat and enjoy a glass of wine or two before setting off for the last run of the day. As a slightly odd aside, the 10th is elevated to must-visit status due to it having one of the best cloakrooms I've ever come across. Hang your coat and helmet, swap your boots for a pair of fluffy slippers and make full use of the toilet amenities to sort out your helmet hair and ski face. It's the only time I looked half-decent at lunch for the entire trip.
Beano's Cabin, Beaver Creek. In the winter the only way to get to Beano's Cabin is a 20 minute open air sleigh ride pulled by a snow CAT. That alone is an experience, but the roaring log-cabin fires, mountain side location and outstanding food make this an experience not to be missed.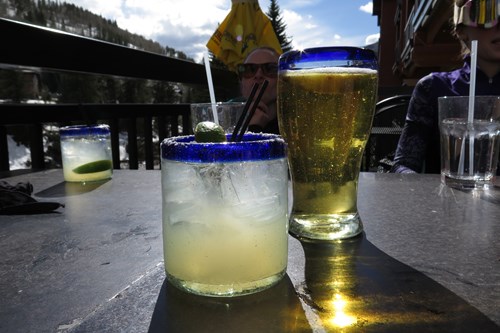 The après
We didn't go to one bad bar on the whole trip. There are some really good places across the three resorts to head to for après after a day on the slopes, but some of my favourites were in Vail:
Garfinkles, Lionshead Village. Purely on this list for its convenient location next to the lifts at Lionshead Village and its sun deck overlooking the mountains. Sitting outside and enjoying a drink as the sun goes down after a day on the slopes is one of the best things about skiing. Garfinkles does it well.
Frost at The Sebastian. A fancy place with a cool vibe for some well-made pre-dinner/night out cocktails... or a bottle of Prosecco.  
The Red lion, Vail Village. One of my favourite places for après in Vail thanks to its great atmosphere, local beer and live music – what more can you ask for?
The people
Customer service is something that seems to be ingrained in every person you come across here - picking up your equipment, queuing for a lift, checking into your hotel, being talked down your first blue run - I've never been anywhere where people seem so willing to go out of their way to make sure you're having the best time.
On my last day, I was having a break halfway down a run when the ski concierge who'd handed my boots to me in the morning skied past, stopped, said "hey Miss Rossi" and asked how I was enjoying my day. It's this level of service that makes people return year after year and why I'd jump at the chance to get back there.
Find out more about ski holidays to Breckenridge and Vail or call us on 020 8939 0862.