Italian skiing with an Austrian twist - Selva
Selva sits at the head of the Val Gardena Valley, arguably the best gateway to the Sella Ronda circuit. It's a town surrounded by beautiful limestone peaks and seriously good skiing as well as incredibly tasty food. New to us this year (2017/18), we added Selva to our programme after a few from the office went out there on holiday in 2017 (we went separately). I went out with my girlfriend, just the two of us, and I'd happily say it's the best place I've skied in Europe - I preferred it by far to the Three Valleys and Tignes Val d'Isere. Now, I'm not saying that'll be the same for everyone, but here's my verdict on Selva Val Gardena.
7 reasons why I loved Selva Val Gardena: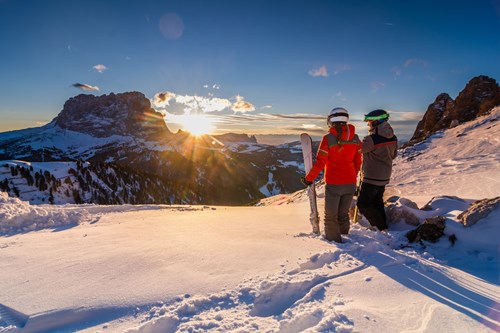 The scenery
To say the area is beautiful is an understatement. You are completely surrounded by limestone eroded from its full height into craggy peaks, cliffs and monoliths tinged pink at both dawn and dusk. There's a real sense of epicness when you're skiing around the Sella Ronda in particular. From the village the Sassolungo provides some breath-taking views to enjoy whilst sipping on an Aperol Spritz or some warming cocoa.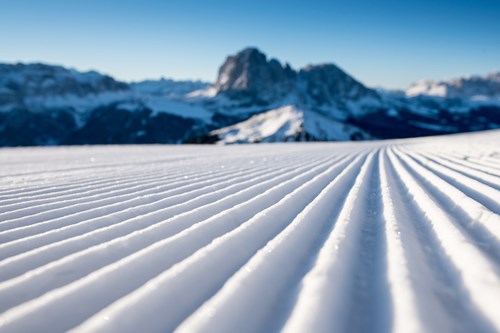 The extensive ski area
The 3 Valleys may be the largest linked ski area in the world at 600km,  but, the Sella Ronda has a pretty impressive 433km of piste all linked up - punchy. There are further pistes totalling 1,200km on the lift pass, more than you could possibly cover in a month let alone a few days. It's a huge area and exploring different parts and routes means it feels new every time. If you're a decent skier getting all the way to Lagazuoi and the hidden valley is well worth the effort. You may have to hop a quick bus or taxi at the other end of the Sella Ronda but it's worth it when you're treated to some 'holy-moly-that's-incredible' views followed by a gloriously long red run through sheer cliffs and frozen waterfalls to the waiting horse and cart at the bottom to drag you back to the main ski area.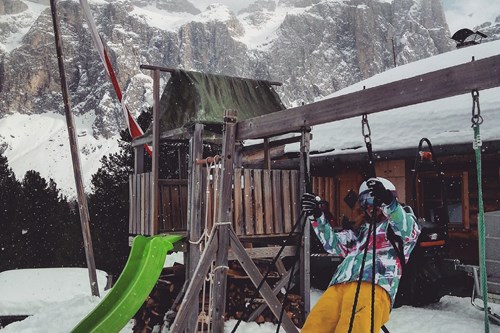 The heritage
Large parts of the area were formally part of the Sud Tirol and the region retains much of its Austrian heritage. This trickles down to language as German is still more widely spoken than Italian and with place names; many villages have two, Selva-Italian or Wolkenstein-German for example. Après ski lends itself to the Austrians as well; Piz Seteur regularly seeing table dancing and huge beers before the ski back to town. Though don't miss the more relaxing sundowners further down the mountain at stops such as Valentini with delicious bombardinos to tuck into. Perhaps the most notable Tirolean influence is the food, Austrian hearty-ness with a refined Italian influence. To die for.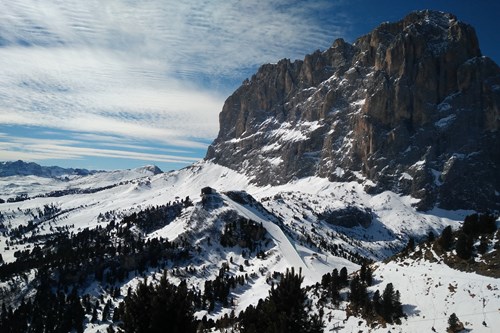 The Sella Ronda 
This is the ski circuit the Dolomites are famous for. It's essentially a ring around a giant monolith that you can ski in either direction. It'll take you a few hours to complete and it's best in a clockwise direction for more time on the slopes and less time on the lifts. It also means you can make a pit stop in Alta Badia for lunch (for reasons mentioned in another point). We skied it in both directions and it's fantastic if you're the type of skier who likes to cover some serious ground without repeating a single slope all day. Plus it's an intermediates dream, nothing too challenging around here, just nice cruisy runs to enjoy.
The artificial snow cover
A quick but important point. Over 90% of the pistes are covered by artificial snow cannons. That means that even when the snow is scarce, the pistes will be perfect and you'll be able to ski pretty much the entire 433km. This doesn't cover off-piste and this is the one downfall to the area, off-piste isn't great or even banned in many parts. But you won't miss it.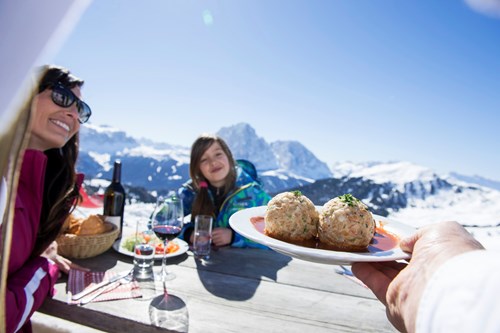 The on-mountain dining
I've mentioned food above with its Austrian influences and Italian refinement. But it's definitely worth repeating. Alta Badia is a region steeped in amazing grub. There's even a gourmet ski tour you can take through a series of mountain restaurants between La Villa and Santa Croce (just above Badia) a great way to try some of the local Ladin specialities, there's even a little brochure to go with it all. But in general the standard of food is outstanding and unlike the big French resorts, it won't cost you your kidneys - more on that below.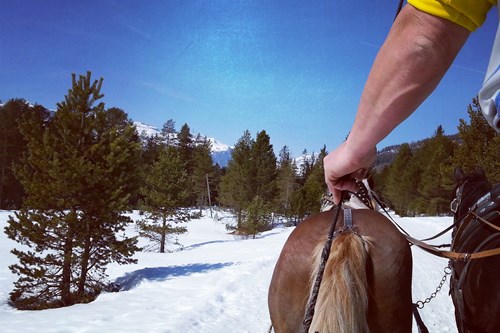 The price
Skiing has a reputation as expensive. And this is mainly due to the big French resorts of the Swiss exchange rate. It certainly seems to be different in Italy. The house wines seemed to be universally lovely and around 10-15€ for a litre. Coffee is around 2€ and you can pick up a freshly prepared pizza made-to-order for about 6€. It's certainly easy on your pocket and it makes a big difference when in resort; you won't get lumped with an excessive credit card bill when you return home. Well unless you are excessive of course.
If you fancy hearing a bit more about Selva or Italian skiing in general, give our ski specialists a call on 0208 939 0862 or take a look at our offers page for some guide pricing.