A Guide To Skiing In Chamonix
Boy we love Chamonix here at Flexiski, if it was ski in, ski out on beginner slopes it would be the king of resorts, the resort with it all.
The skiing itself has a fearsomely challenging reputation; a resort for the veterans, the bolshie youths and the foolhardy, not those strapping on their skis for the first time. However, this is not quite true. It just depends on how you look at the resort and its wide range of ski areas. Where Chamonix certainly doesn't lack is for those wanting something more, as a year round town it's plenty big enough and charming enough for a city break regardless of the skiing, an adrenaline junkie's playground with all things outdoors and the après to boot.
This is why we love it - streets lined with eateries, atmosphere and charm, slopes armed with steep chutes and, as you are about to find out, plenty of varied terrain, abundant white stuff and slick grooming. But we also love it for the fantastic hotels with flexibility that would fit a giraffe into a match box.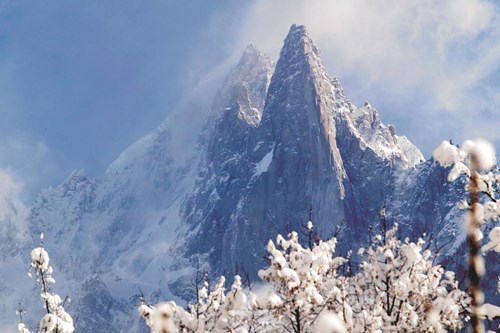 A guide to Chamonix's skiing - for everyday skiers
With the valley of Chamonix at a fairly low altitude of 1,035m and the peaks reaching 3,840m with lifts towering over 3,000m there is plenty of vertical descent to explore and find the slopes you are looking for. From dramatic glaciers, peaks, steeps and colouirs of the Aiguille du Midi and Grands Montets to the rolling hummocks of Domaine de Balme, Chamonix is a resort of many faces and we're here to de-mask its delights.
All of Chamonix's ski areas are linked by the bus and train system that is included in your lift pass so there're no hidden costs there.
I'll focus on splitting the mountain between complete beginners to improving beginners and the more adventurous beginners, intermediates and advanced skiers/riders. Showing where you should be looking to ski depending on your or your group's abilities. After all, no one wants to be staring down what looks like a black cliff when you're trying to find a cruisey blue to start your day off. So here we go.
Learning to ski or getting your ski legs back? Take a look at these ski areas:
Domaine de Balme - Le Tour and Vallorcine
At the bottom of Le Tour there is a beginner area serviced by three drag lifts of various lengths and speeds that lead to wide green runs with wonderful views of the Le Tour glacier and if you go up the bubble you get to an area full of blues and even a red or two if you feel up to it. It's a wonderful area for progression or getting your ski legs back at the start of a ski break. A nice spot to take it easy, with a couple of mountain restaurants for lunch. At the top of the valley, this area goes up to around 2,200m and has 29km of slopes.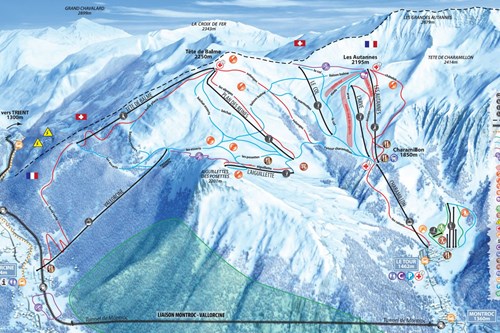 From Chamonix town
Le Savoy
At the bottom of the Brevent ski area, the beginner area is serviced by two drag lifts and a magic carpet for getting your first turns in. The area being linked to Brevent means if you have some more advanced skiers in your group you can ski the same area and easily meet for lunch.
Les Planards
This area is the opposite side of the river with a couple of drag lifts to take you up to the green runs as well as a chairlift for a blue and a red piste to progress to. The restaurant has a large terrace at the bottom of the slopes meaning non-skiers can watch all the action with a mug of hot chocolate in hand.
Grands Montets
Les Chosalets, at the bottom of the Grands Montets ski area, offers a nursery slope as well as a gently meandering green run from which you can see the cable car to take you higher up the mountain to some longer blues. A little inspiration to improve your technique. Chamonet.com recommend taking the Plan Joran gondola and then the Tabé chairlift to access some blue pistes taking you back down to the Retour pendant and Tabé chairlifts. These runs are the best to progress on but can be challenging in parts (make sure you're ready). Take the gondola back down rather than try to ski the reds down the mountain.
Getting a little more adventurous? Trying some of these areas could be right up your street:
Le Brevent and La Flegere
Reaching 2,525m, this is Chamonix's largest ski area with 57km of pistes and 15 lifts. On the sunny side of the valley and close to the town centre the area has a wide variety of runs from cruisey blues to long steep blacks as well as access to some challenging off piste itineraries. It's easy to enjoy this area with a group of mixed abilities just make sure you're confident in your turns before heading up.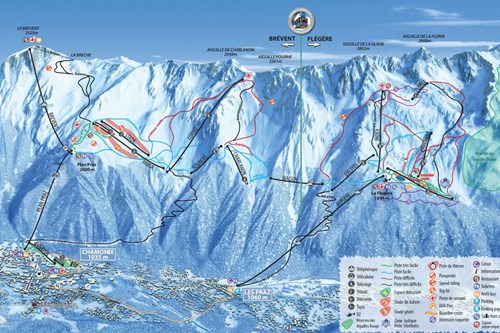 Domaine des Houches
6km down the valley from Chamonix centre, Les Houches is the home of long, rolling descents through the trees with fantastic views up the valley. A wonderful area full of mountain restaurants tucked between the trees and served by runs for all abilities. There are 4 black runs, 13 red runs, 8 blues and 2 green runs spread over 55km of pistes including a world cup downhill slope.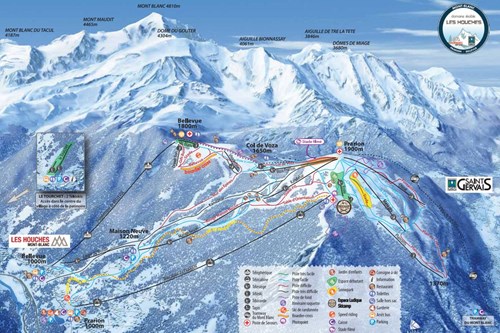 For those looking to really test their metal (it's easy to do in Chamonix) take a look at the following ski areas:
Les Grands Montets
Above Agentière, up the valley from Chamonix town and with a reputation for offering some of the most challenging pistes in Europe - it's a big draw for thrill seekers but can often see long queue lines on powder days. However, it can be worth the effort due to the sheer number of descent combinations that are on offer as well as its height - rising up to 3,275m with North facing slopes holding their snow well into May. Along with the 29km of pistes, there's plenty of off piste to discover with a guide. A great area for some deep exploration.
Aiguille du Midi - Vallee Blanche
Whilst there are no pistes from the top of the Aiguille du Midi this is an area full of world famous off-piste itineraries. Hire a guide and, weather permitting, you can scale the ridge from the top of the lift into some fabulously long runs. Routes range from intermediate to highly advanced. Taking a guide will allow you to thoroughly enjoy some spectacular scenery on your 4 to 6-hour descent. Not a bad days skiing at all.
So there you have it, a little guidance to show that you can still learn to ski, progress your technique and test your nerve in a variety of ski areas with the one lift pass. Chamonix isn't just for the foolhardy, there's plenty to enjoy for all.
And if you think you've conquered the mountain already there's always more to discover - take a look at the Rossignol Ice Call Backyards Project with Sam Favret through Chamonix's Mer de Glace:
If you're interested in a potential trip to Chamonix our ski specialists will be happy to have a chat on 020 8939 0862 or send us an enquiry online.