Day Trips From St Anton For Non-Skiers
For non-skiers staying in St Anton or those fancying a day off the slopes, the city of Innsbruck is an often forgotten gem. Its name derives from the German word Brücke meaning "bridge" which leads to "the bridge over the Inn". There's plenty of things to do in St Anton for non-skiers but a day trip to Innsbruck can beat them all.
Innsbruck is an hour from St Anton by train and you've probably already seen the pictures of the pastel coloured buildings dramatically lining the waterfront - there's plenty of things to do for non-skiers and if someone in the group can't go without skiing for a single day there are 9 ski resorts to choose from surrounding the town (or leave them in St Anton).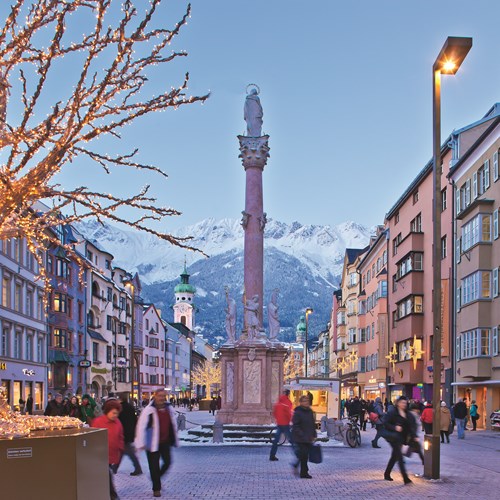 A Day trip to Innsbruck from St Anton
As the capital of the Tyrol region, Innsbruck is internationally famous for winter sports, especially after hosting the first Youth Winter Olympics this season. The beautiful city has many historical buildings and a truly friendly ambience. As it is only an hour or so train ride away from St Anton, some of the staff at the Amalien Haus decided to head to Innsbruck on their day off:
"Our train ride was exciting with beautiful scenery surrounding the train the whole way. Costing only €35 for the return journey, the super efficiency of the Austrian railways meant we weren't a minute delayed! We set off with no map or idea of direction and wound our way through the wide, high buildings. Glorious sunshine drew us to some outside seating of a restaurant where we massively over-ordered from the delicious-sounding menu. Feeling slightly stuffed after our wonderful meal, the waitress kindly directed us towards the old town where we wandered around the cobbled streets, browsing the tourist knickknack shops and gazing at the painted buildings. It was even more charming than we had imagined. It was somewhat surreal to be in this relatively urban environment whilst being surrounded by the mountains that encircle the city. Innsbruck, of course, offers all of your more traditional high street shops, but you are never far from reminders of all of the world-famous alpine venues, just on Innsbruck's doorstep."
Things to do in St Anton for non-skiers:
Visiting Lech and St Christoph from St Anton
"Innsbruck, ich muss dich lassen" or Innsbruck I must leave you... I am sure the staff sang on their journey home. The city is far from being the only option for day trips in the Arlberg region. Another recommendation would be to take the inexpensive bus over to Lech for some luxurious shopping, or simply to enjoy the wonderful atmosphere of this esteemed alpine village.
The same bus will also take you to St Christoph, home of the 14th Century Hospiz, the Arlberg Hospiz which is now a 5* hotel. In the cellars of the hotel restaurant, they house the largest collection of oversized bottles of red wine in the world. Tastings can be arranged, but an exploration of the cellar is an experience in itself. The restaurant is also a great choice for lunch – we would highly recommend the ribs!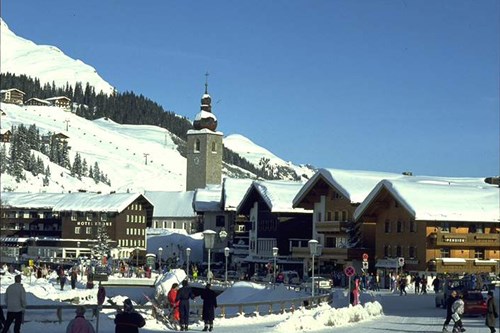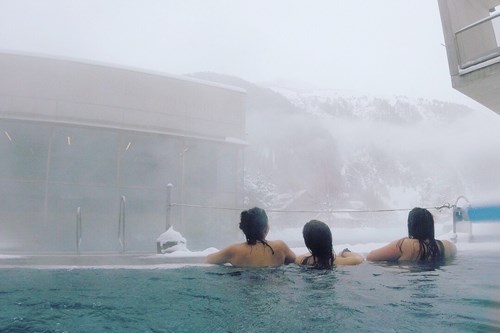 Spa in St Anton
There are plenty of things to do in St Anton for non-skiers - the art walk takes you from the Nasserein to the Arlberg-well centre perfect for a relaxing afternoon in St Anton.
The large spa and wellness centre in St Anton has a wide variety of facilities and is a great option for a day of relaxation and detox…before, of course, the afternoon's après-ski kicks off! The Arlberg-well has numerous pools with waterfall caves, inside and outside with strong whirlpool currents as well as saunas and steam rooms and a relaxation room that's all too easy to nap in.
The arl.rock sports centre
The arl.roc is St Anton's sports park and is the answer to any bad weather day, or, if you're a non-skier in St Anton you could easily spend a day here. There's an indoor climbing wall open throughout winter and you can rent equipment from them or grab an instructor. 
There's also a bouldering wall which is essentially a low climbing wall with plenty of padded mats below so you don't need ropes, you can just hop on and free climb. If you fall it's not high and you land on the mats.
Alternatively, if you're not a climbing fanatic then there's always the bowling alleys, tennis courts and squash courts to test out. It's a great place to come for non-skiers or even after the lifts close for the day.
The bowling alley also has a little sports bar on site for drinks, snacks, watching the football and even a cheeky game of nails - the Austrian game of smacking a nail into a chunk of wood with a hammer, it's surprisingly fun and a lot more entertaining than it sounds, you'll have to trust us on that.
Upstairs the Skiing Buddha, a Thai restaurant that overlooks the climbing wall, is utterly delicious (our recommendation for an out of the ordinary ski grub destination in fact). So there's plenty at the arl.rock and it's well worth a visit if you have some spare time or fancy something different to do in St Anton.