A Flexiski Week Exploring Sun Peaks
Sun Peaks wasn't always my go to Canadian resort, it's only a recent thing. Before I went out there in December I couldn't fathom why anyone would bother, the hassle of the additional internal flight, no après ski that I'd heard of and a family friendly reputation - yes, that's great if you're a family but perhaps not what a young couple or friends are looking for. I couldn't have proved myself more wrong.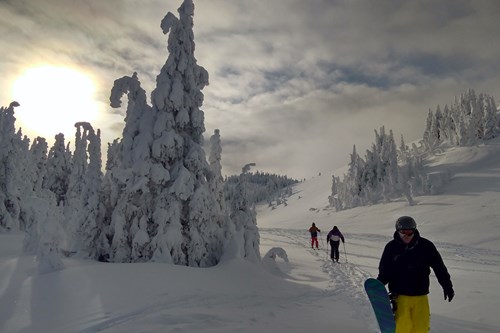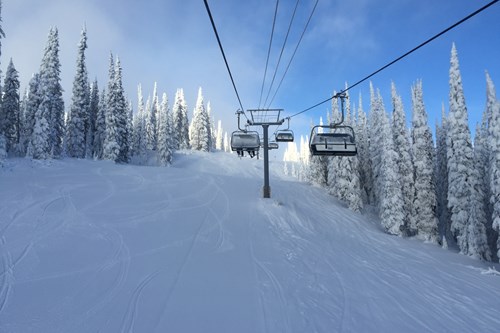 The extra flight you barely notice as it's so short, a quick up and down. And without fail our entire party was asleep before take-off, only waking upon landing. The same could be said for the short 40 minute transfer to resort. When you're travelling all that way an extra hour waiting for the connecting flight really doesn't even register. If anything it gives you a chance to freshen up and stretch your legs rather than cramming them straight into another tight seat.
Sun Peaks works; the transfer is straight to the hotel door, they practically drive into the lobby, no lugging your bags about town. We were staying at Sun Peaks Grand which is right on the slopes, you can ski across the square to the lifts in the morning, it's practically the town centre and Mantles (the restaurant) serves up a fantastic breakfast feast to weigh you down on the slopes - if like me, a buffet is your dieting kryptonite and no less than 5 piled plates of randomly chosen food will satisfy your eyes.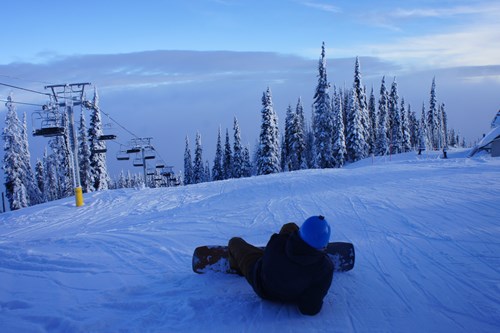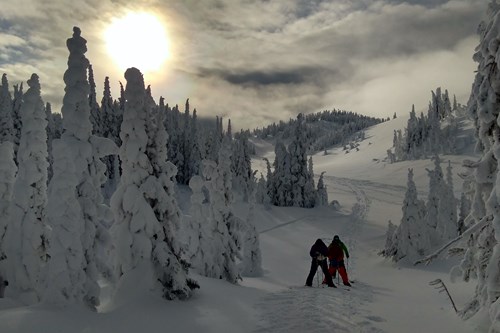 Having been given one of the nicest boards I've ever ridden by the awesome guys in Elevation we went straight up the mountain for some gorgeously groomed gladed runs. They had us flying through the trees on gradients that wouldn't scare a complete beginner from the very top of the mountain. It's this type of run that has become Sun Peaks signature - whatever your level you're going to love them. I surpassed my top speed on ski tracks and on the same run others were shedding their snowplough. The resort has some of the best progression terrain around, a huge confidence booster for any ability. From practically every lift you can take any pitch of piste from beginner greens to expert off-piste and everything leads back to the village. Separated from the group? Just head down and you'll be reunited, there's almost no need for a piste map. This, in fact, is what consistently wins Sun Peaks the family friendly awards. It doesn't have the magic castles and tree forts of the big hitters like Whistler but what it has in abundance is ease.
Once we'd had our first snow day of the season, found all those muscles you don't use at any other time of the year. The ones that make you soak in the hotel spa all evening - torture. We couldn't wait to get out into Gils the next day - a new addition to the ski area last season. Once a local snowy secret, it's now accessible to all. We had a guide I'd recommend to anyone, Bodie, and we hiked into the off-piste (but controlled) powder terrain. This is deep snow and it comes with the avalanche safety talks that are pretty interesting in themselves. But hiking out up to some of the best powder skiing I've ever experienced was worth every drop of sweat it takes to get there. And the broad smiles on everyone's face when we cut through the trees in huge arching turns full of the fluffiest heavenly snow lasted well into the pitchers of pale ale, rums, hot wings and pool in the bustling Bottoms Bar you can practically board into.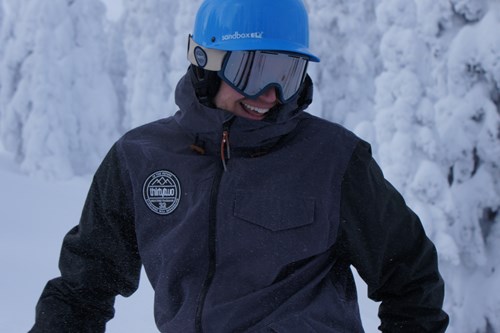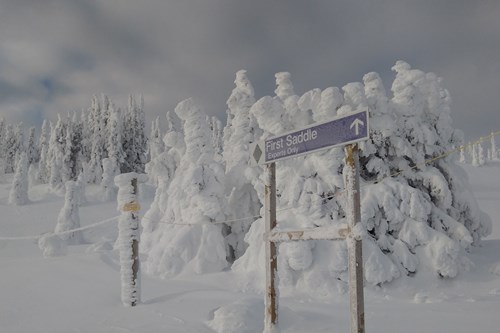 It may not be the crazy nights of St Anton in the MooserWirt but with a buzzing atmosphere in a ski bum style bar, great beers and a few games of pool - that's great après ski in my book. I'm sure they have a shot-ski if you really wanted.
Possibly the best thing about Sun Peaks above the great grooming, fantastic terrain variety, friendly locals and ski in, ski out village, is the lift queues. There are none. The biggest queue we got stuck in was waiting for Bolacco's to open in the mornings to grab a fine cup of coffee and delicious pastries when the buffet breakfast was too much to face first thing.
An eye opener to me, and I'm pretty confident in saying that you'll be hard pushed not to love the place. I'd never been snow shoeing before this trip, but making s'mores round a roaring fire in the woods proves there's more to skiing than just the ski hill and Sun Peaks takes good care of this as well.
Our ski specialists are always happy for a chat if you want to find out more just give them a ring on 020 8939 0862 or enquire online. Have fun in Sun Peaks!