A Flexiski Roadtrip Through France
So with summer well and truly upon us, skiing is at the back of most peoples minds, though not here at flexiski. We thought it would be the perfect opportunity to go see some of our new and old ski offerings and to top up our resort knowledge back in the office. Yes, the snow has retreated up to the highest peaks but the hotels are still there, as are the lifts and ski runs. It's the perfect time to meet the many hoteliers and tourist boards whilst they're not rushed off their feet in the midst of winter.
Short break research
As flexiski specialises in short breaks, we thought we'd go on one ourselves. The only complication being the fact that it's the height of summer and we were most certain you needed snow for a ski trip. Our hopes weren't too high for carving down the slopes. In fact, the resorts were unbelievably lush green with flowers in abundance, it makes you wonder why more people don't visit the mountains in the summer. But we weren't here to drum up summer business but expanding our winter knowledge was the premise of our trip.
La Clusaz - 1 hour from Geneva, 125km skiing
Our socialite for the week (Alona - flexiski purchasing manager) picked us up from Geneva for the hour's amble to La Clusaz, a resort that far exceeded our expectations even when only half open. It's bloomin' gorgeous, even the slopes were tremendously lush green, greener and lusher than I think I've ever seen. Not that this means anything to skiers other than the fact that being grass slopes, they need very little snow cover to be skiable so possibly an early season perk.
The afternoon was spent on hotel visits sampling the all-inclusive drinks (available all winter at the Hotel Alpen Roc) and taking a dip in the pool and sauna with views over the village after guzzling down some tasty galettes in town. 
Hotels we took a look around in La Clusaz:
"The afternoon was spent on hotel visits sampling the all-inclusive drinks and taking a dip in the pool and sauna..."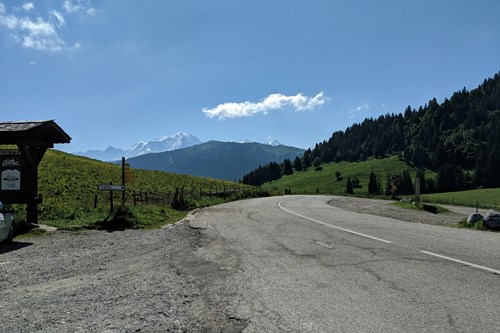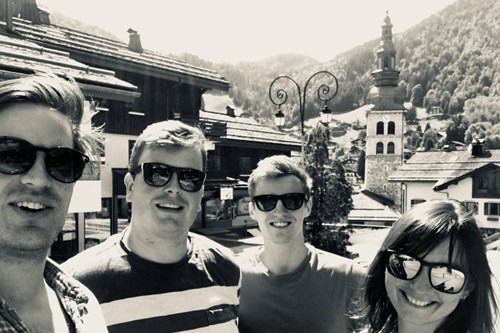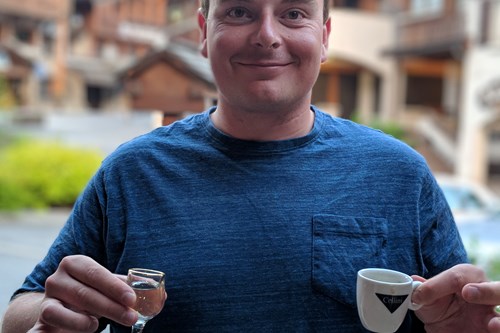 We were staying in the Hotel Beauregard, which, come winter is right on the slopes next to a chairlift, however, during summer it's just cows grazing and dogs lazing around in the sunshine. The dogs seemed to be roaming all over the village, much to Pete's delight - the resident dog fanatic. I honestly believe, had we left him to it, he'd have spent the entire day stroking the various dogs around town in a state of euphoric glee. But, being Alona's birthday we had a dinner to attend at Le Bistro where we were spoilt rotten by the hotel owners and tourist board; the food was delicious, accompanying wines spot on and the cake was far too big for the four of us to finish though that didn't stop us trying. The Genepi was brought out to try to aid the cake digestion, much to Ed's dismay, it seems he'd had an unfavourable run-in with the herby spirit in a life before we knew him, a memory that seemed to linger quite strongly in fact. 
Being summer, the night spots were few and far between, but the entire village evidently converged on the bowling alley after dinner - the only place open for drinks later than 11pm. But without loud music you didn't need to shout to be heard in a lively bar, it was actually a pretty decent place to spend a few hours chucking balls down an alley and chatting away to everyone there.
The next morning was a whirlwind tour of the area with the tourist office. Heading up to the Col des Aravis was a definite highlight with some stunning views, including that of Mont Blanc at a soaring 4,810 metres. Our host was pointing out some of the many off-piste routes in the area all seemingly easy to access with a guide further increasing the resort's appeal in our eyes. There's also the La Clusaz app with an interactive map, weather updates, lift opening times and snow conditions that looks likely to be pretty handy come winter. No more guessing where the best snow is.
"...the Col des Aravis was a definite highlight with some stunning views, including that of Mont Blanc at a soaring 4,810 metres."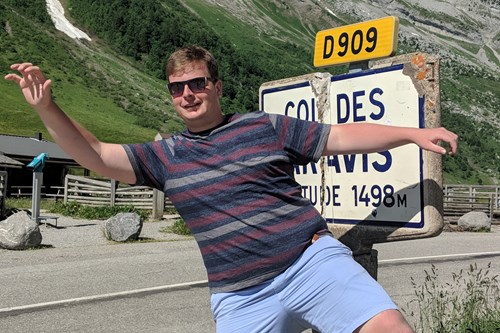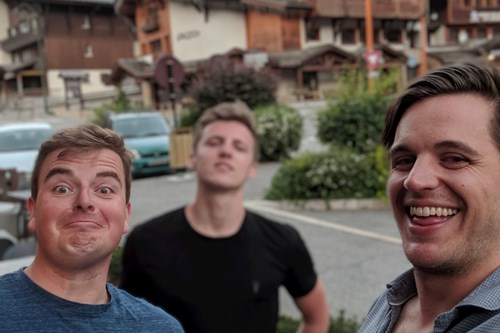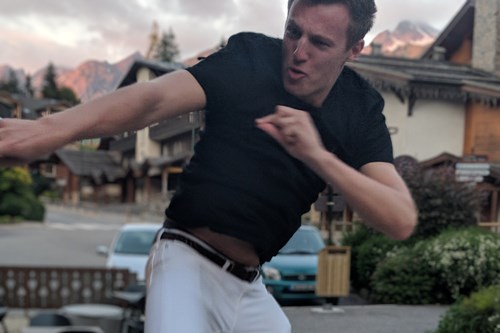 Meribel
 

- 2.25 hours from Geneva, 600km skiing

Meribel was our next port of call, less than a 2 hour drive brought us to the newest addition to flexiski, Chalet Ophelia. Sat just above the town centre it's  a 6 minute walk to the slopes - we timed our walks there and back, and, on a dinner date with the SkiSet owner in Meribel, we organised the use of ski lockers in the SkiSet shop closest to the chalet (a few metres from the slopes) so you'll have absolutely no walking in your ski boots when you stay in Chalet Ophelia. But that's a minor point, we were there to get a good feel of the new chalet and with 2 outdoor hot tubs and massive open log fires in both of the chalet lounges its hard not to like the place. Come winter, I'd imagine the views to be even more spectacular than they are in Summer. 

Meribel was pretty shut down for its summer refurbishments (including our new chalet) so we stayed in the tourist boards apartment in town and had a look around the hotels we feature after a good half hour attempting in vain to film a dandelion spreading its seed in slow motion. The result was a lot of strangely contorted expressions on peoples faces and an unnatural looking whir of dandelion seeds blowing mainly off camera. Still, the views up in Mottaret were again spectacular and our new hotel addition; Hotel Le Mottaret looks perfect to enjoy them from. The 3 valley ski area really is like no other, even in summer the sheer amount of lifts surrounding you at all times is unbelievable. Remarkable really, to have so much ski terrain on offer with minimal effort to experience it.

Our evening meal was up in Meribel Village at La Terrasse, which was showing the football on a projector outside where we watched Russia trounce Mo Salah's Egypt much to Alona's delight. It was night two of Alona's birthday with yet more cake, yet more shots and yet more merriment.
"...on a dinner date with the SkiSet owner in Meribel, we organised the use of ski lockers..." (for flexiski chalet guests)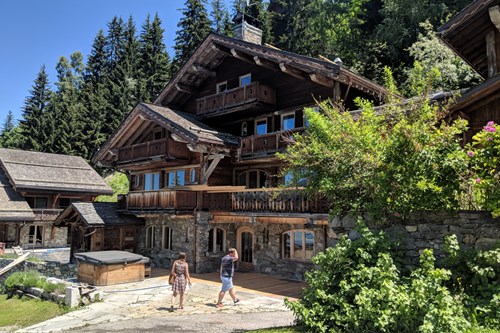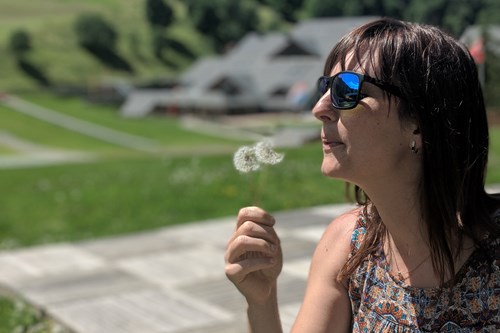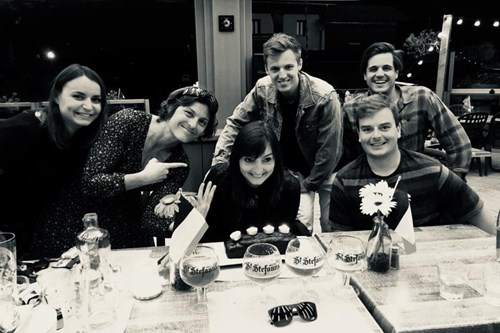 Courchevel
 

- 2.5 hours from Geneva, 600km skiing

On our final morning, we headed up to Courchevel (a few sore heads in tow) to explore the various villages and get a good idea of where each of the properties we feature is located within the ski area. Courchevel 1850 was nowhere near as big as I remembered from ski seasons in the Val Thorens Valley but then I can't remember ever walking around it back then. From what we saw this summer, however, I'd say that to get the best out of Courchevel the other villages are the way to go. In Courchevel Moriond there was a real buzz about the place and this was without any tourists, Fahrenheit 7 is the place to stay here, right at the bottom of the slopes and in the middle of town the location is spot on.

Once lunch at a restaurant ran by someone we met the night before was concluded (with another huge dog for Pete to stroke) it was time to head back to the airport, grab some snacks for the office and jump on the flight home. A whirlwind tour. Over three days we saw three resorts, toured 8 hotels, 1 chalet and visited another 7, drove 385km had the same birthday twice, bowled down at least 400 pins, and shook more hands and kissed more cheeks than I will for the rest of the year combined. But it has given us a personal insight into La Clusaz, Meribel and Courchevel. La Clusaz was completely new to me and the three valley resorts I'd been to countless times but never looked at in the sense of where ski shops and hotels are located. A lot packed into a few days.
"...to get the best out of Courchevel the other villages are the way to go..."