My first time skiing North America…
Earlier this year, I was lucky enough to explore some of the most famous ski resorts in the USA. Having only ever skied in Europe, most notably the Three Valleys, could these North American resorts possibly live up to my expectations?
After landing at Denver and picking up my car rental, I started my quest to Colorado's famous Rocky Mountains. I was pleasantly surprised by how easy the highways are to navigate and reached my first destination, Breckenridge, within just 2 hours. So far, so good.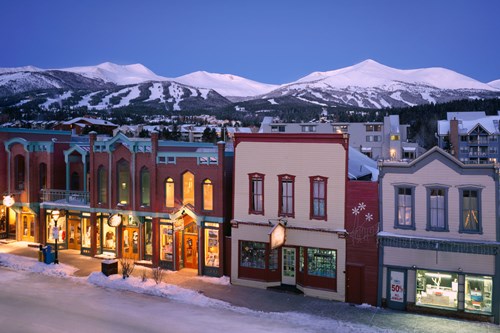 As you enter Breckenridge, you can immediately see the town's well preserved mining legacy. Colourful old buildings line the streets and historic wooden cabins are nestled in-between modern day amenities.
Once settled into my hotel, I was keen to grab a bite to eat and as is common in the USA, my hotel was on a 'room only' basis, giving me plenty of opportunity to discover local restaurants and their mammoth sized portions. I headed for Main Street, the focal point of the town, where the majority of shops, hotels and amenities are located. I was spoilt for choice with dining options which range from your typical American diner and fantastic steakhouses through to fine dining establishments. Opting for a charming Italian restaurant, I watched the street come alive with its bustling bars and live music.
With regards to the skiing, the resort offers something to suit all levels. The ski area is easy to navigate due to the mountains' simple names (well numbers actually). Peaks 7 and 9 offer the best slopes for beginners and intermediates while Peaks 8 and 10 provide a greater challenge with some easy blacks, single diamonds and the notorious double diamonds runs.
Being at such a high altitude (the Breckenridge ski area reaches an impressive 3915m), this snow-sure resort enjoys long seasons with plenty of snow. I wasn't disappointed with the powder even at the end of April. As I discovered, Breckenridge also provides the ideal base for exploring this huge ski area which extends to the nearby resorts of Copper Mountain, Keystone, Beaver Creek and Vail all of which are covered under the same ski pass!
As I packed my bags ready to head to my next destination, it was clear that Breckenridge had provided me with the perfect introduction to skiing in the USA and I was keen to see what the other resorts had to offer.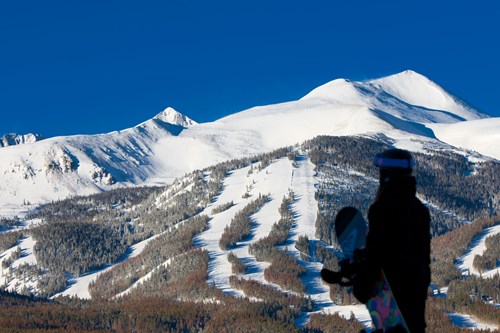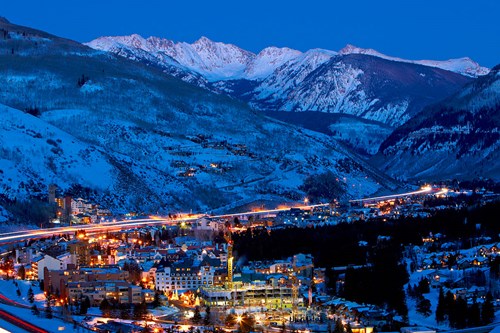 45 minutes down the highway and I arrive at the Tirolean inspired resort of Vail. I knew that Vail has been developed based on the Austrian resort of St Anton but the similarities really are remarkable. The resort has such a cosmopolitan and European feel, that you could be mistaken for thinking you are in the Austrian Alps rather than Colorado.
Vail itself is a vast ski resort including the 4 villages of Vail Village, Golden Peak, Lionshead and Cascade Village. Although the resort is large, there is a free and efficient bus service linking the areas so getting around is fairly effortless.
Being the largest ski area in the USA, I was keen to get back on the mountain, and as would be expected, I found plenty of skiing to suit all levels. The front of Vail Mountain has some well-groomed runs cut through the trees, then once over the ridge you will find the famous back bowls and the Blue Sky Basin.
Similar to Breckenridge, Vail lives up to its reputation for impeccable American customer service and impressive resort amenities. The ski school has a particularly good reputation with wonderful facilities for children with themed days and adventures in the terrain park.
The resort celebrates its 50th Anniversary this year and to mark the occasion a brand new lift from Vista Bahn (Vail Village) is also opening ready for the 12/13 season. There are plenty of celebrations and festivities planned throughout the season, so maybe another ski holiday to Vail needs to be on the cards this winter!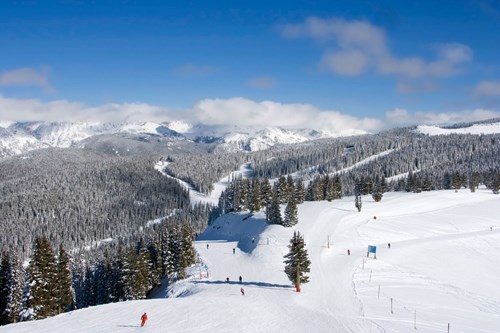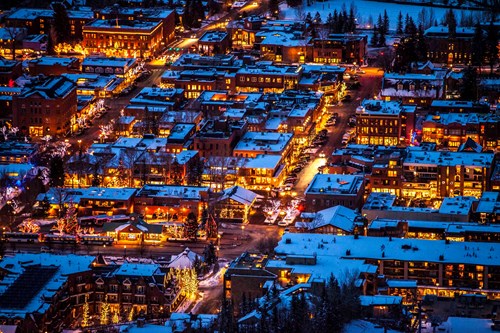 Last but by no means least I conclude my trip in the chic resort of Aspen. Also from a mining background, Aspen is now one of the most famous ski resorts in the USA. Although renowned for attracting the rich and famous, I was pleased to find that there is plenty to suit all budgets with resort visitors including seasonnaires, students, families and couples.
Aspen town is situated at the base of Aspen Mountain, although the ski area extends over a further 3 mountains: Aspen Highlands, Buttermilk and Snowmass. Whilst Aspen Mountain is certainly more challenging than its neighbours, Buttermilk is great for beginners and the Aspen Highlands (3km from Aspen Town) offers an intermediate's paradise. Snowmass, modern and purpose built, also has some terrific intermediate terrain. As with Vail, you'll find the frequent and free shuttle bus service running down the valley to all areas.
The pretty town is based on a grid system making it really easy to get around and you'll find 100 bars and restaurants to choose from, as well as numerous galleries and boutiques to bide your time while not on the slopes.
So as I reached the end of my first skiing holiday in the USA, did it live up to my expectations? Yes it certainly did…
Vast ski areas, fantastic snow levels and impeccable service… perfect!