Off-Piste Ski Courses In Chamonix 2018/19
Off-piste skiing is becoming more and more popular, and with a bumper year for snowfall in Europe (2017/2018) we've decided to highlight some of the ski courses and experiences you can get in arguably the best off-piste ski resort in the world, Chamonix. From the most infamous in the Valley Blanche to the lesser known and far less tracked Combes de la Vormaine from Le Tour. The moment you set foot in Chamonix you'll be amazed by the mountainous surroundings and glimmering glaciers and immediately thank your blessings having researched and booked some awesome off-piste experiences.
With a brand value such as 'Think Off-Piste' (one of the principles that have created flexiski), we thought it best to shout about some of the amazing experiences on offer on our ski breaks to Chamonix.
Guided off-piste skiing and Chamonix's off-piste ski courses
The mountain enthusiasts all time mecca, Chamonix is a perennial hub for thrill seekers, daredevils and off-piste enthusiasts with some of the biggest lift-served verticals about. Guided access to famed off-piste itineraries is more affordable than you might think.
We've teamed up with the Compagnie des Guides de Chamonix for this winter season (2017/2018) to make discovering the 'real deal' Chamonix skiing as simple as possible. Depending on the experience you're after, they will either pick you up from your hotel in their minibus or meet you at the Aiguille de Midi lift - easily walkable from town.
The off-piste itineraries are suited to good on-piste (groomed) skiers/snowboarders comfortable on red and black runs and/or for skiers/snowboarders who have some experience in powder snow right through to very good off-piste skiers/riders. The guides can give hints and tips to improve your technique but this certainly isn't a lesson for beginner skiers. We wouldn't want to get you stuck at the top of a mountain and put you off skiing before you've fallen in love with it.
Chamonix's famed off-piste ski routes
As you'd expect from arguably the world's best ski resort for off-piste skiing the possibilities are almost countless. There are four main areas, each holding fantastic and beautifully varied terrain - everyone will have their own favourite. Whether you ski Les Grands Montets, Brevent & Flegere, Domaine de Balme (otherwise known as Le Tour & Vallorcine) or the Vallée Blanche ski course you're in for a treat.
Fancy trying fun-filled pillow lines followed by the Dream Forest perfect for laps of relaxed gladed skiing when the weather closes in? Or maybe it's the limitless options of the huge open powder fields in the Flegere Bowl that peak your intrigue? Up for a thrill, try the steep and deep chutes of the Combes de la Vormaine or the classic Vallée Blanche routes for a day of un-pisted joy. The guides will choose the best courses for the conditions, supply all the safety gear you need and generally take care of the decisions and stress involved with planning off-piste adventures. You just get to concentrate on your skiing/riding with a broad smile across your chops.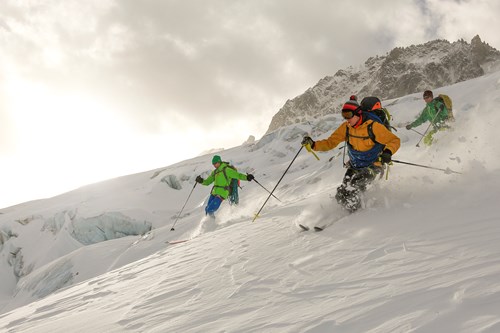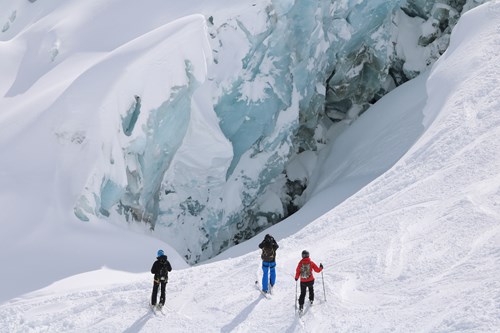 So what are my off-piste course options?
SKI GROUPS
Presentation during the welcome drink: an introduction to the Chamonix Valley, weather forecast & ski areas and suggested guided program
Exclusive service including private minibus – mountain guides (or ski instructor if needed) – safety equipment for off-piste skiing
Example of a ski program (to be adapted to weather forecast & snow condition):
Day 1 – People warm up on their own in Brevent / Flegere (easy to reach for town centre) – or Le Tour
Day 2 – Les Grands Montets Glacier (check the ski level for the Vallée Blanche)
Day 3 – Vallée Blanche
Day 4 – Courmayeur in Italy
Day 5 – Megève? Switzerland?
You can sign up for 1 day, 2, 3, 4 days…
PRIVATE GUIDING
Price:
500 € for a group per day, maximum 6 persons.
This includes transportation in and out of the valley in a private minibus, guide's fee and technical gear (transceivers & harness for off-piste skiing).
Ideal for a group of friends or families: you can decide where you want to ski; including a day to the Vallée Blanche - if you are decent skiers you can continue skiing after the Vallée Blanche (if you're not too knackered!) It is a full day with the guide until 4.30pm.
300 € for a group for a HALF-DAY, maximum 6 persons. Depending on availability (during peak season, half-day guiding is rarely available).
OFF PISTE GROUP SESSION
Price per person:
This includes transportation in and out of Chamonix, guide's fee and technical Gear (transceivers & harness for off-piste skiing). 
Ideal for 1 or 2 people wanting to join an off-piste ski group. You can't choose the destination as the guides decide where they'll go the night before depending on snow conditions and group level.
NB Ski level: only for good skiers on piste (groomed) red & black runs / some experience in deep snow to very good off-piste skiers.
VALLEE BLANCHE GROUP SESSION
Price per person:
This does not include the transportation. You will meet the guide at the Aiguille du Midi lift - easily walkable from the town centre and vast majority of our accommodation options.
Ideal for 1 or 2 people wanting to join a Vallée Blanche ski group – you will be mixed with other skiers/riders (all nationalities).
The price includes the guide's fee and the technical gear (transceivers & harness). You will be back down in Chamonix around 3pm (end of the day with the guide).
Available every day from mid-January through May, depending on the snow conditions. You should allow 4-6 hours for route completion.
NB Ski level: only for good skiers on piste (French red / black run) and if there has been fresh snowfall you will have to have decent experience and ski level in deep snow. If you do not have enough experience in deep snow then you can change to another day/experience or receive a refund.
How to book
Each option is pre-bookable or you can book in resort if you get there and decide you do really fancy it after all. 
Of course, these are weather dependent but last year there wasn't a single person who didn't get a guided day they wanted. You can take advantage of neighbouring resorts such as Courmayeur in Italy or Verbier in Switzerland (included in your Mont Blanc lift pass) if the weather in Chamonix is prohibitive. And if worse comes to worst you will, of course, get your money back.
Call our ski specialists on 0208 939 0862 if you fancy finding out a little more or discuss the best options for you. It's definitely something we're all chomping at the bit to get out to Chamonix and experience this winter.