Testing out Madonna di Campiglio ski resort
With summer coming to an end we can finally start to get itchy feet for the mountains and winter. Joe, Jo, Angus and I couldn't wait until December, so we waved our colleagues goodbye and hopped on a plane to Italy and Madonna di Campiglio (no doubt those stuck in the office swapped some choice words about us).
Getting to Madonna di Campiglio
Off the plane and the heat instantly hit us - similar to when you take a peek inside your oven. Black jeans were not the best idea, but hey ho its Milan, you've got to try to look good with all the fashionista's out there.
We moved on to pick up our rental car, landing in terminal 1 our car was at terminal 2 – something we're glad we tested before any customers. We had the pleasure of trying to figure out how to get to from one side of the airport to the other in 30 degree heat.
After numerous staircases and countless car parks without speaking a word in Italian, we finally made it to our rental car, HAZZAR! The car was the most futuristic car we'd ever been in fully equipped with seat back massagers, credit card holders and more screens than a cinema we felt like we time travelled to the year 2030.
Hitting the road, of course, I volunteered myself as chief navigator and more importantly car DJ, these are obviously two very important jobs when embarking on a road trip; accidentally make us take a left instead of a right my fault and if the same song comes on repeat you get heckled by the rear seat passengers (if they are not sleeping of course). I also introduced the team to a driving game I created called 'Crane'. The game is very simple due to the absolute abundance of cranes in Europe - when you see a crane shout and point and you get a point… this may sound boring but after you call your first crane you'll be instantly hooked and on the lookout for more.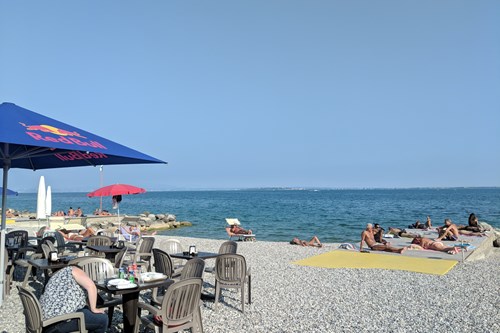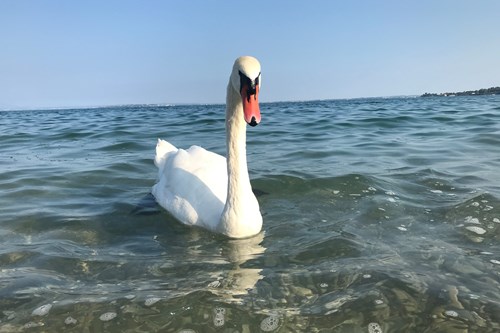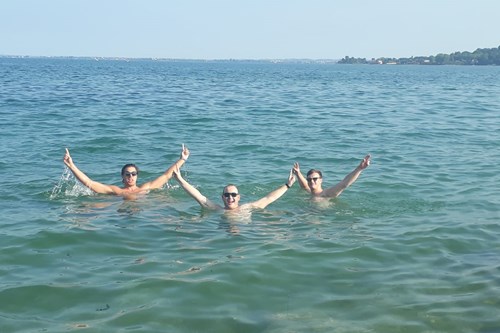 A stop off in Lake Garda
The journey should have taken a grand total of 3 and a half hours covering 284km it took us 7. Not due to traffic or slow driving but because we noticed Lake Garda on-route. We pulled up at the lake and headed to a lakefront café with the best panini I have ever had - believe me I've sampled a few in my time. The boys and I then came to the agreement were taking a dip, straight in, the water was surprisingly pleasant no teeth chattering or high pitched shrieks from any of us.
After a couple of hours taking in the incredible views and drip drying off as not one of us thought to bring a towel we finally got back on the road. We arrived in Madonna Di Campiglio around 7:30pm which meant one thing we were HUNGRY.  Bags dumped in our hotel, we headed straight to pizzeria 'Le Roi' where we enjoyed… pizza and pasta of course. The food was amazing some of the cheesiest pizza you could ever dream of and sauciest pasta's we left absolutely stuffed – ginormous portions and more than a couple of breadsticks for an absolute bargain.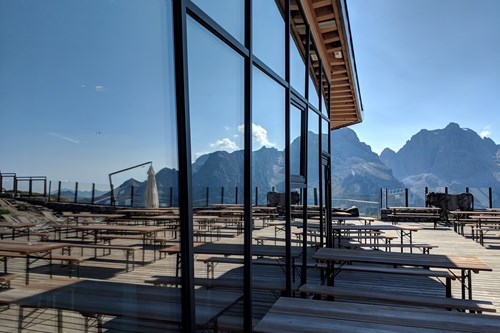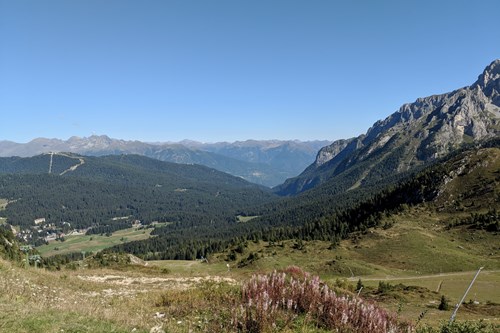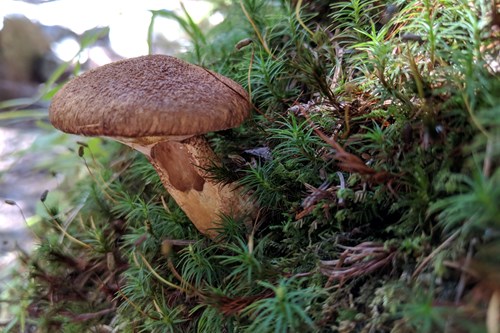 One day in Madonna di Campiglio
You cannot beat a 7am wake up after sampling a few of the Italian wines the night before but we were all up and raring to go our first visit was to meet Laura from the tourist office to discuss everything Madonna had to offer and it did not disappoint.
First things first she wanted to show us the unusual mountain range of the Brenta Dolomites which I compare to the grand canyon just more of a slate colour, she whizzed us up the Spinale lift which took us to the very top of the mountain and the views were incredible, lucky for us we had the clearest day so we could see for miles and miles which was truly breathtaking.
Angus was extremely excited not just for the views also because he has spent three winters in the mountains and not seen a single marmot. He knew today was the day after we were told the mountain was home to the friendly beaver looking creatures. After playing century on the balcony of the Fiat bar/restaurant where everyone else enjoyed a sweet treat Angus screamed and pointed as he finally clocked one which seemed a million miles away I still think it was a rock but he was convinced so didn't want to steal his thunder.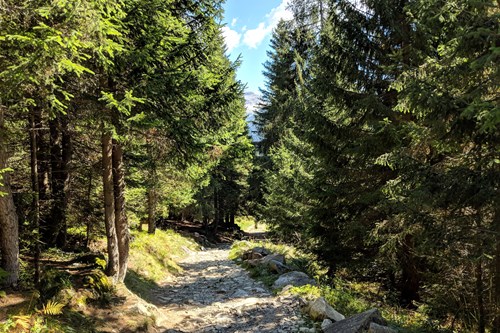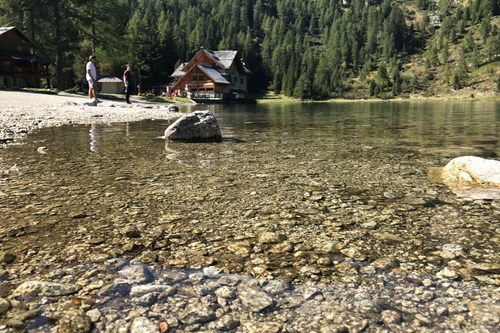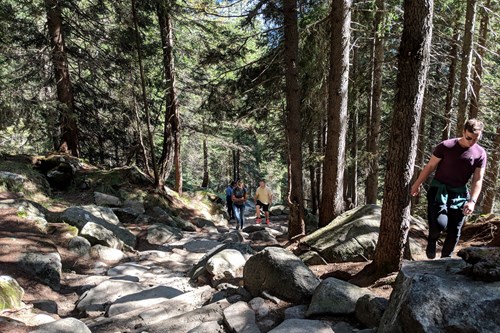 Hiking to the lakeside mountain retreat
After taking a visit up the mountain we then got picked up to embark on a light hike up the other side of the U-shaped ski area up towards Pradalago. A fantastic restaurant (Rifugio Nambino) was the prize at the end of the hike/stroll. Set on a crystal clear lake the setting is spectacular. During winter you can snow-shoe up here with the forest, waterfalls and lake glistening in snow and ice. The restaurant has a dragon theme due to the 'Dragon of the lake' Legend and the food is superb. A small menu from a family run kitchen, turns out its not just pizza and pasta in Italy, we tried a very traditional 'poor mans' Italian dish of 'polenta' served with deer stew , spiced sausage and wild mushrooms an odd but incredibly tasty mix so I'd highly advise giving it a whirl.
After a great meal and a leisurely hike back down passing amazing landscapes and beautiful waterfalls, we took around the hotels we work with in town.
Hotels in Madonna di Campiglio
All the hotels we visited are within short walks or next to the ski lifts and with easy access into town. So there's a good choice of superb and very convenient hotels if you fancy testing out Madonna di Campiglio this winter.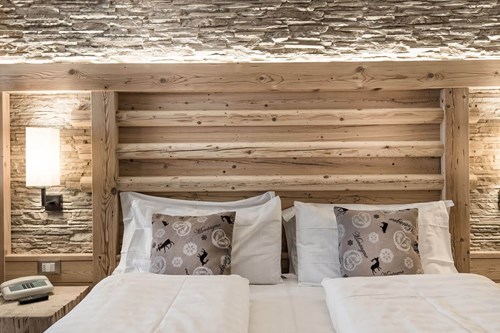 4* Sporthotel Romantic Plaza
Stylish and eco-sustainable, the Sporthotel Romantic Plaza is in the centre of Madonna di Campiglio and around 200 metres to the closest ski lift.
Family run by the Maffei family for the last 60 years
Extensive spa and wellness area
Farm-to-table produce - it's a local affair
70 metres to the Belvedere slope
Eco-friendly design and energy including solvent-free paint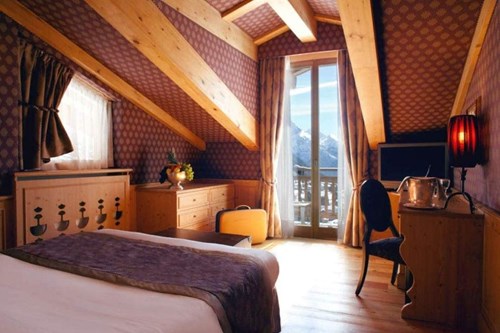 4*S Cristal Palace Hotel
Fantastic views across Madonna and the Dolomites, the Cristal Palace Hotel is just above the main town, 200 metres from the slopes.
Cristal Energy Spa to relax in
Heated ski storage for warm boots in the mornings
Shuttle service to take you to and from the ski slopes and town - on request
Mini club for kids 4-12 year olds
Panoramic terrace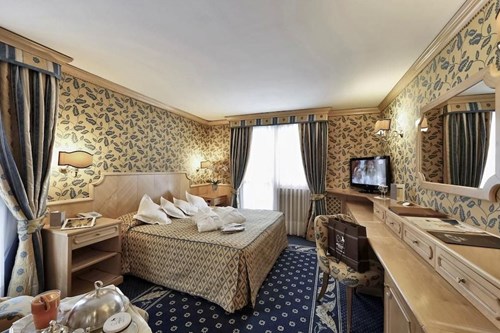 5* Hotel Spinale
A superb location at the base of the Schumacher piste and ski lift next door. Spectacular modern design and a walk across the park to the village.
At the foot of the ski run
Traditional hotel with modern styling
Grand staircase from a movie set
Great bar area with a 360 island bar
Techno-gym if you're in need of a workout
We spent our final evening in another pizzeria (there's not a lot of choice over the summer when everything closes down) but after a long day trekking, marmot hunting and hotel viewing (oh yeah it's a hard life) it very much needed and the perfect way to wrap up the weekend.
A few pictures of Madonna in winter: