Ski Weekends In St Anton
Flexiski is the only ski operator who can offer flexible short breaks to St Anton for the entire ski season. You can even grab St Anton short breaks and ski weekends over the peak dates such as New Year and February half term. 
Over the New Year period for 2018-19 we have short breaks to St Anton for 3, 4 or however many nights you want to stay for, even the check-in dates are flexible. For peak times that are generally 7-night minimum, flexiski has both chalet and hotel accommodation available for short stays.
Flexible accommodation in St Anton:
Chalet Amalien Haus
In the centre of town, the Amalien Haus has après on its doorstep and is less than a five minute walk to the ski lifts. A 31 person chalet run by flexiski you'll have our staff on hand to help out with any tips and pointers as well as the full catered chalet experience. Think leather chesterfields in the living room and wine on tap over dinner.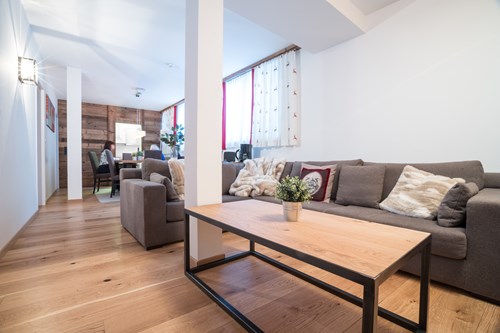 Chalet Little Haus
Our smaller quieter chalet towards the Nasserein end of town. For just 8 people the Little Haus brings cosy ski accommodation to St Anton, the Nasserein ski lift is a five minute walk away and there's even an in-chalet sauna. A great place for large families or groups of friends to have their own space.
4* Hotel Banyan
Set just back from the pedestrianised street, the Hotel Banyan is within easy walking distance to the town and Galzig gondola. You can leave your ski equipment up by the lifts as well if you rent with Jennewein. The hotel as a slight Asian persuasion and there's a heated indoor pool downstairs, with a sauna, steam room and small fitness area.
Why ski in St Anton?
St Anton is perhaps most famous for its incredible après ski, numerous party venues across the slopes and seemingly endless options down in town. Basecamp at the foot of the slopes up by the Gampen chairlift has become our favourite place to grab a few beers at the end of the day, often with live music - we particularly enjoyed the saxophonist dancing around the open umbrella bar last time we went.
But there's plenty more on offer than makes St Anton the perfect short break ski destination. A massive 305 kilometres of pistes, the Arlberg-well centre with pools, whirlpools, saunas and steam rooms to the tobogganing or the climbing wall in the Arl.rock. Below we look at some of the best activities, restaurants, après venues and lunch spots that St Anton and the Arlberg have to offer.
Our top 5 things to do in St Anton:
Tobogganing
There's a night-lit toboggan run that starts at the top of the Gampen lift and snakes 4km down the mountain to Nasserein. A 500 metre vertical descent and best of all it's free to use - though if you don't have your own toboggan (I'd be amazed if you did) then you will have to rent one from one of the various sports shops around town, or at the Nasserein. A little tip would be to stop off half way down for a drink or bite to eat at the Rodelalm with roaring fire pits and plenty of live music.
Arlberg-well
Behind the Schwarzer Adler hotel or at the end of the art walk from Nasserein, the Arlberg-well offers a bit of relaxation for those who don't have the facilities at their accommodation - or if you want something a bit special. Indoor pools with waterfall caves, huge heated outdoor whirlpools with currents that will actually shoot you round as well as a great sauna and steam area, lie on the relaxation beds and you may find yourself having five winks before long.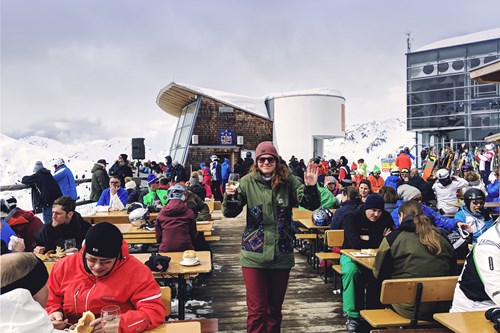 Rendl beach
The lesser visited side to St Anton (we'll cover that later) head up the Rendl gondola and at the top, there's a pretty huge decking area overlooking the board park. This is Rendl beach and it's an easy place to spend a few hours basking in sunshine on the deckchairs, sipping prosecco and watching the tricks, flips and fails of the park rats below.
Arl.rock
Next to the train station, the Arl.rock is a mini sports park with indoor climbing, great for an afternoon of bad weather. There's also tennis and squash if you're feeling energetic. Alternatively, head downstairs to the sports bar - there are a few bowling lanes down there as well as air hockey, giant Jenga and the infamous game of nails (definitely worth testing out).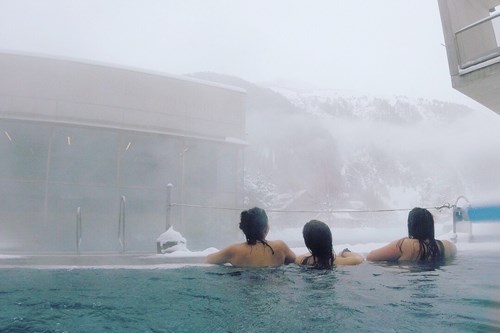 Verwall Lake walk
To the south-west on the town lies the Verwall Lake, a great spot to walk to, especially for non-skiers as it takes a couple of hours to complete the route. There is also a bus that runs there so you could opt to walk around the lake rather than the whole way there. Though it's a lovely walk and there's a great little coffee/hot chocolate stop on the way.
Best lunch spots in the Arlberg:
Always a favourite, the Hospiz Alm in St Christoph never fails to amaze. There's even a slide down to the toilets and wine cellar (with the largest collection of oversized bottles in the world). It's well worth booking here, grab a table next to one of the huge fires and dry out any soggy ski gloves, the back stubes are super cosy and the terrace is unbeatable on a bluebird day. Everything we've eaten here has been wonderful but we wouldn't go back without getting at least one plate of the super saucy ribs to share.
Known for its buzzing après party, the Krazy Kanguruh has a surprisingly tasty lunch menu and is well worth a stop off one day. The food is really good and the views down to St Anton are great as well. A good spot to watch the last run down into town before everyone has a few too many drinks. 
Fantastic views above Lech, Der Wolf has panoramic windows to enjoy the views and plenty of deckchairs out front when it's sunny. At the top of the Petersboden chairlift from Oberlech it sits on the 210/200 run, and if you miss it you can always do a quick lap back around on the chairlift. Clean alpine style with one of the best goulashes we sampled. It can get busy though so great for an early or late lunch stop.
Best dinner spots - those you may otherwise have missed:
A bit of a novelty in a ski resort having Thai food. But it is amazing Thai food, we've eaten most of the menu here and nothing was less than delicious. It's up in the Arl.rock centre and you can watch climbers through the windows over dinner. A definite crowd pleaser and our go to if ever you're unsure of where to grab some tasty nosh.
Food on fire in the open kitchen charcoal grill. It's fun, relaxed and reasonably priced whats more the food is delicious and the wine superb. Dishes come with three little sauces to test out, some are particularly spicy others mellow and super tasty - green is the best. The decor is solid wood and matt metals with wine barrels and gnarled wood, a super little spot that seems tucked away from the main street.
We'd always recommend a night here for fondue and live music in a candlelit wooden chalet. It may not be the sleekest ship in St Anton but spend when the drinks are flowing, the atmosphere is buzzing and the live musicians are handing out various instruments to play along with, it is unbeatable - and the owner is a great laugh. Last time we were there we had a meat and cheese fondue between six, plenty of wine and a drawn-out grand old time.
Après venues in St Anton:
Basecamp
At the base of the Gampen lift, Basecamp has a huge umbrella bar out front - the central bar dishes out a vast amount of drinks and there's a DJ every afternoon. They started to do more and more live music last season 2017-18 so we're hoping this continues as the saxophonists kick out a great vibe for some après dancing.
Mooserwirt
Up on the piste, this place gets rocking. Every table is crammed full of revellers dancing their hearts out. There's an umbrella bar on the outskirts which is slightly easier to get served at though your best bet is to wait till the superhumanly strong bar staff come through the crowds with an absolute mega tray full of beers and jagerbombs, pear williams and schnapps; just grab a couple and pay your way - table service at its most amazing.
Krazy Kanguruh
Across the piste from the Mooserwirt, the Krazy Kanguruh is the other big name on St Anton's après scene. Be prepared for a wobbly ski back down to town, though the biggest danger is other revellers being out of control on the slopes. This is the bar you're most likely to bump into someone buying a bottle of champagne as big as your car and getting the entire bar in on the act of trying to finish it off. It definitely gets the party going.
3 hidden spots for fabulous quieter skiing:
Rendl
We can't figure out why this is as quiet as it is. It's only separated from the main ski area by a 100 metre walk from the Galzigbahn. But anyway, the area is full of lovely red and blue runs and gets the last of the afternoon's sun so perfect for a few post lunch ski hours. Pop into Rendl beach for sunset drinks before heading back to town either on the leg achingly long red run or hop back on the gondola.
Zurs
Typically a stopping point between St Anton and Lech, the bar at the bottom of red 134 gets pretty busy as it's amazing in the sunshine, but head into the main Zurs area and it's eerily quiet. Most skiers simply ski through/around it to get to and from Lech and St Anton but the handful of pistes here are a real joy with some nice side country to test out after fresh snowfall.
Sonnenkopf
Not actually linked into the ski area, you'll have to catch the bus to get to Sonnenkopf but it's worth the tiny amount of hassle. Just make sure you avoid the day where bus loads of the big tour operator guests head here. The area is great for snowboarders and there's plenty of terrain for a full days skiing. 
St Anton in a rather large nutshell. An elephant nutshell if the nut actually lived up to its name. But just to reiterate; if you're looking for flexible short ski breaks to St Anton then you've come to the right place. Even over New Year you can stay for just 3 nights with flexiski.
Take a look at our offers and guide pricing or give us a call on 0208 939 0862 if you're interested in short breaks to St Anton, our ski specialist can let you know exactly what is available and hopefully find just what you're looking for.