The Best Après Ski Spots In Meribel
From live music to comedy, Meribel's après ski has a lot going on. Ski in, ski out terraces harbour the early door action before the party moves down into the bars in town, you could carry on until dawn if the mood takes you.
I'm a straight-off-the-slopes apres lover and Meribel ticks this box massively. You have numerous get-up-on-the-table style slopeside bars as well as plenty with great views for chilled drinks as the sun gets low in the sky. When you get down into town the party carries on till dinner with live music all over the place. Live music is one of the best things about Meribel, the resort certainly won't disappoint on this front with numerous bars having bands on every day of the week.
And if you reserve your energy exertions till after the sun goes down there are plenty of late-night venues to sample too. Here we give you a rundown of our favourite apres spots both on and off the mountains.
Folie Douce Meribel
Huge outside party terraces have made it to Meribel. An Ibiza style apres ski venue on the slopes packed with acrobats, dancers, singers and musicians from three till five pm. Originally launched in Val d'Isere, the Folie Douce is now world-renown apres brand. The typically younger crowd can really get going with high octane performances and champagne spray covering the table dancing revellers.
You can recognise the style of up-beat jazz as soon as you walk in, there are numerous bars around the terrace as well as inside and it's certainly not uncommon to see people lounging around huge magnums of fizz in fur-clad jackets and shiny moon boots. Open from eleven in the morning fantastic coffee and food is also served here with the music building up in the afternoons so you won't be shouting at each other over lunch.
If you're looking for slopeside, straight off the piste partying then the Folie Douce will certainly fill your apres ski cravings. And closing at around five in the afternoon means it could be a boozy ski back though being on the mid-station of the Saulire you could always catch the lift back down the mountain.
Le Rond Point
Just above Meribel, the Rond Point, affectionally known as Ronnie's, is a legendary bar for live music and piste side parties seven days a week. A huge ski in, ski out terrace, great food and an enthusiastic taste for toffee vodka.
A decent mix of locals and visitors, Ronnie's has house bands every afternoon from five until half six and the bar closes at half seven just in time for chalet dinners. If you don't fancy the ski back down to Meribel after all that partying, there's a free and very regular bus service that runs back to town (plus stops on the Chalet Ophelia road).
It's pretty much a cult place that draws a crowd from all over the Three Valleys so if you want a table you may want to rock up early. Certainly, one to be tried at least once on your next ski break in Meribel.
Jack's Bar
The self-proclaimed 'upbeat social hub of Meribel' brings lively apres ski, homemade pizzas and cocktails to the centre of Meribel. At the bottom of the slopes just across from the Chaudanne ski lift Jack's is in a brand new location for 2019/20 (admittedly only across the street from where it was two years ago).
Happy hour is from four til five in the afternoon and kicks on the apres before the live music starts at five (Monday to Friday), look out for Hobo Chic on Thursdays. The apres is extended on Wednesdays (typical chalet night off) and runs until half eight.
Jacks is below the Chalet Hotel Les Grangettes and if you're staying here you can put your bar tab on your room - sounds dangerous to us. On top of all the music, food and general merriment Jack's also brings world-class comedians to the mountains, perhaps something a little different to your usual apres ski offering.
Lodge du Village
Up in Meribel Village the Lodge du Village (LDV) at the end of the blue Lapin run, it's the buzzing heart of the resort with a huge outdoor terrace (come umbrella bar when the weather draws in) with views that rival the best in the area.
Open all day for coffee and snacks, it's a great spot for lunch but things really ramp up when the happy hour finishes and the live music kicks off at five in the afternoon. The fun stays at the Lodge way after the lift close and you can carry on the party until two in the morning with DJs picking up where the live music lets up.
As you are up in the village rather than the main town, you'll need to catch the bus back down to the resort, they run every twenty minutes until midnight so there's no bother there. One of our favourite bars in Meribel with perhaps more of a small resort vibe where everyone heads to the best bar in town type thing.
O'Sullivans
Arguably the go-to bar once the apres has ended, the big dog in Meribel's nightlife scene. A ten minute walk from the centre of resort you'll find some of Meribel's biggest parties. Though it opens at ten you probably don't want to get here much before midnight (when the free entry stops) when the cave-like interiors start to get into full swing with non-stop resident DJs, live music, theme nights and guests, you'll be dancing till dawn.
Perhaps not one for the early risers among you as the party goes on until four, it's a great option to carry on the vibe if you're having a big night though. This was the former infamous Dick's Tea Bar and Sully's has certainly continued the infamy. Just keep an eye on the events calendar if you're interested.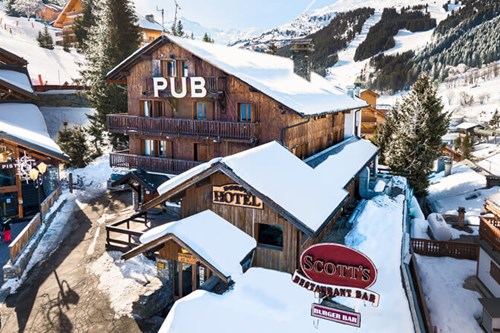 Doron Pub (Le Pub)
Right in the centre of Meribel, just up from the tourist office and beside the elevator that takes you to the slopes, the pub gets lively later on. It's a huge space with a great sun terrace outback. 
They have big screens and show plenty of sport, perfect to catch the football on whilst you're away. Live bands are regular here and it's a huge bustling space, get dancing or hanker in for a spot of pool. 
We're not saying it's anything fancy but a great lively spot in the centre of town.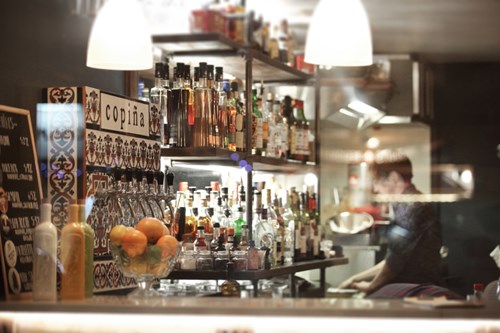 Copiña
A lively tapas bar with great cocktails, craft beers and plenty of wine. An apres hot spot for a little Spanish dining experience in the centre of the resort. It's a sister to the lively Jack's Bar and offers a more laid back affair.
The range of drinks and tapas is impressive, cocktails to actually get excited about, delicious beer and a wide selection of wines, the tapas are even sourced from Iberia (Spain). A deliciously low-key dining experience in a relaxed setting, perfect after a tough day on the slopes. Open from five until two in the morning.
There's also a happy hour every evening from seven until nine where all cocktails are seven euros and strangely enough there's a midnight hour where house spirit mixers are 20% off.
And that's a wrap
If you need more than these on your Meribel apres bonanza there are plenty of alternatives. Low key options such as the sophisticated La Poste or Barometer with separate bar and lounge areas serving arguably the best pizza in town. The Rastro up in Mottaret is good for a sunshine drink or Cafe del Mott has great BBQ food and a hot tub on the terrace. The Taverne opposite Doron pub is another lively option and the list could seemingly go on and on. Meribel's apres ski and nightlife is certainly a lively one.