Whooping like a kid again in Whistler
So why wouldn't you want to come to Whistler? It's the largest ski area in North America with over 8,000 acres of ski terrain split across two mountains linked by the spectacular Peak 2 Peak gondola. There are three distinct villages, so you can choose the atmosphere you want from pumping party to quiet retreat. And to top it off there's 11.7 metres of annual snowfall on average, that's 130 stacked up mugs of tea - one hell of a lot of tea and one hell of a lot of snow. But what happens if there's someone in your party who isn't the biggest ski fan? Or what should you do once the slopes close and you don't want to party or go for a fancy meal? There's only so much shopping one can do.
What are the alternatives?
Well, Whistler has plenty of choice, you can bring out the blades of glory in yourself on the Olympic plaza, pretend you're an astronaut on the bobsleigh with its g-force inducing bends or sit back and slip into Zen at the wonderful Scandinave Spa - these things are all great options. But forget them and anything else in Whistler - you must Ziptrek. Or maybe you shouldn't, it's up to you. But personally, I bloomin' loved it. But then I do love anything that makes you shriek like a child once again, a little shrill of pure excitement.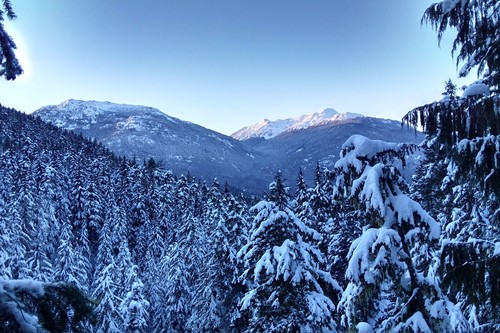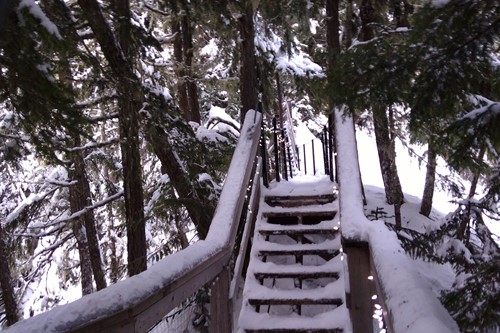 It's a zip line, or many to be precise and you may have done this before on some activity beach in Cornwall on a PGL trip or a team building exercise to Go Ape! But honestly, this is better. I thought it would just be a little fun flying over the trees, but even the walking through the mountains is amazing. You take the gondola up the mountain and trek into the woods from the half-way station. Walking down paths with knee deep snow either side, feeling a million miles from civilisation. The trees are immense and you can clearly hear the wildlife glimpsed in the corner of your eye. We went just before sunset so the sky was incredible. The walking was as enjoyable as the zip lining.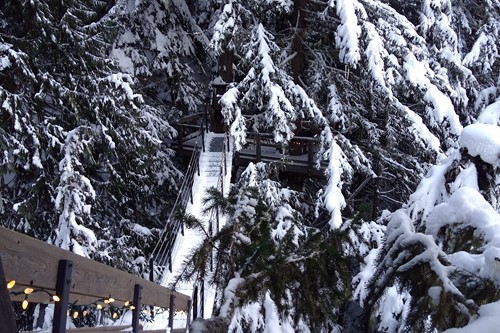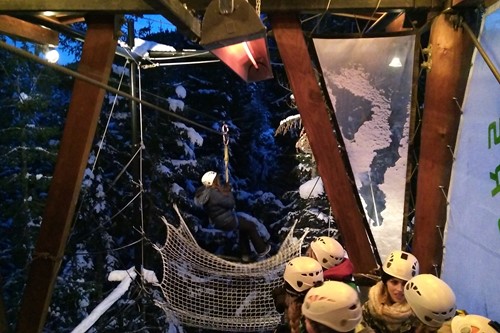 You get tandem runs and solo ventures with amusing guides and a lot of nervous laughter. The last run comes into the village itself with fantastic views through the trees that you can so nearly touch. Rushing streams below you and wonderful skies above. Take a look at the video below of me being a small child again if you don't believe me.
I don't want to spoil it all for you, just let you know what you may have otherwise overlooked. I hope you enjoy the experience, at least somewhere close to as much as I did.