Banff and Lake Louise ski itinerary
It was meant to be; relax in the calmness of Lake Louise at the lakeside Fairmont hotel for some spectacular views as well as superb skiing before heading to the lively town of Banff to explore the mountains of Norquay and Sunshine Village.
At a glance:
- Skate on the frozen Lake Louise or try your hand at some ice hockey
- Lake Louise has it's own huge ski area to explore at a leisurely pace
- Banff town is lively year-round, winter is actually the low season
- Visit the hot springs, go husky sledding, ice walking or drink yourself silly on a brewery tour
- Rip up the local mountain of Norquay and explore Sunshine Village's double diamonds or ski over a frozen waterfall
All of our itineraries are based around what you want, so we can chop and change anything or create a holiday completely bespoke to you. Give us a call on 01483 791130 or enquire online.
Banff and Lake Louise
Banff and Lake Louise lie in the dramatic wilderness of Banff National Park, a designated UNESCO World Heritage site renowned for its spectacular scenery. Lake Louise, in particular, has become one of the most photogenic destinations in the world. With the backdrop of the towering Rocky Mountains, this is a space where, being human, you feel like a visitor. A pocket of the world ran by the wilderness and kept thoroughly wild. 
The winter is actually the off-season for the National Park so you can pick up some real bargains when coming here to ski. And we think the park is even more spectacular this time of year. Explore the park from a husky sled or take a stargazing trip in the dead of night. There's plenty more to explore besides the skiing and this is what makes it such a fantastic destination.
The ski area is split between three mountains each with a distinct personality well worth exploring. Although there is a complimentary shuttle bus that runs between the mountains of Mt Norquay, Sunshine Village and Lake Louise it's easiest to explore the mountains around Lake Louise first and then head to Banff to check out Mount Norquay and Sunshine Village.
A multi-centre trip takes full advantage of the contrasting nature between the larger Banff and quieter, more tranquil Lake Louise. It's only 45 minutes between the two, so you'll lose no time travelling either. Stay for a week upwards to experience a place truly alive.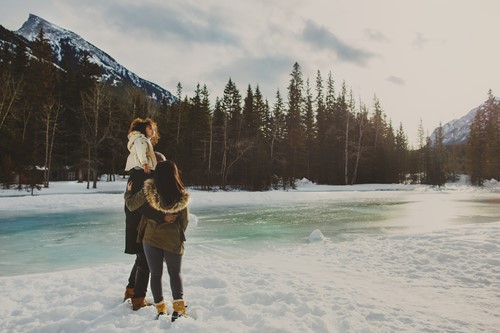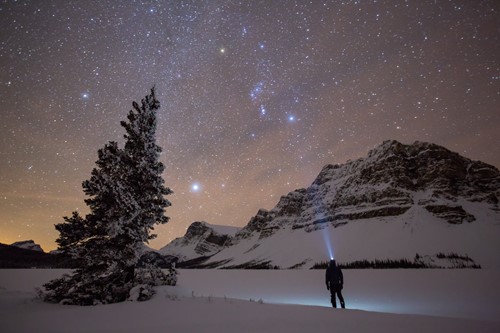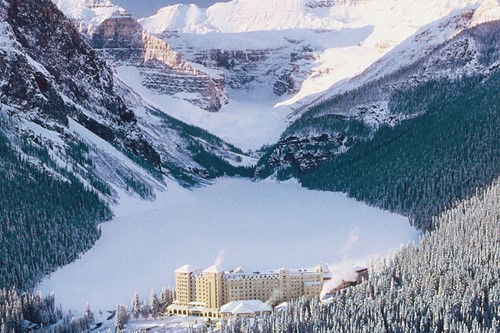 Banff and Lake Louise ski itinerary
Fly into Calgary airport before your two and a half hour scenic transfer to Lake Louise.
Lake Louise is great for a 4 night stay, though you could easily spend longer here. Stay on the lake at the Fairmont Chateau for some unbeatable views or be closer to the ski area up in town. Either way, Lake Louise feels more immersed in nature, it's certainly quieter. Try dog sledging or skating on the lake - arguably the worlds most picturesque ice rink.
We suggest Lake Louise as your first stop as it's the quieter than Banff, meaning the early nights due to any jet lag you may have will be peaceful, then by the time you get to Banff, you'll be ready for some livelier evenings.
Transfer over to Banff, it's a forty five minute drive through the park.
Banff, stay here for around 5 nights to explore Mt Norquay as well as Sunshine Village ski mountains. There's plenty to do besides skiing here though, from the Park distillery to the Hot Springs which are worth getting up early for. 
Head back to Calgary for your flight home, you may even catch some elk crossing the wildlife bridges along the way.
From around £1,450 per person based on two sharing. Each itinerary is completely tailor-made. Give us a call on 01483 791130 and we can tweak any or all of this to be completely bespoke to you.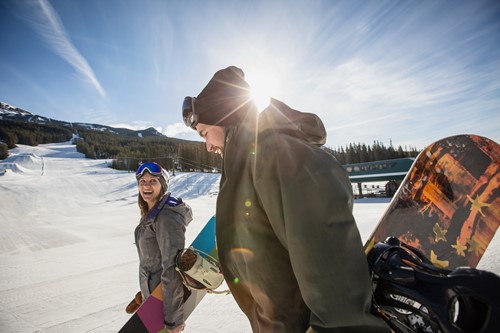 5 experiences to try in Banff National Park:
Ice Magic Festival
This little piece of magic runs for 10 days each January (from 15-26 January 2020). It's set in the spectacular surroundings of Lake Louise and has been for over 20 years. The Ice Magic Festival draws ice artists from around the world to create a little ice world around the lake and conquer the ice carving competition. 
If you're staying at the Fairmont Lake Louise whilst the ice magic festival is on you'll get complimentary wristbands so you can come and marvel at the sculptures as you please.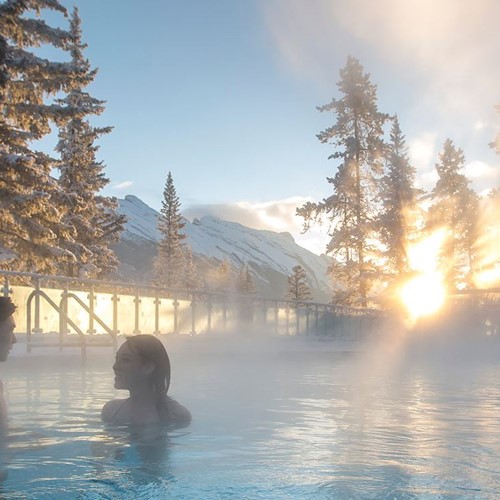 Banff Hot Springs
At 1585 metres the Banff Hot Springs are the highest in Canada and the reasoning behind making the area a National Park in the first place, a little bit of heritage thrown into the relaxing surroundings. We think the best time to visit the hot springs is as the evening is falling, stay in there long enough and you can gaze up at the night stars when the skies are clear. Not a bad little spot for a spot of star gazing.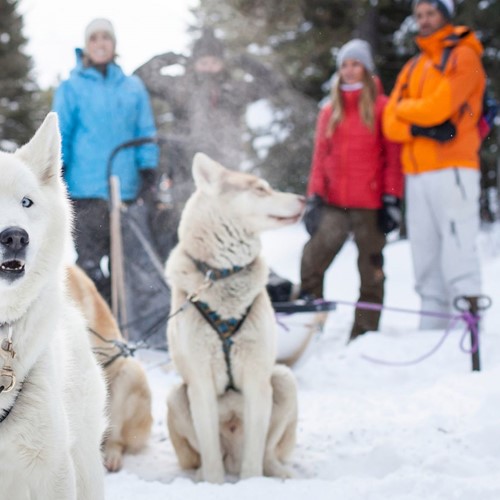 Dog Sledding
Now, this has got to be on your bucket list. There are not many places we can think of that would challenge the perfection of Banff by dog sled. Deep in Canada's oldest national park, brimming with life and spectacular scenery you can make some awesome dogs very happy indeed.
At Kingmik dog sled tours, the dogs have some pretty contagious energy in the relentless sprinting through the snow. Dog power is the way forward, you'll get to know each of the dogs along with a skilled musher who'll take you through the frozen wilderness whilst your snug in the sled watching the world go by.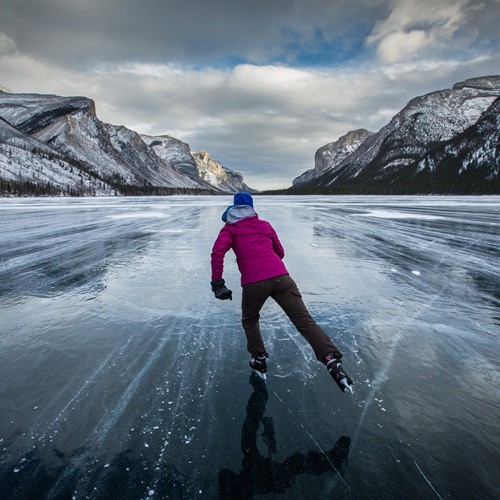 Johnston Canyon Ice Walk
This is walk through frozen waterfalls and frozen landscapes so you may want to wrap up warm. A steel catwalk skirts the edges of the narrow canyon where the thundering waterfalls of the summer months have frozen over into glittering natural ice sculptures. A guide can educate you on what you're looking at, you get to see inside the mountain, not just looking at or on it when you're skiing.
A pretty spectacular walk and it only takes a few hours of your time. The entire route is 3.4 miles and if you go with Discover Banff Tours they'll give you ice cleats to clip onto your boots for a little extra grip.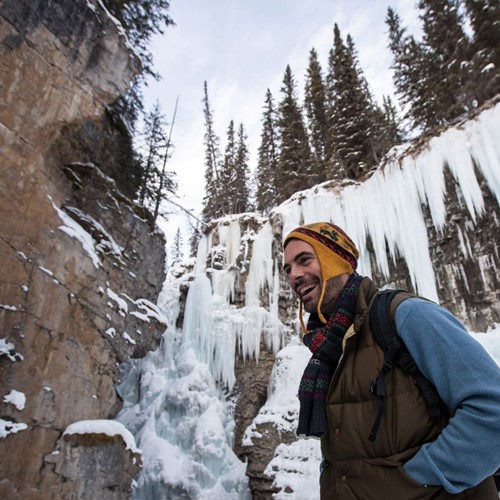 Ice Skating
Whilst there are plenty of ice rinks around Banff, there's certainly one to rule them all. In the winter Lake Louise freezes over to create possibly the most picturesque ice rink in the world. The Fairmont Chateau maintains the rink in the winter and there's a little hut to warm up the fingers if you're starting to feel the chill.
If your skating is getting a little confident, why not try joining in with the locals with a game of pick up hockey - you can rent gear along the lake. Though we're guessing they'll be much more experienced skaters than you. Be warned.