Kyoto ski itinerary - the former imperial capital
Sample the healing onsens on the northern island of Hokkaido, visit Ramen heaven in Niseko and dip into the endless quirks of Rusutsu before hitting the high tech city of Tokyo and getting lost in the spiritual heart of Japan in Kyoto.
At a glance:
- Niseko is skiing capital of Japan, plenty of powder, delicious food and friendly locals
- Rusutsu has one of the easiest resort layouts to navigate, perfect for trying out some tree skiing
- Go tech-mad in Tokyo, visit the Ghibli museum or take a Mario Cart tour of the capital, it's delightfully hectic
- Slip into serenity in Kyoto with countless temples, shrines and zen gardens
All of our itineraries are based around what you want, so we can chop and change anything or create a holiday completely bespoke to you. Give us a call on 01483 791130 or enquire online.
Kyoto
Kyoto, the former imperial capital of Japan and home to the emperor for over a thousand years. A city of over 2,000 temples and shrines, you'll catch glimpses of kimono-clad geisha scuttling through the cobbles, zen gardens of raked sand and stone and a cacophony of wooden merchant abodes, tea houses and food stalls in this richly traditional city.
Kyoto is the spiritual heart of Japan, as the modern city buzzes all around, the cities exceptional historic value is ever present. Home to the most revered artisans in the country and with the smell of incense lingering in the air, it's a city that moves at a slower pace and different rhythm to the bright neons of Tokyo. A city of religious masterpieces such as the golden Kinkaku-ji temple and where cultural practices such as the tea ceremony and flower arranging were born.
Whilst being the perfect juxtaposition to a hectically futuristic Tokyo, Kyoto is still a city moving forward. The birthplace of Nintendo, it embraces the future with a thriving technology industry, university hot spot and plenty of modern buildings - evident as soon as you step off the bullet train. But Kyoto's greatest appeal is that it's a city looking both forwards and backwards in serene harmony.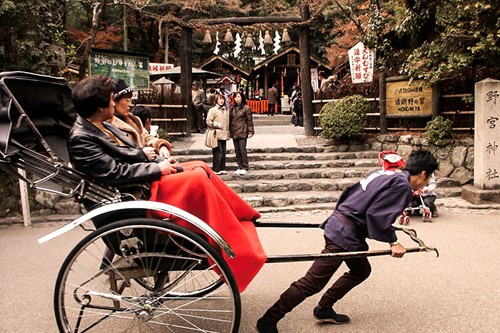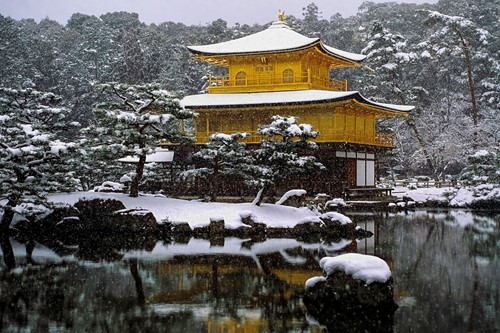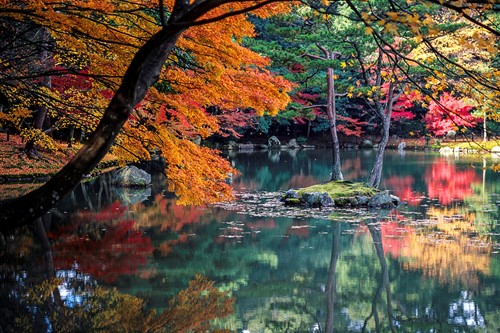 Niseko, Rusutsu, Tokyo and Kyoto ski itinerary
Fly into New Chitose airport on the northern island and transfer directly to Niseko (a 2.5 hour drive)
Niseko - spend five nights in Niseko, staying in the main town of Hirafu. This gives you access and enough time to explore each of the four interlinked ski areas and test out your powder skiing with a guide. Hirafu is the hub of the resort with tonnes of restaurants to explore; ramen and soba noodles to amazing seafood hot pots and sushi, it is an island after all.
Transfer to Rusutsu- around 25 minutes
Rusutsu - Spend 3 nights in Rusutsu, probably the quirkiest place we've been to. Compared to Niseko the village is tiny but there are no crowds so you have some of the best powder on the island pretty much to yourself. There's even a theme park with rollercoasters deep in snow. Arguably our favourite resort for tree skiing in Japan.
Transfer to New Chitose airport (2 hours) for your internal flights to Tokyo.
Tokyo - It's time to experience the bright lights and neon streets of the almost futuristic capital. 3 nights will give you enough time to leisurely explore the different neighbourhoods and see sights such as the incredibly busy Shibuya crossing, witness the ginormous tuna at fishfdRAGGh fish market and climb the Sky Tree.
Hop on the bullet train to Kyoto - the quickest Shinkansen, Nozomi, takes just 2 hours and 20 minutes though it's more commonly around 3 - 4 hours.
Kyoto - The old imperial capital, spend time meandering through temples and shrines and enjoying the slower pace. The city was spared the bombings that Tokyo received during WW2 due to its historic value so there are some spectacular buildings and a thriving artisan culture. Staying in a traditional ryokan inn is possibly the best way to immerse yourself, but don't forget to sample the fantastic food.
From around £2,500 per person based on two sharing. Each itinerary is completely tailor-made. Give us a call on 0208 939 0862 and we can tweak any or all of this to be completely bespoke to you.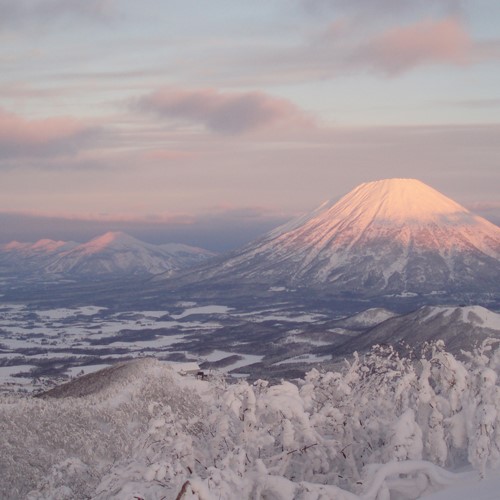 Our top 5 things to do in Kyoto:
Gion
Kyoto's famous entertainment district, filled with shops, restaurants and teahouses (ochaya). A network of cobbled streets lined with well preserved wooden merchant houses (machiya) is home to Kyoto's Geisha saught after district. The best time to spot Geisha and their apprentices is early evening when you can spot them in the back streets flitting between appointments. It also happens to be the most atmospheric - when the lanterns are lit, just be respectful when taking pictures of Geisha, try not to obstruct/annoy them.
The ochaya (teahouses) are the most exclusive (and expensive) of Kyoto's dining experiences, guests are entertained by Geisha but it's often by recommendation only. Hanami-koji Street is a great place to dine with the street and side alleys lined with traditional machiya, now purposed as restaurants serving Kyoto style Kaiseki ryori (Japanese haute cuisine).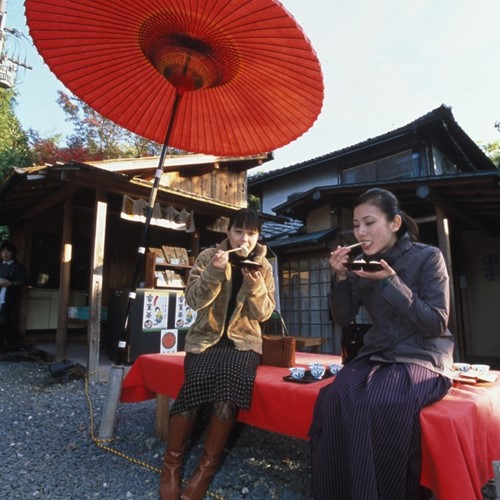 Nishiki Market
Nishiki Market is known as 'Kyoto's Kitchen', A five block long shopping street for all things related to food - and a coupe of ornate souvenir shops. A refreshing temple escape.
The street is lined with narrow stalls to multiple storey shops with a busy, buzzing atmoshpere. Perfect for experienceing a more local side to Kyoto and getting fulled submerged in the food culture. There's an addictive array of fresh and dried pickles to sample along side Japanese sweets, dried seafood, sushi and kitchenware.
Plenty of shops offer free samples and there's a few selling skewers and other ready-made food from tiny sit down stalls seating no more than a handful of people. Most specialise in one particular type of food and are attached to a shop peddling the speciality.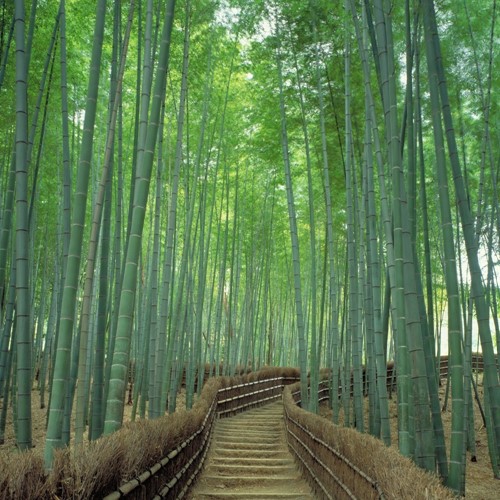 Arashiyama bamboo grove
An other-worldly experience, it's a forest quite unlike any other. Access is from the main street of Arashiyama, just to the North of Tenryu-ji Temple (which is well worth a visit before you enter the grove) just exit through the North gate for the easiest route.
The bamboo grove is one of the most photographed spots in Kyoto and as awesome as the pictures are, they don't quite capture the full experience. There's one path leading slowly uphill through the gently swaying bamboo and it's strangely hushed atmosphere and lighting. The forest seems to go on forever in every direction.
At the top of the hill is the Okochi-Sanso Villa which is well worth a look inside and a cup of matcha green tea.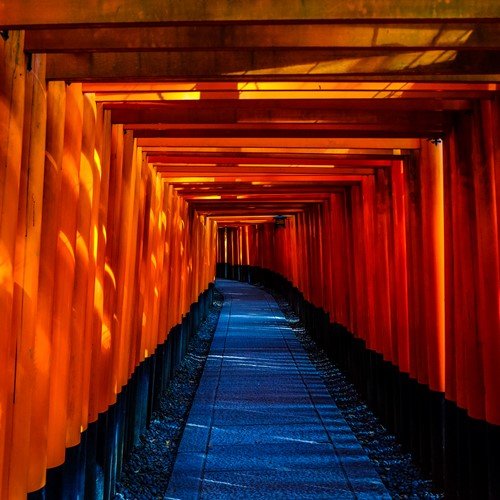 Philosopher's Walk and Honen-in temple
With Kyoto having such rich traditional heritage, the most popular temples and shrines can be the opposite of relaxing and tranquil. If you get fed up of the crowds or just want to visit some quieter sites then the Philosopher's Walk is a welcomed respite.
A stone path that follows a canal lined with hundreds of cherry and maple trees with some nice shops and cafés along the way as well as smaller temples and lesser visited shrines. Just under 2km in length, the path was such named after Nishida Kitaro (one of Japan's most celebrated philosophers) was said to have walked the path daily practising meditation on route.
The Honen-in temple is well worth stopping off at, the entrance gate can be quite spectacular and the atmosphere is much quieter - how you may have expected temples to be.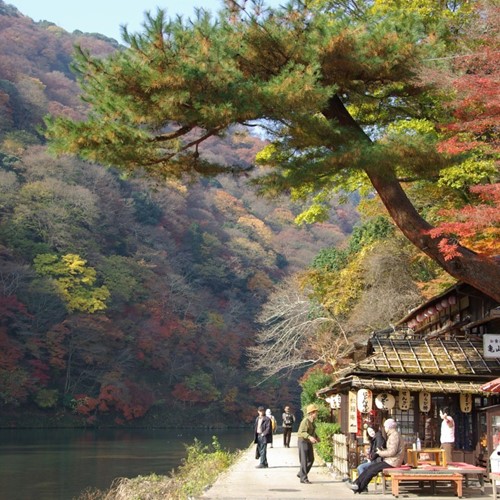 Fushimi Inari Taisha
If you've been researching Kyoto you've most likely seen an image of the 10,0000 vermilion torii gates that the Fushimi Inari Shrine is famous for. The gates line trails leading into the wooded ofrest of the sacred Mount Inari at 233 metres creating one of the most visually impressive sights in the whole of Kyoto.
The torii gates get more dispersed as you get up the mountain and there are some great views of Kyoto if you manage to reach the summit (though you can turn back at any point - most people do). 
The Fushimi Inari is dedicated to the Shinto gods of rice and sake. Whose messengers are said to be foxes, hence the fox statues throughout the grounds. Traditionally the fox is seen as sacred in Japan, a mysterious animal that can posses humans through a point of entry under the fingernails - slightly creepy.