For ski breaks in Cortina, you'll be flying in and out of Venice airport (the closest airport at around 2 hours transfer) so it makes sense to spend a couple of days exploring the marble palaces extravagantly built atop a lagoon. Winter sees the tourist hoards depart and fur-clad Venetians re-claim the streets, piazzas and churches. Mist rolls over the water as the gondolas wind their quiet paths down the side canals, Saint Mark's Basilica is eerily empty and the soft winter light makes winter arguably the most romantic time to visit.
At a glance
Ski through the towering limestone landscape of Cortina tinged pink at dawn and dusk
A supermodel of a ski resort where Italians go to see and be seen combined with fabulous skiing
2 hour transfer back toward Venice airport will drop you off at the water bus terminal to catch a boat into Venice itself
Bargain prices in the best hotels now the crowds have departed, think luxurious hot chocolates and the best tables in the best restaurants
All of our itineraries are based around what you want, so we can chop and change anything or create a holiday completely bespoke to you. Give us a call on 02089 390 862 or enquire online.
Venice
Being up in North Italy and on the water, Venice does get pretty cold during the winter months, however, wrap up in a few layers and you'll find everything is still going strong. Venice is a year-round destination, most hotels will still be open, shops will have regular opening hours and the attractions and shows are still in full flow. Come between mid-February and early March (2019) and you should catch the annual Carnival where people walk through the streets like they're going to a mascarade ball and there's an open-air festival feel to the entire city.
Affordable prices and fewer tourists
Winter brings much more affordable prices, hotels drop their rates and the shops have pretty incredible winter sales. Plus you may even get free entry into some of the museums and sights. Tourists are still around but it's nowhere near the crowds of the summer so queues to the main attractions are at a minimum or non-existent. The only thing to look out for is the shorter days, just get up a little earlier to make the most of the sunlight as it gets dark around 17:00 but that's the same anywhere in winter. It does make for some moody photos with the dark clouds and fog rolling down the canals, or you could get crisp days with blue skies for the perfect Instagram shots.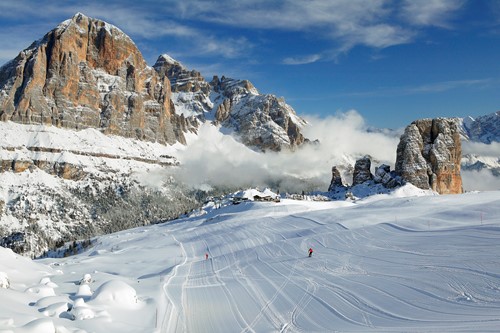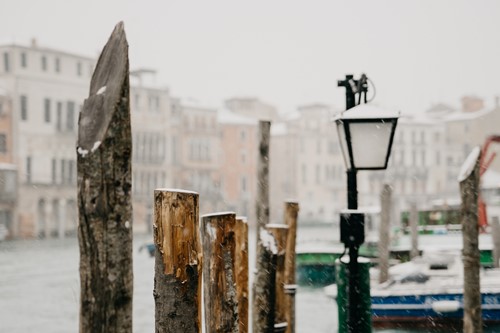 Cortina - Venice ski itinerary
Fly into Venice airport and make the two hour transfer up to Cortina. You'll pass through the picturesque valley of the River Boite before entering the impressive Ampezzo Valley views over the mountains and forests all the way to Cortina at its centre
Cortina - 4 nights at the 4* Hotel Cortina, steeped in history this family-run hotel has a decadent style with the bar spilling out onto the terrace and into the buzz of central Cortina.
Transfer back to Venice, you'll be dropped off where you can take a water bus into town or opt for a little luxury with a private water taxi which will drop you as close to your hotel as the canals permit.
Venice - 3 nights at the 4* Ca' Pisani Boutique Hotel. Discover the real Venice from what seems a secret spot in the Dorsoduro district a short walk to the Ponte Dell'Accademia.
Spend a few days explore the best of Venice away from the crowds. Romantic gondola rides when the mist clears and aimless rambling through the warren-ous streets.
Take the water bus or taxi back to the airport for your flight home, you're ski and gondola holiday is sadly drawing to a close.
From £1,265 per person based on two sharing. Each itinerary is completely tailor-made so we can alter any durations, hotels, timings etc. Give us a call on 0208 939 0862 and we can make a break completely bespoke to you.
Fancy a little more luxury? Upgrade to the 5* Cristallo Resort and Spa in Cortina with unbeatable views and a private shuttle service, paired with the 5* Gritti Palace with the most eye-catching spot of the Grand Canal overlooking the Santa Maria della Salute, this 15th-century Venetian Palazzo is unbeatable for style, character, service and location.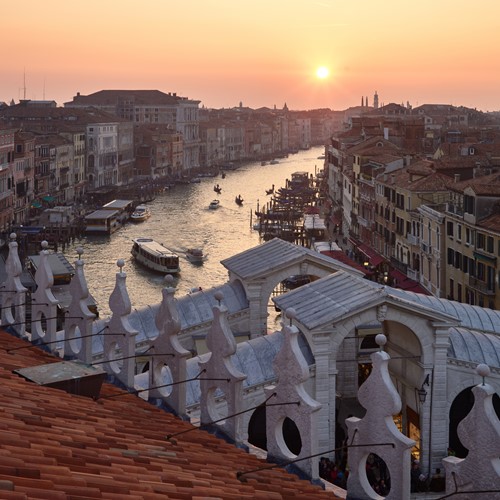 Our top 5 things to do in Venice
1. Gondola ride
Sitting in a boat when it's cold outside, may not feel like the most appealing thing to do, but gondola rides are at their most romantic during the winter months.
Go early when the mist is low and avoid the busy Grand Canal, opt instead for the narrow side canals where the soft, hazy winter light can break through the mist for a truly authentic experience. You may even be able to haggle a bargain being the winter season.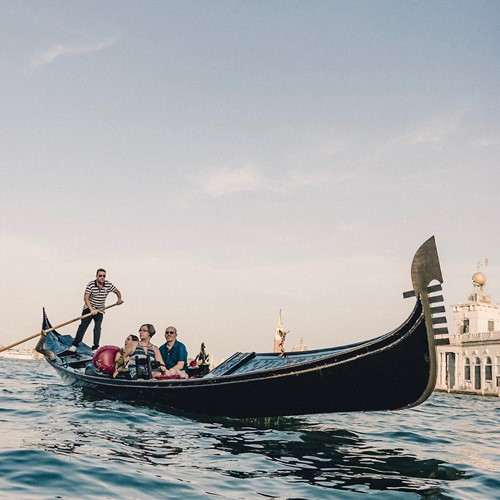 2. Go on a bummel
Perhaps the most rewarding way to spend a day in Venice is to explore without a destination in mind. Shuffle through the warren of streets, popping into the endless public churches and little piazzas you pass. 
Look out for the Libreria Acqua Alta (the high water bookstore), a ramshackle bookshop beside the canal packed with thousands of hardcovers, paperbacks, magazines and comics. Some are housed in gondolas and bathtubs to best protect them from the high tides. Leaf through a volume in a cosy nook or chat about world travels with the owner.
When refreshments come calling, stop at any bacari that piques your fancy for an ombra (small glass of wine) and chiceti (small snack). Make a little bacari crawl of it if you fancy, mopping up hot pork rissoles, charcuterie, oysters and mortadella on toast with wine and conversation.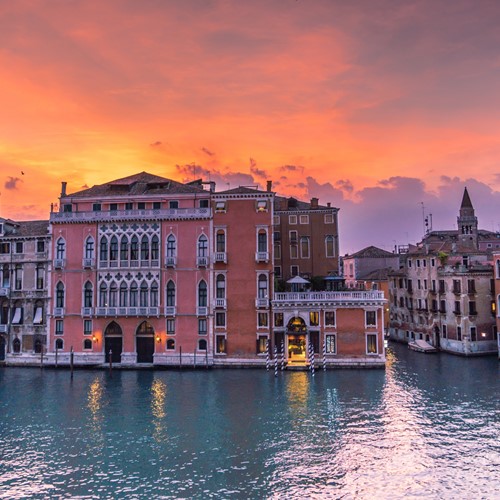 3. Caffé Florian
You can take a look around Saint Mark's Basilica when it opens at 9:45 am, get there early enough and you may have the place to yourself - a 'silent cave of shimmering gold' to quote Anne Hanley.
After walk across St Mark's Square to Caffè Florian for sumptuously thick hot chocolate and delightful biscotti, the summer crowds are a distant memory and you should be able to stroll right into a window seat. If the cosy red velvet and warm atmosphere doesn't warm you through the ganache-esque chocolate is sure fire to do so.
If you fancy some further praline heaven in a cup head 700m up the road to VizioVirtu where the thick hot chocolate is sure to drive out the winter chills.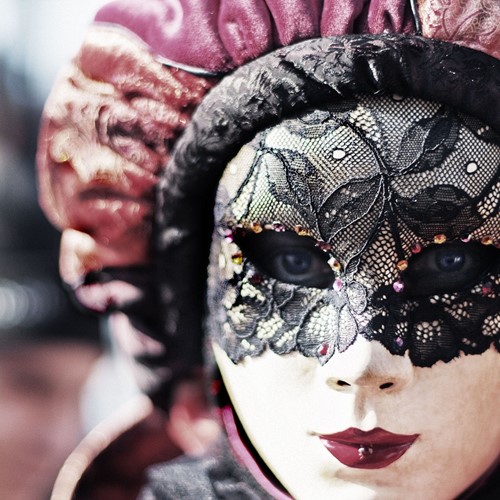 4. Teatro La Fenice
One of the oldest opera houses in Europe, Le Fenice doesn't scrimp on extravagance, built in 1792 the acoustics are spectacular as is the ceiling. This winter sees Macbeth, Verdi and Mozart lift the winter months and you can snap up gallery tickets for 40€. Even if you're not an opera fan it's well worth a visit.
You can also hop on a guided tour of the theatre for around 10€, they run daily and you get to see the stunning interiors and perhaps a glimpse of rehearsals if you're particularly lucky.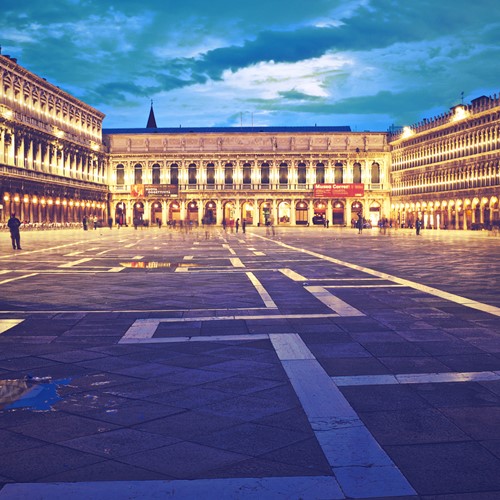 5. Venice Carnevale
The annual Carneval extravaganza swoops into the lagoon city in mid-February (for 2019) running from February 16th through March 5th the open air festival brings masked masqueraders, live music and frivolity to the streets of Venice. Colourful folklore swims through the city cumulating in the masked costume contest in St Mark's Square.
Think boat parades, plenty of dancing and street shows to warm you through the winter.