Meet our team...
We're a close-knit bunch in a small company so we can offer a very personal service. Combined, we've had more ski days than you can shake a stick at and we all love to get on the slopes to become big kids again. You never know, you may even catch us out there!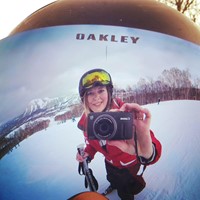 Mads
Brand & Digital Manager
Après skier
I first hit the slopes 5 years ago and my expertise lies very firmly in après.
About Mads
By some stroke of luck, I was sent to the Canadian Rockies within 3 months of joining flexiski. I spent most of the time completely baffled by how everyone managed to make it look so easy, when I could barely stand up on the flats - that said, learning to ski in the beautiful Sunshine Village at the age of 27 was certainly an experience I'll never forget.

I've been numerous times since and whilst I'm certainly no pro, I have finally started to enjoy it.

My advice? It's never too late to learn, so just book it and get out there.
Years skiing: 5
Favourite resort: Rusutsu, Disneyland in the snow
Favourite après: Prosecco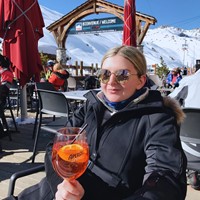 Lily
Digital Content Executive
Mountain romance
I started skiing aged 18 in order to impress my (now ex) boyfriend. Little did I know, I'd discovered a lifelong love for the mountains.
About Lily
I'd never been much of an athlete, so it was much to my surprise that skiing struck a chord with me on my first uni ski trip back in 2013. Starting off with an unhealthy amount of self-confidence - partly due to the copious amounts of alcohol we'd consumed on the 26-hour coach to France - I quickly discovered that I wasn't, in fact, a natural skiing expert. Five weeks of technique improvement later though, and I'm starting to feel at home on the slopes. There's nothing quite like the feeling of successfully making it down a black run in one piece. There's also nothing quite like a hot chocolate with a double shot of Baileys to calm the nerves.
Years skiing: 6
Favourite resort: Meribel
Favourite après: Aperol Spritz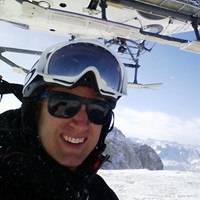 Nick
Purchasing Manager - Austria & Switzerland
Austria aficionado
The plan was to just do one season in Austria after uni - that was 14 years ago and I'm still here! Some may say I'm living the dream - I agree.
About Nick
Grew up skiing every season in Aviemore, Scotland with the family, then did a season in St Anton as a resort rep. So many memories, including having competitions on who could do the most embarrassing wipeout infront of each others' guide groups! Loved it so much here that I never left.

My favourite experience so far would have to be heliskiing in the Arlberg in 2016 - nothing beats the exhilaration of jumping out of a helicopter and into fresh powder!
Years skiing: 30
Favourite Resort: Ischgl
Favourite après: Schnapps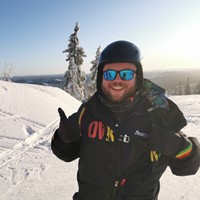 Scottie
Ski Sales Specialist
Powder day loner
If you spot a set of tracks where someone has been crazy enough to ski, those are probably mine.
About Scottie
I've been skiing since I was 4 years old, mainly in France. I did my first winter season in Whistler when I was 17 and I managed to clock up 137 days of first chair, last call on the mountain in that season alone. After that, I stayed on to mountain bike in the summer season. If you want to know anything Whistler, I'm your guy.
Years skiing: 21
Favourite resort: Whistler
Favourite drink: A cold can of Rockstar on the first morning lift