Meet our team...
We're a close knit bunch in a small company so we can offer a very personal service. Combined, we've had more ski days than you can shake a stick at and we all love to get on the slopes to become big kids again. You never know, you may even catch us out there!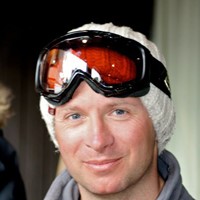 Pete
Purchasing & Operations Manager
Resort encyclopaedia
During my time at flexiski, I have had some wonderful experiences and met some exceptional people (both staff and customers).
About Pete
In terms of the some of the more memorable times, these range from walking through the arrivals in full ski kit plus skis after getting dropped off by a helicopter transfer, straight from the piste, to enjoying a week of Michelin star dinning across the 3 Vallees. I have loved every minute of it and am so lucky to say that for some weeks of the winter, I have the best office in the world.

I used to be able to ski a bit but as abilities and bodies slow down, one thing that doesn't change is the pure, unfiltered excitement and joy that comes from getting onto the first lift, feeling the ski's flex on that first turn. It really does transport you back to an almost childlike sense of fun and enjoyment. I felt this from day one in Val d'Isere and am totally sure this will continue all the way through to my last day on the mountain. It is purely the best adventure you can have with friends and family and seeing people experience this for the first time really can't be equalled.
Years skiing: 15
Favourite resort: Bit of a cheat but 3 Vallées, it's just impressive
Lunch favourite: Sainsbury's Christmas Triple Sarnie
Dawn
Sales Manager
Love an incentive
A lover of inventive games for sales motivation, from battleships to advent quizzes there's always a genial suspense before a new game is announced.
About Dawn
I've been out on the slopes only a handful of times, it's fair to say I'm no pro, but as a natural people person, it's the social side of skiing that's the most fun anyway.
Years skiing: 2
Favourite resort: Megeve
Favourite après: Hoegaarden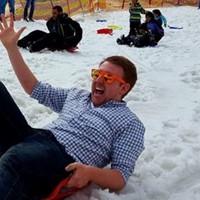 James
Sales Team Leader
Resident France fan
I've skied from a young age, originally learning in Chamonix before really finding my ski legs in Meribel - it's a great place to begin.
About James
A cardigan lover and purveyor of bargains, I would find my way to a good deal even if it meant braving King Minos' labyrinth.

As an avid piste skier you can't beat cranking up a decent daily mileage so I love a large ski area. Somewhere like the 3 Vallées is perfect for travelling for miles without having to repeat a slope.
Years skiing: 12
Favourite resort: Whistler
Favourite brand: H&M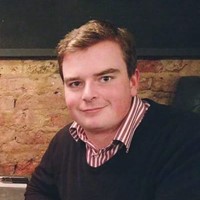 Peter
Ski Sales Specialist
Whistler wonderkid
Former ski instructor turned sales specialist, however my skiing has been described as a whale on ice. Oh well.
About Peter
Really confident skier, always look for the more creative route down… (normally viewed as the most ridiculous route by those who follow my lead). When the snow isn't so great, I just enjoy darting around on the piste. Failing all of that, if it's a cloudy low light day, you can find me in Whistler Longhorn's eating my own weight in nachos. Absolutely no sharing.
Years skiing: 12
Favourite resort: Whistler
Favourite après: Gin & tonic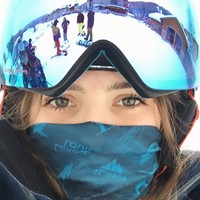 Natasha
Ski Sales Specialist
Young gun
Youngest member of the team (which they don't let me forget). I'm not too shabby on the skis.
About Natasha
I first learnt to ski in Andorra at age 4 and have loved it ever since. I remember once getting my skis crossed so I sat down on them and began hurtling down the mountain, taking out a couple of people in the process. You may as well call me an assassin. I may be the youngest member of the team but i've been on skis longer than a lot of them!
Years skiing: 15
Favourite resort: Sun Peaks
Favourite après: G&T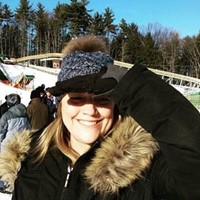 Jenny
Ski Sales Specialist
Little Miss Bump
Growing up with mountains on your doorstep leans itself towards feeling rather comfortable strapped to a pair of skis. Overconfidence often backfires.
About Jenny
I was born in Switzerland and being so close to the mountains meant that I learnt to ski as soon as I started walking. This, however, hasn't prevented any breaking of bones. And it may be a surprise to some that whilst growing up in Greece I spent winter weekends skiing (yes, on snow). It's not all sunshine, beaches and smashing plates.
Years skiing: 20
Favourite resort: Zermatt
Favourite après: Hugo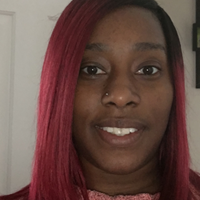 Keisha
Ski Specialist Aftersales
Eye for detail
Having worked in the industry for years it's amazing really that I've never managed to get out on the slopes, hopefully this year.
About Keisha
Whilst strapping skis to my feet may not be my strongest skill, knowledge of short breaks certainly is. Even my dreams come in an organised fashion as if ploughing through a check list. Number crunching and detail checking is my bread and butter.
Years skiing: 0
Favourite resort: Having never skied it's hard to say a favourite
Favourite après: Malibu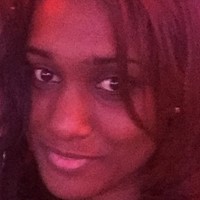 Gail
Ski Specialist Aftersales
Admin extraordinaire
Call me the not-very-often skier - i've been a few times and both have been loads of fun and memorable, but i'm still finding my legs!
About Gail
I love to take a photo or 100, so the scenery has always been a highlight for me along with the slopes. If there's après, I'm there! I enjoy talking to customers about their booking and sharing the excitement of booking a trip! It gets me thinking about where I need to go next and add to my list (which is very long already). I do love to fly and aviation is a passion of mine as I would love to learn to fly one day and tick a few places off that list!
Years skiing: 1
Favourite resort: Meribel
Favourite apres: Desperados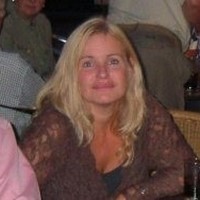 Cathy
Trade Development Manager
Ski industry veteran
I've loved skiing all my life and have worked in the ski industry for years. Now, I like to live vicariously through my seasonnaire daughter!
About Cathy
Love the country life in England, but nothing beats a bluebird day in resort.

I learnt to ski about 10 years ago and was immediately hooked!
Years skiing: 10
Favourite resort: Val d'Isere
Favourite apres: Toffee vodka
Newsletter signup
Keep up to date with all the latest flexiski news