Short break ski chalets
We've heard that short ski breaks are what you love, or at least what you're asking for, so we've decided to throw the traditional Saturday to Saturday, 7 night chalet stay out of the window. Our ski chalet is based around short breaks, whether that be over a weekend or getting a mid-week stay in when the slopes are quieter. Of course, if you want a week on the slopes there's the Wednesday to Wednesday or Sunday to Sunday when the ski traffic is at a minimum so transfers to resort will be at their quickest.
What's included in a flexiski chalet break?
Our chalets are fully catered: there's breakfast (always with a hot option), afternoon tea and snacks (usually cake or biscuits), pre-dinner canapes with bubbles and a four-course evening meal, bottomless wine included. This is the minimum. Some of the chalets offer little extras, potentially small bar areas or beer on tap when available as well. Complimentary WiFi is in each chalet.
Each week there is a chalet night off, usually a Tuesday but this can change. On this day you will still get breakfast but there will be no evening meal. The staff will be happy to make recommendations on where to eat, make bookings for you and organise taxis if required. It's a night to try some local dishes.
We are always aiming to save you time and hassle when booking a ski trip so you can simply enjoy the mountains. With that in mind, we're extremely flexible when it comes to booking with us. We can take care of just the accommodation through to helping with every aspect of your ski break. We can include:
Scheduled or budget flights
Private, shared or train transfers
Car hire
Lift passes
Ski/snowboard equipment hire
Group or private ski/snowboard lessons
Non-ski activities e.g. tobogganing or dog sledding
Ski activities e.g. heli-skiing or cat-skiing
A few days in the city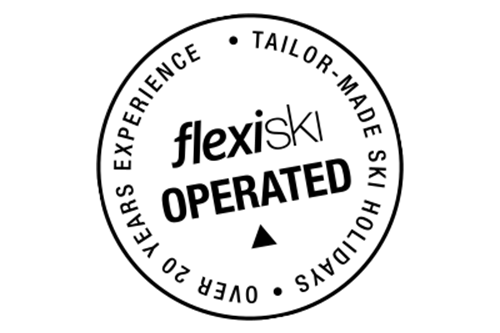 What dates and duration can I book a chalet for?
Throughout the season, each chalet is booked for three or four night stays either beginning or ending on a Sunday, this means no getting stuck in the Saturday traffic and it allows you to take the minimal time off work if required.
Over Christmas and New Year the arrival and departure days may vary slightly to ensure you're not flying on undesirable dates unless you'd prefer to of course.
Can I book a chalet for my group?
In short, Yes. You can book the chalet in its entirety, just for yourselves or book enough rooms within the chalet for your party and the rest of the chalet will be filled with like minded skiers (or boarders). A chalet is a social experience so expect laughter and tale swapping, you'll be hearing all sorts of snowy stories over dinner.
Our flexible ski chalet:
Our ski chalet is run by flexiski staff, therefore, we can offer you the great chalet experience and personal service we'd expect, giving you the best time possible whilst you're with us.
Chalet des Cascades - Les Arcs (2000), France
If you're looking for ski in, ski out convenience then you've found it in the Chalet des Cascades. Brand new for the 2017/2018 Winter season and a step up in style to your normal chalet offerings. The Cascades was voted 'world's best new ski chalet 2018'.
Sleeps 14 people in 7 rooms including a master suite and a junior suite.
What we like:
Surrounded by beginner slopes, not only is it ski in, ski out, it's accessible for all ski levels
Indoor pool and sauna for a little wellness indulgence
Panoramic terrace with fire pit
Heated ski to the door boot room - no walking in your ski boots
Underfloor heating throughout the chalet
Huge central fireplace in the lounge area
Three separate communal spaces including a TV lounge and a mezzanine reading area floating over the main lounge.
150 metres from the centre of Arc 2000, make sure to bring snow boots to cross the piste 
Prices start from £160 per person per night, accommodation only based on two sharing. For a full quote give our ski specialists a ring on 0208 939 0862.
Don't just take our word for it, virtually tour the chalet and see it for yourself.