We're highlighting a selection of luxury ski breaks, to help you put together a ski holiday you'll never forget, in a setting you won't want to leave.
We all know how exhausting a day on the slopes can be. When you're out and about for most of the day, your 'base' becomes all the more important. There's nothing quite like a luxury hotel room to soothe away the aches and pains of the day. Undeniably, higher quality brings a higher price tag, but at these properties you'll certainly notice the difference.
Whether you're looking for expansive spa facilities, Michelin star food, breathtaking views, or simply somewhere with a higher thread count, you'll certainly find something to fill those requirements here. We can't think of anything more satisfying than the opportunity to unwind in a lavish hotel spa or flop into bed after a long day surrounded by complete luxury.
Here at flexiski, we also recognise that not everyone has time to take a week off work. That's why each hotel on our program is happy to offer short breaks and ski weekends. We believe in skiing on your own terms, and sometimes a little dose of luxury is all you need to leave the resort feeling reinvigorated. We'll organise flights, transfers, and accommodation at a competitive price and figure out all your ski break logistics, so you don't have to. Just take your pick from our selection of hotels, chalets, and custom-built apartments - all offering something extraordinary.
A few of our most luxurious resorts: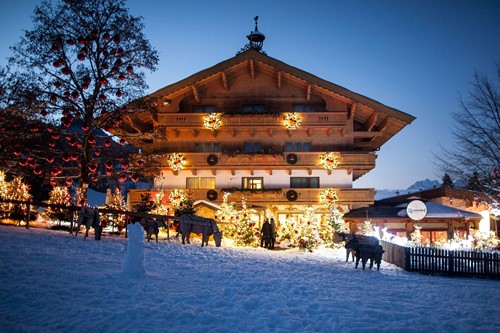 With a reputation as the most beautiful ski town in Europe, Kitzbuhel has serious luxury ski pedigree. Over the last weekend of January each year, the ski world cup comes to town for the hair-raising Hahnenkamm downhill race. Just a note though, because if you're hoping to get a glimpse of this spectacle you'll need to book very far in advance.
What's it like:
Pedestrianised medieval centre

Pastel coloured fairytale buildings

A super quick lift system

Plenty of intermediate cruisy terrain

The party starts in the slopeside sunset bars and carries on in town

There's plenty of options from Ibiza style parties to laid back wine cellars and quirky cafes
Stay at the central 4* Hotel Kitzhof for fantastic views and impressive surroundings.
Sat amongst the impressive Italian Dolomites, with limestone towers and craggy peaks tinged pink at dawn and dusk, Cortina is a spectacular corner of the world. The resort itself has pedestrianised cobbled streets speckled with quaint church spires and sprawling piazzas. It's a place the Italian's come to be seen as much as they do to ski, complete with some very classy wine bars and glamorous designer shops.
What's it like:
Stunning scenery

Crowd-free queue-less slopes

Attractive Italian town
Excellent selection of food from humble pizzerias to Michelin Star mountain huts
If you like designer clothes you'll be spoilt for choice
Sunny skiing and long mountain lunches
Stay at 5* Hotel Cristallo for an old school high society vibe
Stay at the 5* Grand Hotel Savoia to be close to the towns boutiques, bars and restaurants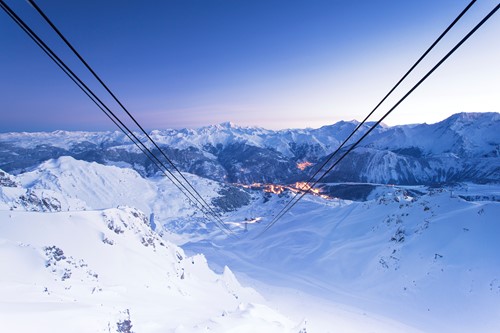 With the world's largest linked ski area on its doorstep, Courchevel has attracted a glamorous clientele for years. Courchevel features an incredibly varied and vast selection of terrain, snow-sure slopes, and world-class mountain restaurants. All the hallmarks of a great ski destination.
What's it like:
Split between five villages, Courchevel (1850) is the iconic centre, with Courchevel Moriond (1650) stealing the après crown and Courchevel Village (1550) providing a go-to family destination
Excellent lift system whisking you up the mountain in no time
With more than enough skiing for all abilities, Courchevel is absolute heaven for intermediates with long, mellow, gorgeous runs in abundance
Whilst Courchevel is known for its glitz and glamour it's not just for the super-rich, with prices not that dissimilar to London prices
Look out for the Richard Orlinski statues all over the place. They're hard to miss, huge geometrically-shaped beasts in striking red or white. The gorilla, in particular, has become synonymous with Courchevel
Stay at the 4* Fahrenheit Seven at the bottom of the slopes in Courchevel Moriond (1650)
Stay at Chalet Vieille Forge in the middle of Courchevel (1850) for a roaring fire and impeccable flexiski service
Our favourite luxury hotels:
The Kitzhof Mountain Design Resort in Kitzbuhel certainly fulfills the luxury brief. This hotel provides faultless finish and design throughout. Our favourite spot in this hotel is the impressive bar and lounge area, featuring floor to ceiling windows and plenty of comfortable spots to enjoy a glass of champagne. Touches like complimentary drinks in your minibar, in-room espresso machines, and soft hotel robes are coupled with attentive and smiling service. You certainly won't leave the Kitzhof feeling anything but pampered. 
What we like:
600sqm spa with impressive indoor pool overlooking the gardens
The Vinothek provides a private space for some superb wine and tasting menus
Full of natural materials and making great use of the light
Complimentary drinks in the minibar in your room
The views from the Kitz lounge are pretty awesome, overlooking the pastel-coloured town
Prices start from £747pp for 3 nights in March including flights, transfers, and B&B accommodation.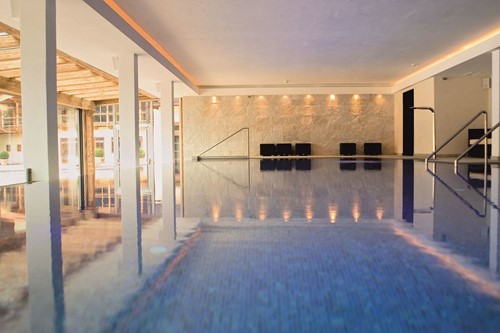 At the Chalet des Cascades you'll find ski in, ski out luxury in Les Arcs. Winner of the World's Best New Ski Chalet in the 2018 World Ski Awards, this impressive flexiski-operated property receives repeat bookings from our clients year-on-year, and it's not hard to see why. All our chalets are fully catered with pre-dinner canapes and bubbles as well as cooked breakfasts.
What we like:
Ski in, ski out in the middle of the piste but still only 150m away from Arc 2000
Large fireplace in the middle of the open plan living/dining/kitchen area
Local Mont Blanc beer on tap
High quality chalet catering
Comfortable rooms and thoughtful interior touches
Molton Brown toiletries
Prices start from £851pp for 3 nights in March including flights, transfers, and chalet catering accommodation.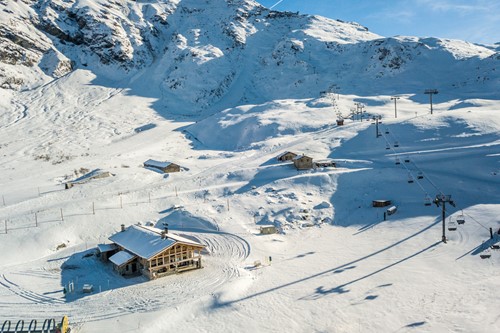 This hotel is a fantastic option if you're looking for a little bit of slope side luxury. The Taj-I-Mah is the first 5* hotel in Les Arcs and features a gastronomic restaurant, Le Diamant Noir, serving up impressive tasting menus as well as another Savoyard restaurant and bar and lounge. Whether you fancy something extravagant or just a delicious fireside burger, you won't be disappointed here.
What we like:
The suites, floor to ceiling glass windows highlight stunning mountain views
Extensive spa area providing the perfect place to unwind
Plenty of natural light
Modern furnishings and comfortable rooms
Ski in, ski out convenience, it's right on the slopes
Prices start from £1092pp for 3 nights in March including flights, transfers, and half board accommodation.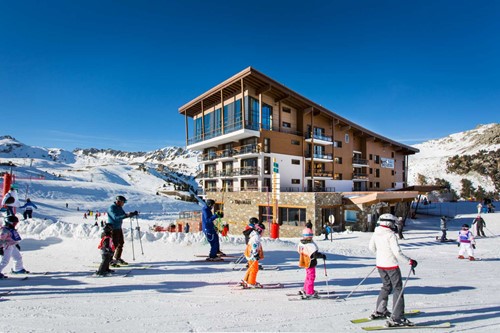 5* The Chedi - Andermatt, Switzerland
You don't get much more luxurious than The Chedi Andermatt. Known as one of the most impressive ski hotels in the world, this 5* gem is set within the very centre of Andermatt, right opposite the Andermatt train station. Granite flooring, dark wood furnishings and atmospheric lighting combine to create a hotel that is undeniably impressive. The Chedi's complimentary chauffeured ski bus will deliver you to the gondola within a four minute drive.
What we like:
Exceptional design hotel with stunning communal spaces
Three restaurants, a cigar library, a wine library, and a bar and lounge
Stunning day spa featuring a 35-metre indoor pool, plush daybeds, alpine relaxation room with log fire, salon, and health centre
Large, luxurious bedrooms with lounge areas, fireplaces, and en suite bathrooms
Prices on request.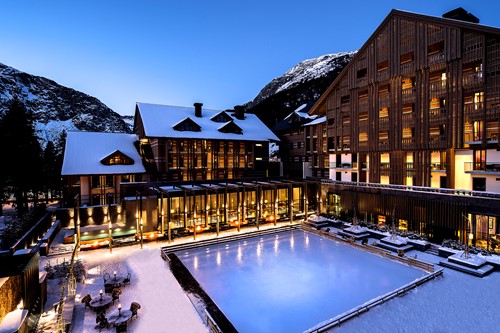 The Hotel Cristallo sits above the town, stealing the best views of Cortina like some greedy baron lording over his picturesque empire. The hotel is lavish and traditional with intricate silk work, sparkling chandeliers and deep embroidered carpets all brought up to date with high tech efficiency and modern fittings to complete an elegantly timeless stay.
What we like:
Fantastic views from the hotels elevated position
Complimentary on-call shuttle service to more or less anywhere you want to go (the service continues till around 10pm which is pretty handy)
Private chef's table if you fancy something extra special
The high society feel from the decor to the way staff treat you creates a great experience
Prices start from £926pp for 3 nights in March including flights, transfers, and B&B accommodation.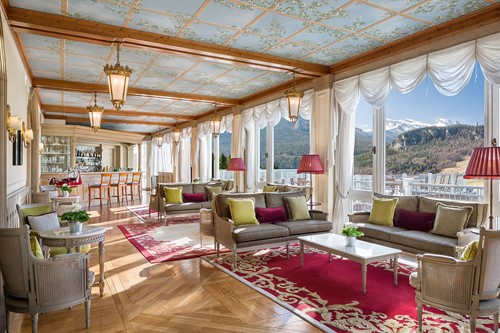 Hotel Norefjell Ski & Spa is a ski in, ski out hotel sat in the middle of the slopes and surrounded by snow and wilderness. We know you'll love skiing back to the outdoor hot tubs to catch the sunset at the end of the day. Pair that with a glass of bubbles and you'll be in pure heaven. Winning Norway's Best Ski Hotel in the World Travel Awards for numerous years the hotel is as stunning as you'd expect.
What we like:
Ski in, ski out location at mid-mountain level, get the lifts up of slopes down each morning
Extensive spa area with brilliantly positioned outdoor hot tubs - multiple time winner of best spa hotel in Norway
Amazing decor that really complements the surrounding nature (cliché but true)
Indoor climbing wall at reception
Prices start from £466pp for 3 nights in March including flights, transfers, and B&B accommodation.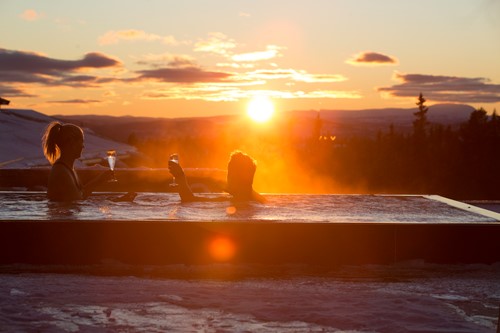 Situated slopeside and set within the heart of Courmayeur, Le Massif is a hotel offering every comfort afforded by a modern, luxury ski hotel. Part of The Leading Hotels of the World group, you can expect five-star service and glamorous surroundings at Le Massif. Le Massif also boasts a slopeside ski lodge, backing directly onto the pistes of Courmayeur and featuring a fine-dining restaurant and outdoor terrace - the ideal spot for après ski drinks in the sunshine.
What we like:
Immaculately presented interiors, high-quality furnishings and a family-friendly atmosphere
Collect your ski pass at reception, have your ski equipment transported to their slopeside chalet, and store your ski equipment in a heated locker

Short walk to the ski lifts and impressive views of the pistes from La Loge du Massif's terrace
Prices start from £1013pp for 3 nights in March including flights, transfers, and B&B accommodation.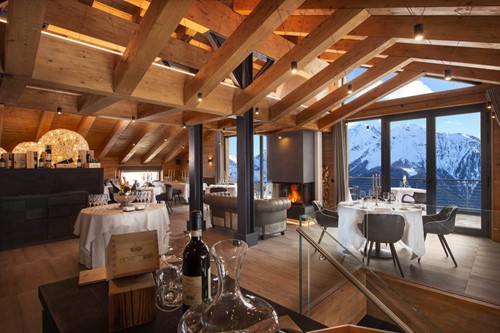 This ski in, ski out hotel is entirely fuelled by renewable energy. The spa is stylishly designed with one of the largest Finnish saunas we've seen and the three pools are stunning. In total, the spa area makes up around 2,000 square metres. The hotel restaurant, steakhouse and more traditional Hohe Mut Alm offer ample choice. Overall, the Crystal Lifestyle Hotel is a stylish choice that still draws all the best bits from the traditional mountain refuge.
What we like:
Ski in, ski out location - you're right on the slopes
All rooms have a balcony - a nice touch
The three pools offer some stylish swimming spots
Green credentials, using renewable energy only
Private access to the gondola
Prices start from £1002pp for 3 nights in March including flights, transfers, and half board accommodation.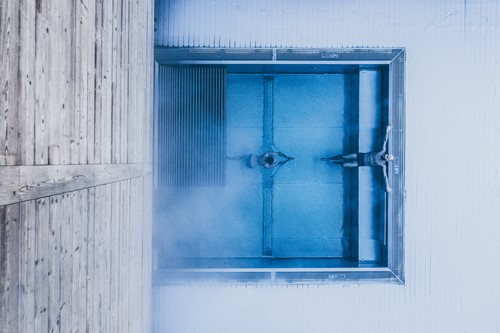 One of Zell am See's most impressive landmarks, the Grand Hotel is set on its own peninsular, jutting out into Lake Zell and is surrounded by the most stunning views. Just a minute from the town centre, the Grand Hotel emanates a Belle Époque decadence with grandeur and glamour. As well as the hotels obvious opulence, the staff really set it apart and the wonderful service they provide can make your day.
What we like:
Open fire in the bar
Fantastic panoramas in the dining rooms
Free spa access when you stay in a suite
All guests have access to the wider spa area
Traditional Austrian style and friendly staff
Prices start from £588pp for 3 nights in March including flights, transfers, and half board accommodation.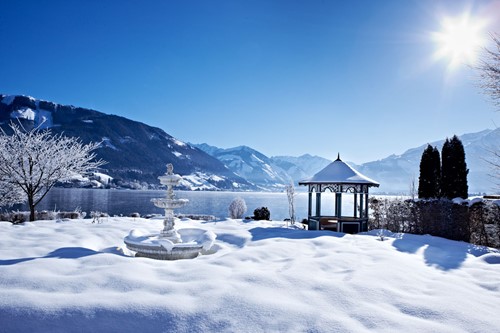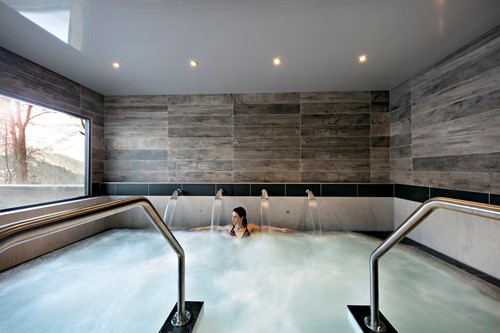 Luxury self-catering apartments:
Not everyone wants to be waited on hand and foot, so, for those who like a little more independence, we offer a range of luxury ski apartments. You'll get your own living space to enjoy as you please and many apartments have the same facilities you'd expect in luxury hotels, without the 5* hotel price tag. Here's a selection of our favourites:
What you can expect when booking a luxury ski break with flexiski:
A booking service tailored to you by our Ski Sales Specialists
Scheduled flights from major or regional airports, whichever is easiest for you
A choice of private, shared or train transfers to resort
Handpicked accommodation and personal resort knowledge
A dedicated after sales team to organise any lift passes, equipment hire or special requests you may have
24-hour emergency out-of-hours helpline should you need us when in resort
All prices on this page are based on two people sharing. All prices were correct at the time of publishing, but are subject to change.