Meet our team...
We're a close-knit bunch in a small company so we can offer a very personal service. Combined, we've had more ski days than you can shake a stick at and we all love to get on the slopes to become big kids again. You never know, you may even catch us out there!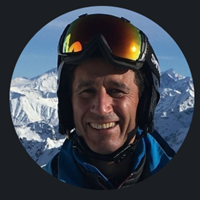 Dan Fox
Managing Director
Avoriaz or nothing
Enjoying getting to know the flexiski brand and customers and looking forward to building the focus towards tailor made luxury ski holidays.
About Dan Fox
Dan has been passionate about the mountains since he first skied with school in the 90's. His love of the mountains has always been mirrored by the desire to encourage others to share the experience. Dan's premise is to treat everyone as if they were a member of his family.

Dan's career has taken him from Engineering to being a ski instructor and then heading overseas as a ski guide. He's been in travel ever since, has managed chalets and hotels, contracted, bought and sold property, with his career progressing to General Manager for the French and Swiss Operations of Neilson and TUI.

SkiWeekends has been a way of life more than a job and it has resulted in a quadrupling of the business and ten times the number of resorts. Now he hopes to bring that ethos to the Flexiski brand. Dan believes Flexiski should constantly strive to lead the luxury ski market and his mission is to make sure everyone can get more time on the pistes!
Years' Skiing?: 30
Favourite Resort?: All of the Portes du Soleil!
Second Passion?: You'll find me out in the Solent!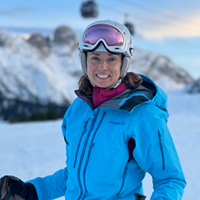 Sarah Fox
Director
Exploring new places
Sarah loves to explore new ski resorts and is excited to visit some of the latest additions to the Flexiski program.
About Sarah Fox
Sarah's first taste of skiing on snow was on a 'Try a Day Ski' in Jasper, Canada during a road trip around the Rockies. Little did she know, this would be the start of what was to become a lifetime of talking about, working and being obsessed with everything ski! Sarah learnt to ski at university and has skied every year since. She skis at least once a month from December through to April, visiting our hotels and exploring new resorts for the company. Sarah loves that her job takes her to fantastic European ski destinations.

Sarah's favourite thing about Flexiski is skiing in and learning about the many different ski resorts and their own unique cultures in Europe. She loves sharing this knowledge to help people book the right ski trip.
Years' Skiing?: 33
Favorite Resort: Avoriaz
2nd Passion: Cycling & swimming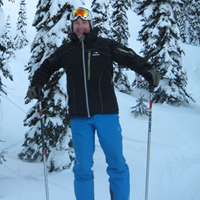 Adrian
Ski Expert
Go steep or go home
With many years skiing under his belt, Adrian is a fountain of ski knowledge having experienced many of our destinations first hand.
About Adrian
Adrian, an avid skier since a young age, has completed 3 ski seasons, including one in Val d'Isere and two in Verbier. Now, with over 20 years of experience in selling ski holidays, he's been fortunate to explore various ski destinations across Europe, as well as venturing across the Atlantic to Canada and the United States for work-related skiing adventures. Adrian's passion for skiing remains unwavering, constantly seeking new and exciting slopes to conquer. Among his favorite moments are the thrill of HeliSkiing, where he was dropped off at the top of the Trient Glacier on a sunny day, and the joy of teaching his child to ski in Les Gets.
Years' Skiing?: 43
Favorite Resort: Verbier
2nd Passion: Walking the dog
Catherine
Ski Expert
Meribel all the way
With 20 years' experience in Meribel, Catherine is a great ambassador for the Trois Vallees but loves to explore new places, with or without snow.
About Catherine
With over two decades of experience at a company specializing in Méribel and Les Trois Vallées, Catherines deep passion for skiing and mountain life is evident, and she finds true happiness in the alpine landscapes. Assisting guests in planning their ski holidays, whether it's an exhilarating short break or a more relaxed extended trip, brings Catherine immense joy. The mountains are her natural habitat, and she thrives on sharing her expertise to create unforgettable ski experiences for others.
Years' Skiing?: 20
Favorite Resort: Meribel
2nd Passion: Boating, travel and tennis