Packing for a ski trip can be a daunting prospect. Normally I'm a last minute packer, 10 minutes before you're out the door just cram a few things into your bag and make sure you have your passport, wallet and glasses - what more do you need?

But for a ski trip it pays to be organised, you may be able to get anything in resort but it's a real kick in the teeth if you have to shell out £60 as you forgot your gloves. So here's a little check list for you. Whether you're a complete beginner or can ski in your sleep, we all need the same gear.
The essentials
Passport
Travel insurance
Tickets
Money/credit card
Ski/snowboard jacket
Ski/snowboard trousers ('salopettes')
Gloves (waterproof and warm)
Ski socks (at least a couple of pairs)
Base layers (x 2 - to get the moisture away from your body)
Mid-layers (or jumpers, but not too bulky)
Hat (beanies are best or if you can pull off the earmuffs?)
Goggles (sunglasses are great if the weather's good but goggles are essential if it snows)
Helmet (you can also rent these from where you rent your skis)
Sun cream (technical - high albedo on the mountains, the sun reflects off the snow so basically it hits you twice)
Lip balm
The tech
Music (with headphones)
Camera (whether it's your phone or a fancy go pro it's always nice to grab a couple of snaps)
Your phone (just in case you get separated from your group)
Chargers
Travel adapters
Nice to haves
Buff (or scarf or anything to keep your neck and face a little warmer)
Hand/feet warmers
Inner gloves
Gloves (normal for in resort)

Boots (decent pair so you can walk on the snow in the resort, it gets icy and can be wet)

Snacks, refuel on the mountain (or your journey to the mountain)

Paracetamol/ibuprofen (for sore heads and sore muscles)

Swimming costume 

Tissues (noses run in the cold, disgusting but inevitable)

Deck of cards

Small backpack (to take some extra layers or room to take them off, as well as snacks and anything else you may need on the mountain)
Plus what you normally wear in the winter. In many resorts the fashion sense is back to jeans and hoodies so really you can get away with anything. Practicality over designer wear - but it's always nice to look good. Just maybe not the six inch heals - we all need our ankles. You've travelled before I'm sure I don't need to remind you to bring the toothbrush.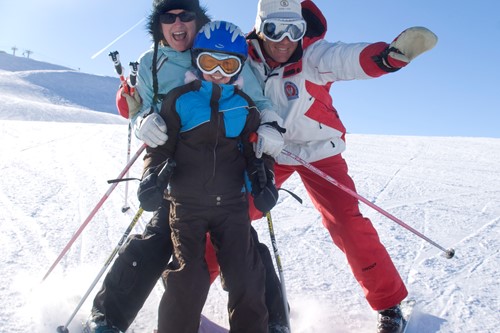 Beginners
There is absolutely no need to buy boots or skis, you can rent these in resort easily, everyone does it. Some people have there own equipment - especially boots for a little extra comfort. But unless you go a couple of times a year it's unnecessary.

If it's you first time ever, see if you can borrow the ski jacket and trousers from a friend. They can be expensive and you don't even know if you like skiing yet! If you can't borrow have a look through shops like TK Maxx for some bargain gear.

It's all about layering so rather than getting the top of the range micro-fleeces just get a decent base layer and then wear your t-shirts and jumpers on top.
Base Layers
These are often referred to as thermals. They wick away the moisture from the surface of your skin so there's no surface evaporation to cool you down and sap the warmth from your body. Essentially base layers keep you dry and warm and are essential if you want to be comfortable on the mountain.

Skiing or snowboarding involves periods of intense physical activity (down the mountain,you may sweat) followed by rest periods that can be intensely cold (sitting on a chairlift) so it's important to be able to move that moisture away from your skin.