Ski and fjord exploration in Norway
Combine your Norwegian winter ski break with some dramatically beautiful fjord exploration.
Thoughts of Norway undoubtedly conjure up images of dramatically towering deep blue fjords and the Vikings who sailed and lived among them. Most people visit the fjords in the summer months with the, at times, hoards of tourists. Flam is one of Norway's most popular summer destinations, but visit in winter and you'll practically have the whole place to yourselves. Stunning scenery and all. Combine this other-worldly wild landscape with our favourite winter past time of skiing in a single trip to Norway - the home of skiing.
At a glance
A spectacular journey from Bergen into the winter resort of

 

Myrkdalen
Ski in, ski out hotel, empty pistes and a fantastic snow record make Myrkdalen great for a few days skiing
Venture out to the fjords to see some of Norway's most iconic scenery
Stay in the village of Flam for authentic experiences and unbelievable rail journeys
Take the train back to Bergen to fly home or hop on the ferry all the way back to the city - even the transfer options are breathtaking
If you fancy a little backcountry exploration then you can join the Freeride the Fjords staying in a mountain lodge only accessible by train (at the top of the Flam valley) from where your ski exploration can continue with certified mountain guides.
 All of our itineraries are based around what you want, so we can chop and change anything or create a holiday completely bespoke to you. Give us a call on 02089 390 862 or enquire online.
Flåm
Pronounced 'Flom'
Visiting in the winter months, you wouldn't believe that Flåm is one of the most popular summer tourist destinations in Norway. Whilst the summer draws the crowds the winter brings tranquillity. The snowy glaciers coming down to the fjords via frozen waterfalls and the dramatically steep cliffs provide what Lonely Planet has described as one of the most 'impressive landscapes on the planet'.
Flåm itself is on the banks of the Aurlandsfjord surrounded by steep cliffs, snow-capped mountains and frozen waterfalls and acts as a starting point for some incredible experiences. The Flåm railway cranks its way up through narrow cliff paths and tunnels interrupted by spectacular views whilst the fjord cruises emanate from the village and you can explore some of the most beautiful fjords in Norway from here. You are in the middle of 'Fjord Norway' after all.
Tailor-made itineraries
Our Myrkdalen and Flam ski and fjord exploration experiences are completely tailor-made so we can alter every aspect of the experience to best suit you. The idea is to combine the fjord experience of Flam with skiing in Myrkdalen, however, durations and activities are completely flexible.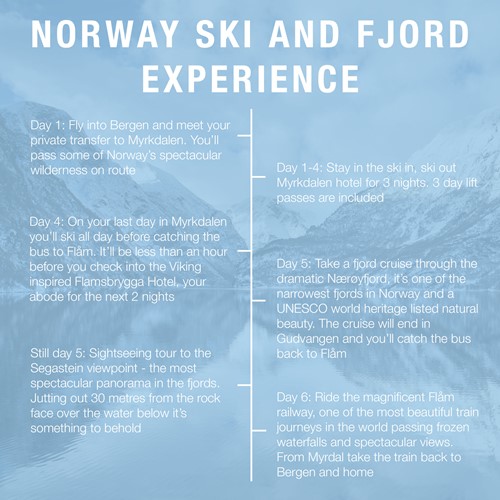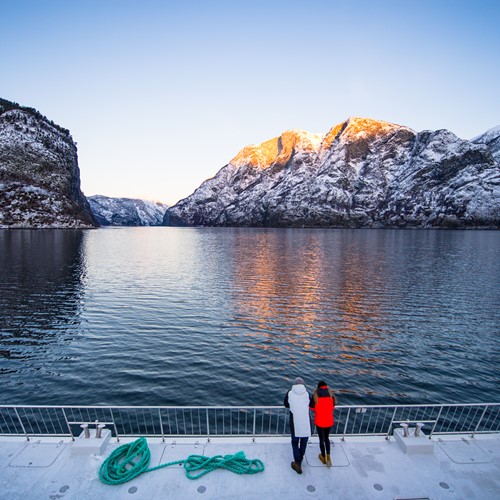 From £1,112pp for a 5-night ski and fjord experience including direct flights, all transportation, hotels, lift passes, Naeroyfjord cruise, Stegastein Viewpoint ticket and Flam Railway journey.
*Upgrade to a 7-night tour (2 extra nights in Myrkdalen from just £230pp).
Here are a few ideas to tailor the above itinerary to you:
Sleep in a snow cave in Myrkdalen for a magical night in the winter landscape - an experienced guide from Wild Voss will help you build your nightly abode, perfect for families or smaller groups

You could get the bus from Myrkdalen to Flam or Gudvangen depending on where you wanted to start your Fjord exploration

From Flam take a RIB safari on the fjords for a more up close and personal fjord tour

From Flam, you can take the railway up to the mountain lodge and have a couple of days of guided ski touring exploring un-touched powder above the fjords
Instead of getting the train back to Bergen you could go by boat to see more of Norway's stunning maritime scenery
Take the train to Geilo once you reach Mrydal to experience a different Norwegian ski resort, after a few days here you could catch the train onto Oslo and fly home from Norway's capital
Add on a city break to the end of your trip. Both Bergen and Oslo are perfect for a couple of nights
Freeride the Fjords
If you fancy visiting the fjords and want a truly unique ski experience at the same time then our freeride the fjord itineraries could by just the ticket.
Enjoy however long you like in Myrkdalen ski resort before travelling to Gudvangen; cruise down the Nærøyfjord (World Heritage site) by boat before taking the sublime Flåm railway up through the frozen waterfalls back to your mountain lodge from where you can get fully immersed in some backcountry skiing with UIAGM fully certified mountain guides.
About Vatnahalsen Mountain Lodge
Located at the top of the Flåm Valley and only accessible by train the mountain lodge is in a peaceful world of its own. At Vatnahalsen you will be backcountry skiing with certified mountain guides (UIAGM) with years of experience and are English speaking. Their aim is to create educational, safe and unique experiences in the mountains. The area of Vatnahalsen is snow-secure, with a varied terrain offering long descents in every direction. When conditions allow it, you can ride down to the bottom of the Flåm Valley and take the Flåm Railway back up to the lodge.
Ski touring/backcountry rental
You can rent all your ski touring and avalanche gear from Myrkdalen Sport & Ski Rental so there's no need to buy your own stuff and bring it along (though we're not going to stop you doing so).
Availability/dates
Conditions dictate that the best time to go is from February to May 2020 so that's when the itineraries run. You can ski in Myrkdalen for two days up to as many as you fancy and then add on the following:
Shuttle bus from Myrkdalen to Gudvangen

Fjord Cruise from Gudvangen to Flåm on the UNESCO-listed Nærøyfjord

The scenic world famous Flåm Railway from Flåm to Vatnahalsen

1 or 2 nights accommodation at Vatnahalsen Mountain Lodge, including breakfast, packed lunch, dinner buffèt, coffee and waffles

Mountain guides for up to 6 people can be booked for a minimum of 2 days

On your last day, hop on the train back to Bergen to catch your flight home
To give an idea of price, for seven nights in total, five in Myrkdalen and two in the Vatnahalsen including flights, transfers, lift passes, fjord cruise, flåm railway and two days of backcountry guiding, prices would start from around £1,650 per person in Mid March (based on two sharing).
For more information give our ski specialists a call on 0208 939 0862; ask for Pete if you want to speak to someone a little bit nuts about Norway.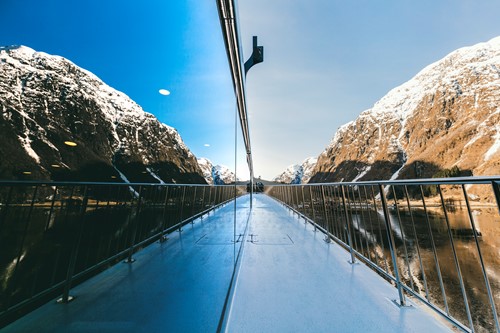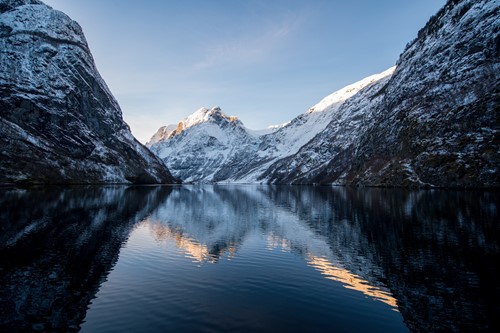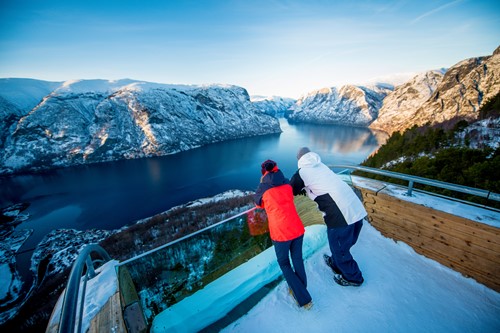 Our top 5 things to do in Flam
The Flam Railway
One of Norway's major and most spectacular tourist attractions. Built at one of the steepest gradients in Europe the railway snakes it's way up from Flam. Up the fjord's cliffs on narrow mountain paths through a total of 20 tunnels that spiral in and out of the rock face.
The tunnels were hand dug from 1923 to 1940 when the railway officially opened, raising 867 metres from sea level 20km up to Myrdal taking roughly 40 minutes. You'll pass some spectacular views and frozen waterfalls, you could ride the train up and down all day without getting tired of the scenery.
The train terminates in Myrdal from where you can go back down to Flam or onwards to Bergen or Oslo.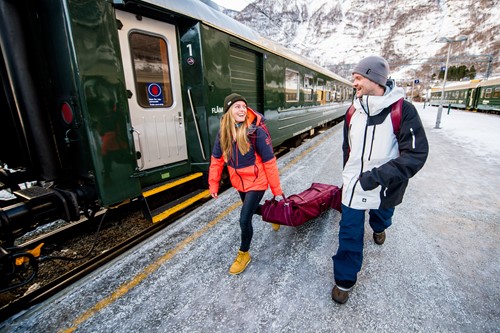 Fjord Cruise
In Western Norway, Flam is in the middle of Fjord Norway, home to some of the most dramatic and best known fjords in the country. Many of the most striking fjords are in fact branches off the major inlets from the sea.
In case you were wondering, fjords were created by massive glaciation going below sea level over a period of around 2.5 million years. The glacial cycles carved the U shaped fjords out of the rock. Essentially the fjords were shaped by glaciers (or ice if you prefer). There are over 1,000 fjords in Norway.
Some of the most dramatic fjords are within reach of Flam including, Naeroyfjord, Lysefjord, Geirangerfjord, Aurlandsfjord and Sognefjord. All are linked by water so you can cruise to them by boat.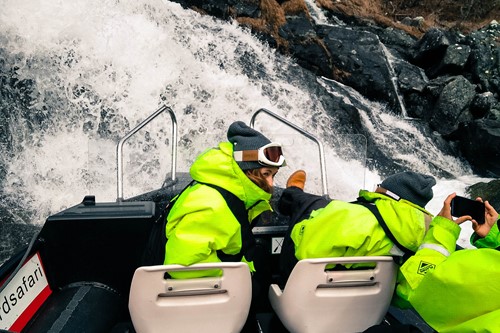 Fjord safari (RIB boat)
Similar to the Fjord cruises in the sense that you will be exploring the same choice of fjords, the safari experience differs in the fact that you are in a much smaller RIB (rigid inflatable boat) so can get up close and personal with what the fjord has to offer.
You'll be able to get within close range of much of the wildlife here such as seals, porpoises and eagles. And you can also opt for specific experiences such a cheese tasting or a safari dinner.
If you're particularly lucky you may even spot an Orca whale.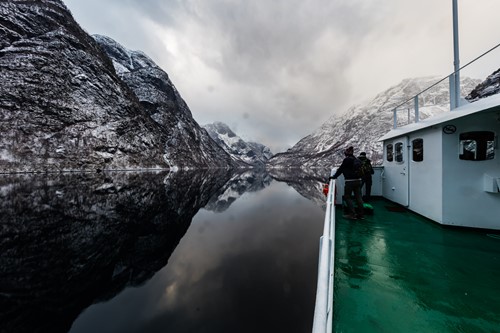 Segastein viewpoint
The Segastein viewpoint is simply unmissable, or rather you'll have massively missed out if you don't take a look. 650 metres above the fjord the viewpoint juts 30 metres out from the mountainside and from its edge, you have unparalleled panoramic views. You won't find a better view of the Fjords and surrounding landscapes.
From Flam, you can book a sightseeing tour to the Segastein viewpoint which takes care of your transport to and from the viewpoint, it's the easiest way to take in the vistas.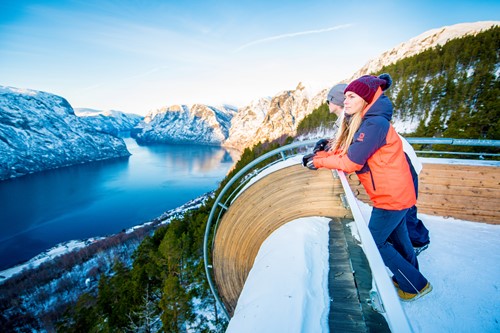 Viking village Njardarheimr
The Njardarheimr Viking village is in Gudvangen on the Naeroyfjord. I lot of very Norwegian sounding place names thrown in there. But pronunciation aside, the Viking village is an authentic place adopting the practices from 1,000 years ago. The people who live here really do live this lifestyle, so its more than just acting. 
To give a little history Gudvangen (where the village is) was an important place for trading during the Viking age. The Fjord the village is in, Naeroyfjord is named as 'the place of the gods' dedicated to the god Njord, fittingly the god of trading and sailing.