10 Reasons To Fall In Love With Sun Peaks
New to flexiski for this season (2016/2017), not many people have even heard of Canada's second largest ski area - Sun Peaks. So we went out to take a look for ourselves, see what the fuss was about and whether it was right for you. Here are the best 5 points we found:
EMPTY SLOPES WITH NO QUEUES
Last year Sun Peaks added 522 acres of new terrain, incorporating what used to be a local's secret powder paradise and is now a controlled area for endless deep snow-filled tree lines as well as a couple of steeper pistes on West Morrisey - 'Tumble Dry' and 'Lint Trap'. The addition created Canada's second-largest ski area. One that has come a long way since the gnarly reputation of Tod Mountain as a locals hangout. Receiving a third of the yearly skiers Whistler gets and having half the terrain means there are statistically fewer people per metre on the mountain. In fact, it feels like you have the whole resort to yourself sometimes. You'll barely see a queue whilst you're there - hassle free skiing.
SKI IN, SKI OUT RESORT
The whole village is ski in, ski out (well 80% but we didn't see a shop/bar/hotel that you couldn't ski to whilst we were there). If you fancied, you wouldn't have to walk all week, just ski around town. A slight slope runs through the village from the top down to the lifts and anything that isn't accessible along here has drag lifts or access from the slopes. Convenience is certainly king.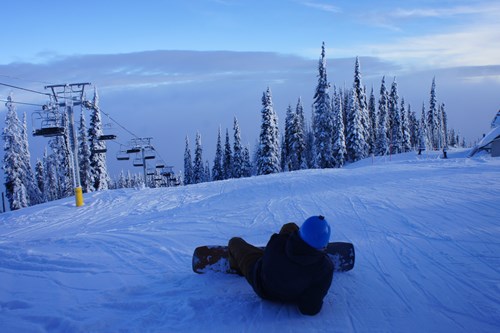 FANTASTICALLY GROOMED SLOPES SUITABLE FOR ALL LEVELS
The slopes are long and wide, with the signature runs being mellow groomed glades. The trees have been managed so you can easily ski through them before opening up into wide pisted runs. They offer some of the best progression terrain around, somehow managing to be perfect to practice your turns on or gather some fantastic speed. It must be down to the impeccable grooming that seems to be a given throughout the resort. From every lift, you can access runs suitable for all levels, beginner greens up to expert off-piste terrain
FAMILY FRIENDLY WITH ALL RUNS LEADING BACK TO THE VILLAGE
From the village it seems there is 360 degrees of skiing, you're completely surrounded by the rolling mountains. One of the biggest draws about this is the fact that everything leads back to the ski in, ski out base. There's no one getting lost on the mountain. Even the cat tracks are built with a 5% gradient so snowboarders can happily ride an edge rather than jumping about or unbuckling a foot to get hot and bothered gathering some speed.
GREAT NON-SKI ACTIVITIES
You can go dog sledding, snowbiking and even ice fishing, there are horse-drawn sleigh rides, snowmobile tours and a tube park. Nancy Green herself (1968 Olympic record smasher) gives personal ski tours, she's the unofficial resort mascot as well as a senator. Snow Cat rides are well worth a shot as well as the first tracks breakfast that gets you up on the mountain and skiing before others are out of bed. And if you fancy a bit more bustle a trip to Kamloops to watch the Blazers play ice hockey is well worth the effort.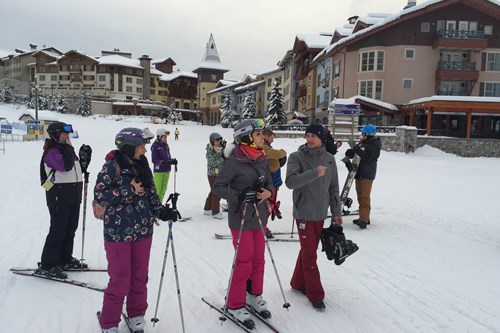 A bonus sixth would have to be the feel of the resort... It still feels small enough to be a local's hangout. A genuine sense this is people's home. There may only be 500 permanent residents but the atmosphere is surprisingly intimate. When we were out on the mountain we barely saw another soul but those we did bump into, Bodie (our wonderful guide) knew personally. It seemed everyone knew each other and this spilt down into the village and the low-key bars and restaurants around town.
Oh, and a seventh would be Gils... This is an off-piste area within the ski boundary (so it is patrolled) If you're an intermediate to advanced skier/boarder it's a great place to try out your powder technique. Grab a local guide and head out there, I could have spent weeks exploring the area with the broadest smile on my face my cheeks would have turned to jelly.
There's plenty more but I have to stop at some point. If you fancy finding out a little bit more or maybe get some prices (it may not be as much as you think) speak to a member of the sales team on 020 8939 0862, take a look at our North American offers page or send in an enquiry form online.