5 Ski Holiday Problems We Can All Relate To
Ski holidays are an amazing getaway and the ultimate in winter fun, but there are some moments on the slopes that really grind my gears. Here's my top five picks:
1. Losing a ski in powder
We've all had that moment when we've gotten a little over-zealous and veered away towards a particularly fluffy looking untouched area. Next minute, you're knee deep in powder and one leg emerges ski-free. As your friends ski past, you're left rummaging around blindly for the rogue piece of equipment. No matter how many times this happens though, who can resist fresh powder?
2. People zooming down a crowded piste
It's a busy Saturday afternoon in February and the piste is packed. You're just minding your own business, skiing along happily when suddenly you're nearly bowled over by some guy who seems to be in hot pursuit of a bullet train, dodging skiers who one can only assume are blurs of colour to said speeder's peripheral vision.
3. Seeing children who can ski better than you
As a beginner skier, this a moment that really puts a damper on the ego. Watching kids who have barely been out of the womb for a decade jet around the piste with such agility and fearlessness while you struggle to traverse the odd bump in the snow makes for an interesting day of feeling slightly inadequate.
4. Seemingly endless queues at the ski shop
It's 9am, there was some amazing snowfall overnight and all you want to do is get onto the slopes and plough some snow. But instead you're stuck behind all manner of characters in the ski shop queue to hire your gear, all of whom seem to be taking far longer to complete their hire than you would deem necessary. (Tip: pre-book your ski hire with us to cut down on waiting time!)
5. Leaving just as it starts snowing
So you've had been at the resort all week, skiing in sunny weather but on snow that probably could have been improved tenfold by just one good snowfall, then as you're loading your bags on to the bus back to the airport a flurry of snowflakes descend from the sky, and at that very moment, you feel like you could write a book about the greatest tragedy to touch your life so far.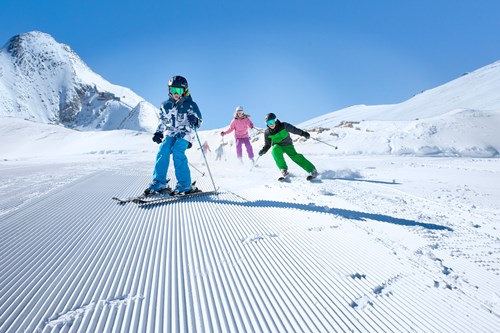 Do you agree with our list? Let us know your unfortunate moments on a ski holiday by connecting with us on Facebook, Instagram or Twitter!
Whether it's a short break or grand mountain adventure you're after, we can tailor the perfect trip to suit you – enquire online or give us a call today on 020 8939 0862.