6 Ways Canadian Ski Resorts Go The Extra Mile
Last December myself and Philippa from flexiski HQ headed off on a fantastic ski trip to Canada, visiting Banff, Lake Louise and Whistler. It was a hard job but someone had to do it.
Throughout our stay, we were well looked after, feasted on amazing food and skied some beautiful mountains. What more could you wish for on a ski holiday I hear you say? Well, we soon discovered that the Canadians have some extra special touches up their sleeve to guarantee the most memorable and hassle-free ski holidays.  
Don't worry about the chill factor...
During our time in Canada, they were experiencing a particularly 'cold snap' with temperatures reaching a frosty -35°C. Whilst that may not sound too pleasant, our day skiing in Lake Louise was completely unaffected because the staff at the ski hire shop gave us some brilliant hand and foot warmers. These lasted the whole day so we could stay out on the mountain as long as we wanted.
Have a nice day...
Normally, you wouldn't think twice about the experience of getting on a ski lift (unless there are monstrous queues of course) but in the Canadian ski resorts it was noticeably pleasant. On every lift we were greeted by enthusiastic lifties wishing us an enjoyable day as the lift swooped round to take us up the mountain. This sentiment continues throughout the day whether you're in your hotel, restaurants, shops and bars. Thank you, we'll be sure to have a nice day, we're skiing in Canada after all.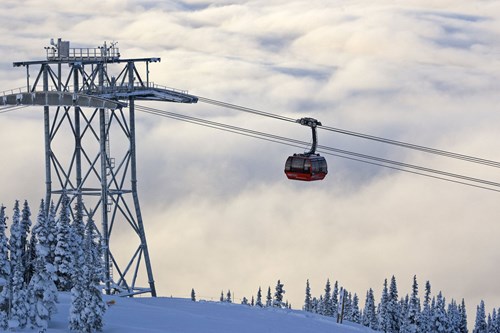 Scramble-free lift queues...
We arrived in Whistler on Thanksgiving weekend, so the resort was far busier than usual. Despite this, queuing for the lifts was an extremely courteous affair. There was no pushing to get to the front and even though it was a peak weekend, the longest queue we encountered was on the Whistler Village Gondola at the beginning of the day, and even that only lasted less than 10 minutes.
Sniffle stations...
This may not be unique to Canada, but (in all our years of European skiing) it's the only time we have seen a 'Sniffle Station' on some of the lifts. These are essentially just a box of tissues at the end of a gondola, but they come in really handy for your cold little nose after that journey up the mountain.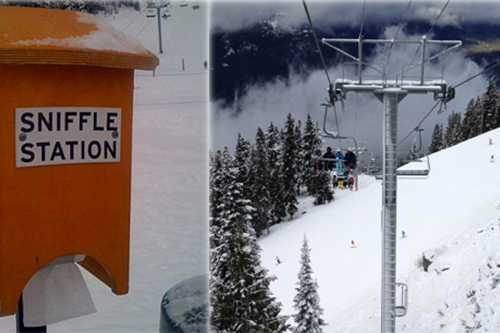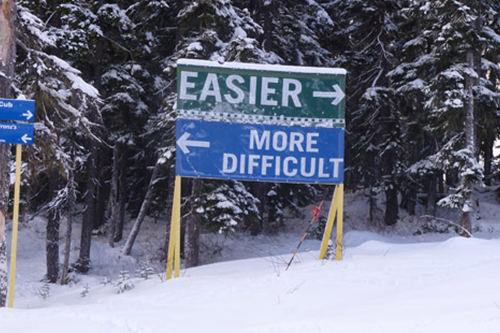 Ski signs for dummies...
Whilst the piste marking isn't drastically different from Europe, the Canadians have made some parts incredibly simple.  The large 'Easier' and 'More difficult' signs are really convenient when you're confronted with two slopes and you don't want to take your hands out of warm gloves to look at a piste map.
No need to carry skis...
After a long day on the mountain, the last thing you want to do is carry your skis or board back to your hotel. However, some Whistler hotels provide a 'Ski Concierge Service', a pop up tent at the bottom of the slopes where you can leave your skis at the end of the day. The next morning your skis are ready and waiting at your accommodation and some hotels even take them back to the slopes again.  Thank you Whistler for saving my already aching limbs!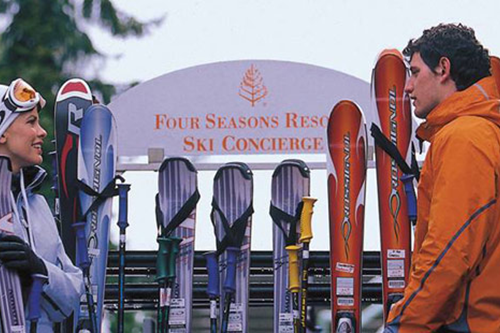 Massive ski areas, amazing powder and incredible hospitality... Canada has it all. But it was the small surprises that really added up to make our ski holiday extra special.  The only question is 'When do we get to go back?'