A Guide To Spending Easter In Obergurgl
Unsure of where to find the best snow for Easter? With a town that sits at 2000m and reaching up to a peak of 3000m, finding some fresh late season snow is a regular occurrence in Obergurgl.
I headed out to Obergurgl on April 1st, expecting the spring conditions of sunshine and slush. I was pleasantly surprised with the condition of the snow. It hadn't snowed before my arrival, the snow was hard packed and crisp, perfect for warming the ski legs once again. The ski area covers both Obergurgl and Hochgurgl with both areas easily accessible via the Top Express gondola. The slopes are mainly aimed at intermediate skiers; a healthy choice of long, gentle blues runs with several cruisy reds and thrilling blacks to advance to. Piste 6 is mainly used by the ski schools and can get very busy. However, despite it being the main Easter school holiday, the runs weren't crowded. Unless you get caught up with some of the larger ski schools as you reach the lifts, there are practically no lift queues either.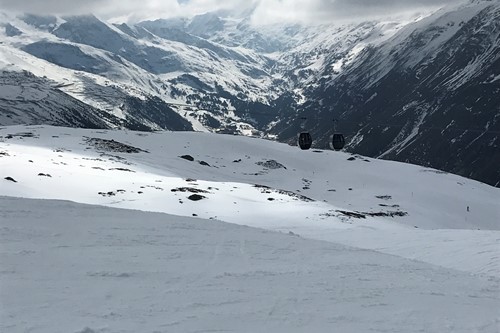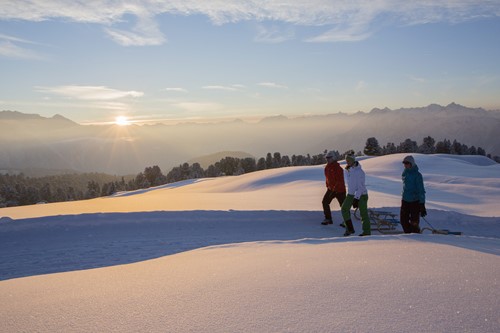 The weather gods certainly blessed me with snow. A lot of it - not just a light dusting. The skiing got better as the week went on – the new snowfall meant that the off-piste options opened up, the slopes were suddenly perfectly soft, and the views punctuated by white mountains rather than patchy ones. Whilst snow is never a guarantee in any resort, with the altitude of Obergurgl, there is a good chance of better, more regular snow than the surrounding lower resorts.
There are plenty of places for a quick snack. The Top Mountain Star in Hochgurgl is a great place to stop, refresh and have a hot chocolate with a cheeky pretzel. The views across the Italian border and the Dolomites are quite something as well.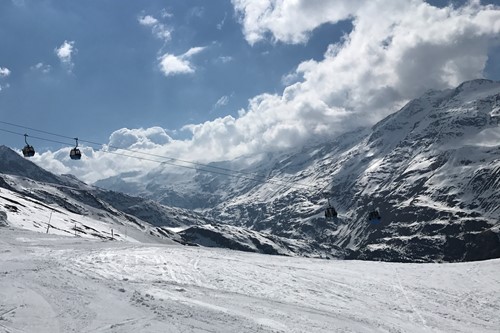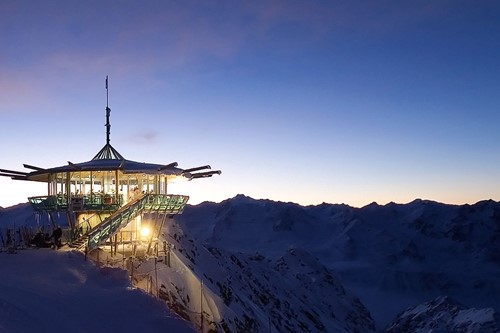 Obergurgl-Hochgurgl is far from lacking in lunch options, in fact, it's bursting with them. The Nederhütte in Obergurgl is a great spot, and with live music several times a week there's some lively après ski too. Another great place is the Hohe Mut Alm, which has stunning mountain views and delicious food.
Heading over to Hochgurgl, there are plenty of options for foodies like myself. From the Top Mountain star, if you are in the mood for a great ski run and delicious meats, take the Blue 29, Blue 26, Blue 32, and Red 33 all the way down to the Downhill Grill for some delicious (you probably guessed it) grilled treats. One word of caution; if you get the BBQ ribs, a half portion was as long as my forearm, so if you decide to go for the full portion, you'd better come with a monstrous appetite and stretchy Salopettes!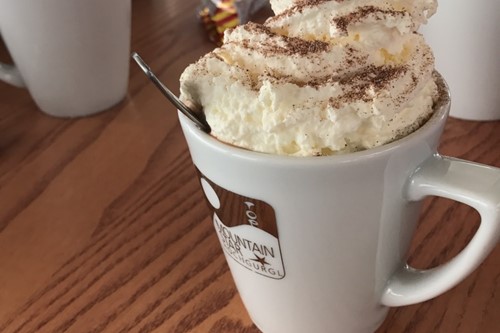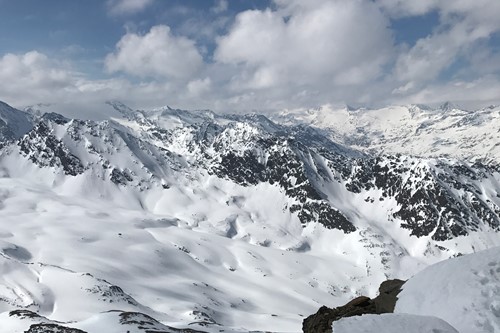 Another fantastic eatery is the Top Mountain Crosspoint; a modern building with a motorcycle museum and an Alfa Romeo display room as well as delicious pizzas, classic pasta dishes and burly burgers. Blue 36 is a fantastic cruisy run down from there, or to avoid any crowds head down 41. Though this run is a little flat in places to keep some speed. 
If you've had enough skiing for the day there are plenty of other activities to choose from within the resort. Have a go at tubing, hiking, tobogganing or ice skating. Alternatively, if you fancy getting away from the snow there's an indoor golf room in Hochgurgl, as well as plenty of shops and bars throughout town. 
For the hard-core skiers who manage to cover the 110km of pistes within a few days, you can jump on the free ski bus for a 20-30 minute drive to the phenomenal resort of Sölden. It's a fantastic day trip and you can step into the shoes, or more aptly, skis of James Bond. Sölden was the resort in which the ski scene from 'Spectre' was filmed. Round of applause to the movie buffs who knew that.
Haven't yet booked your stay in Obergurgl? Call our Ski Specialists on 01962 587777 or enquire online to plan your perfect tailor-made trip to the Diamond of the Alps.