Is Courchevel Shedding Its High Society Status?
We recently had a couple of Courchevel representatives come to see us in the flexiski offices to do some training with our ski specialists, during which it seemed like Courchevel is finally realising there's more to skiing than being really really ridiculously rich. After all, the resort has some undeniably fantastic traits going for it that make it so much more than a hangout for the rich and famous.
Courchevel is making a real push this year towards family skiing and being a great resort for all levels. Something that the resort has every right to shout about. One of the biggest pushes is moving away from the internationally famous and flamboyant Courchevel 1850 and focusing on the other rapidly improving villages in the valley.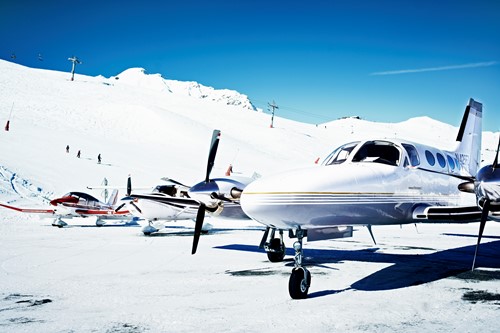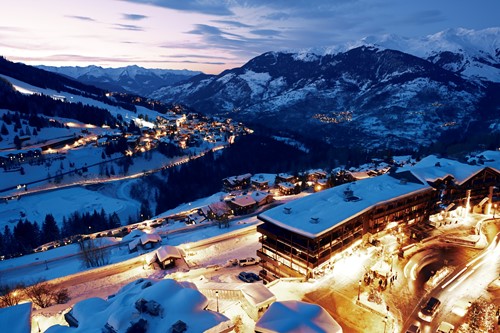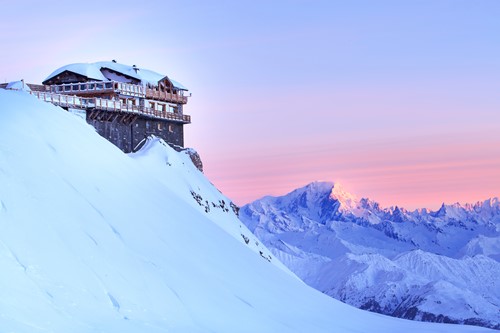 What is the new look Courchevel?
Courchevel 1850 isn't going anywhere, it's still full of everything Courchevel is famous for. With luxury hotels, slopeside accommodation and Michelin star restaurants in between the designer boutiques and flash cars. But, Courchevel has much more to offer than this and that is where the focus lies:
Family paradise
Arguably the big push. All the other points somehow link back to making skiing in Courchevel appealing and suitable for families and mixed ability groups. A Courchevel is for everyone approach and trying to open up the resort and its world-beating slopes to all.
The resort hid 10,000 chocolate Easter eggs on the slopes and lifts last year for chocolate lovers of all ages to enjoy.
The Children's Village in 1850 is the largest in France. Set within 5 acres of snow, the French ski school have created a specially equipped safe ski zone within the ski area just for children. The village has a medieval theme where children aged 18 months to 5 years can explore castles, slopeside cabins, and a gondola redecorated as 'Dragovol'. The area is aimed towards making first ski sessions magical giving kids their own ski kingdom. They also put on a children's torch lit descent once a week with fireworks and souvenirs to take home.
There are various other parks within the ski area designed around kids and families skiing. Such as the Western Ski Park in Moriond, with obstacles of cactus and totem poles to manoeuvre around and a tepee full of animal hides, fancy dress, archery sessions and war paint workshops. There are five safe zones like this, including Snake Park and the Carabosse run, that make learning both more enjoyable and give skiers more confidence to progress.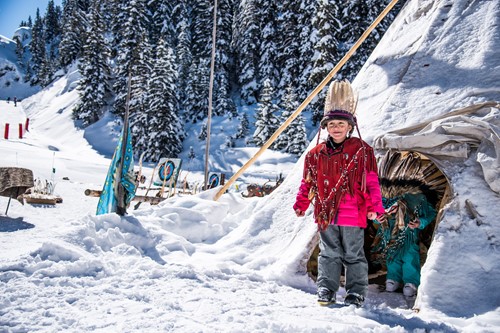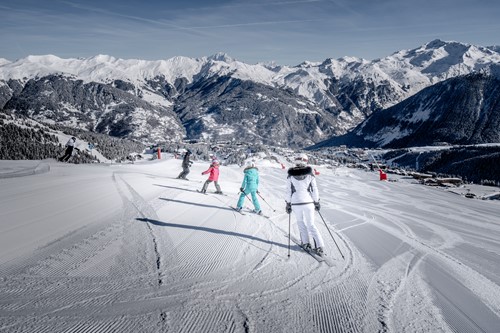 The Largest ski area in the world
Courchevel is the end valley in the largest linked ski area in the world offering privileged access to all ski abilities in exceptional surroundings. With 150 kilometres of piste in the valley and a further 450 in the linked ski area, there's plenty to explore. A mix of 23% green, 35% blue, 32% red and 10% black runs along with an array of off-piste options mean there really is the terrain for every ability and type of skier. From beginners through to off-piste aficionados and ski tourers you are well catered for. The ESF even run a ski touring fitness programme during the winter to accommodate the growing ski touring trend.
To top this off, the snow record is impeccable with guaranteed skiing from December through April as 80% of the skiing is above 1,800 metres. 714 snow cannons covering 50% of the ski area help out as well. And in case you were wondering about adaptive skiing, 75% of the lifts have been adapted for those with reduced mobility.
Non-ski experiences
The new toboggan run from the summit of the new Ariondaz gondola down to Moriond village is 3 km long including 8 tunnels. The run is open daily from 11 am until the ski area closes, Tuesday and Thursday evenings the course and gondola stay open until 7:30 pm for a bit of night tobogganing.
There's also Courchevel Adventures who can organise introductory snowmobiling sessions for children 6 years and over near the family park. There are other family adventures such as the air-board sessions and Trotti-Ski.
Courchevel hosts over 50 activities you can do, including some rather unusual ones such as skydiving, nights in an igloo and piste groomer driving as well as various entertainment nights and fireworks.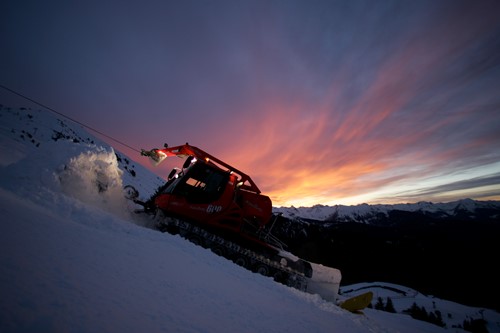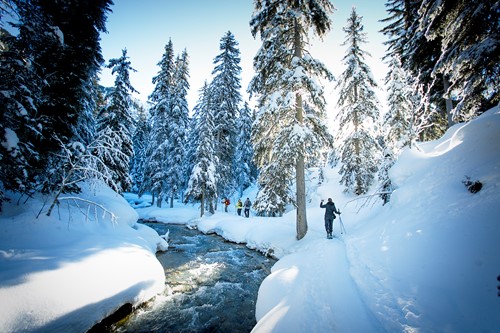 Village promotion
A real effort has been put into making each of Courchevel's villages atmospheric and unique, from the famous 1850 and its razzle-dazzle to the traditional Le Praz with plenty of forest skiing and the 1992 Olympic ski jumps. La Tania is a pedestrianised village hidden away in the trees with what feels like it's own private ski area and Courchevel Village is particularly family orientated with the Aquamotion centre (a giant spa and water park area) and free sledging descent as well as direct access to 1850. Courchevel Moriond is the sunniest of the villages with a gentle ski area and lively après ski, at Christmas the village is particularly buzzing, a very festive atmosphere.
The fact they are trying to shift the numbering of the villages shows a commitment to each being a great hub rather than simply spill offs to the main 1850 village. A trend that's working well, with Moriond, in particular, receiving a lot of attention. The villages are all linked by a free shuttle bus and you can ski between them all. Le Praz and Courchevel Village have direct access to 1850 via gondolas as well to make travel between them even easier.
App
Connected Courchevel is the app supposedly giving you everything you need to know about Courchevel on your smartphone. Launched last winter, the app gives recommended advice and information from bus times to weather forecasts, restaurant opening times and activities for kids. You can get selfies taken at different points on the mountain and track your performance on the mountain.
There's even free WiFi spots on the mountain in case you need to post a picture or find a friend. It's all aimed at making the mountain, even more, user-friendly and up to date.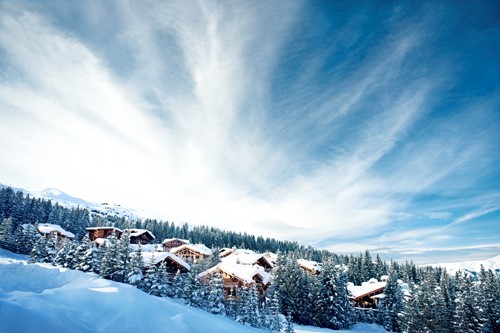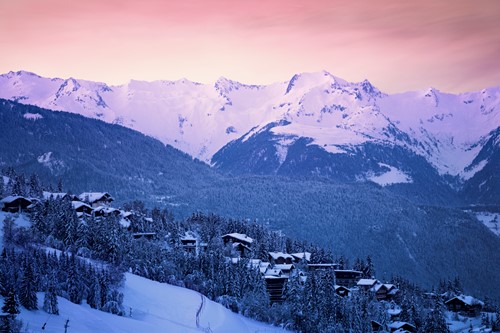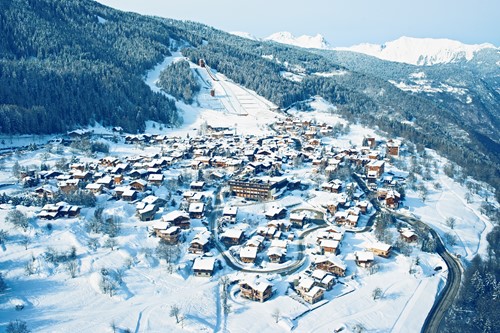 Green credentials
In Moriond, the old gondola and three drag lifts are being replaced by an eight-seater gondola designed to align with the resorts minimum visual and environmental impact policy, allowing 30 pylons to be removed and it's the first lift in France to be lit inside and out by solar-powered LEDs.
115 new ultramodern eco-friendly snowmakers have been installed for low energy consumption. Meaning 75% of Courchevel's snowmaking is now eco-friendly.
Courchevel has been labelled a 'green resort' due to its environmental policies, in particular, it's commitment in the protection of the mountain hare, taking part in a genetic study to record and protect the 30 strong population in the valley.
In conclusion
If you head outside of the largest village (1850) then yes, Courchevel is trying to ditch its diamond-studded reputation and it's in these villages where you arguably get the best of the resort. Fantastic skiing for all levels, a wide range of accommodation with 46 hotels to choose from and some stunning food on the mountains. With the new improvements and perhaps an attitude adjustment, the resort is starting to embrace the fact that it is amazing for all families and any ability skiers, not just those with bags of money.