Learning To Ski In Hemel Hempstead
If you work for a ski company it makes sense to know how to ski, or at least be familiar with the whole thing. This was something I was very aware of when I joined the flexiski team two months ago, so I was waiting for my opportunity to don the salopettes and get going.
Luckily for me when the day came I was joined by three other new starters, who all assured me that even though they had been to skiing resorts before it either "hadn't been for years", they'd "had one lesson from a colleague" or had "dislocated my thumb as soon I got dressed".
We were all keen to get started and learn more about the industry and company we've recently joined. The rest of the team are child prodigies (kind of) so we have a lot of catching up to do!
Having never worn a pair of ski boots, let alone stepped on the ice, I was predictably nervous ahead of my first lesson.
The Snow Centre Hemel Hempstead
Walking into the Snow Centre to see two mountains (slight exaggeration) ahead of me, I wasn't sure whether it was the smoked salmon & cream cheese bagel I had for breakfast making me sick or the thought of being at the top.
We met our instructor Greg, who got our group suited and booted and gave us a rundown of what we'd be doing. This was followed by a toddle about in ski boots before we headed into the ski area.
Stepping onto the snow
Contrary to my expectations he didn't just put us at the top of the highest slope and push us down, though in hindsight that was the nerves thinking. We spent the first hour scooting around on one foot, then the other, then both. We then learned to side step up the mountain, snowplough and how to turn.
We battled with balance and posture (a pretty exhausting combination) and cheered each other on as one-by-one we made our way a little bit higher up the slope and came elegantly speeding down.
Despite the fact all four of us were all novices, with Greg's expert guidance we completed levels 1 & 2 in our two hour lesson. He filled us with confidence and I think I speak for all of us when I say we definitely weren't as bad as we thought we'd be. Some tricky turns, some arm-waving and some high-pitch screams, but no falls or injuries much to our relief.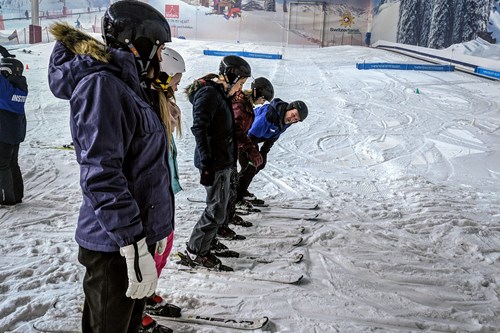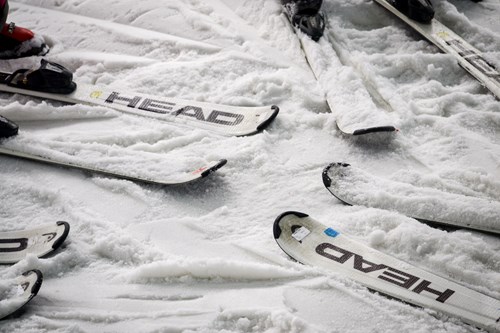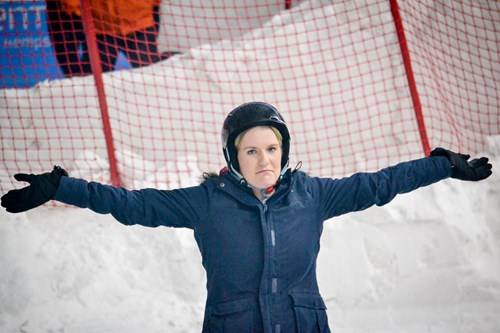 Post becoming ski aficionados
The cup of tea and certificate we got afterwards were a nice touch as we sat down with Greg to discuss our abilities and the history of the centre. Having been there since it opened he was definitely the right person to ask.
As we lamented about how sore our muscles were and our body temperatures adjusted back to normal, we all agreed what a success it was. I'm ready to get back on the slopes (and experience the après) ASAP.
Things I've learned:
Whatever you think you look like, you don't look like that
However fast you think you're going, you're not going that fast
No one cares if you fall over
A ski helmet is a very tough look to pull off
Skiing is actually, really fun