A Flexiski Weekend In Morzine And Avoriaz
At Flexiski we had our first photo shoot last week. An exciting prospect to go out and take our own imagery for the website, emails and brand in general. We'd never planned a shoot before so didn't know what to expect. Being completely new to us, we quite simply got stuck in!
Morzine was our destination of choice. We have our own chalet there and also the variation of the landscape on offer in the Portes du Soleil region is fantastic - split across France and Switzerland, high and low terrain, craggy peaks and rolling tree-lined slopes. A different ski resort for breakfast, lunch and dinner. Ideal for a four-day shoot, and being only an hour and a half from the airport we hit the slopes on our arrival day.
You can't rely on the weather. We left it till late March to try to get the highest chance of blue skies in the mountains. There's always going to be snow in the upper reaches of Avoriaz. It's the blue skies we were after.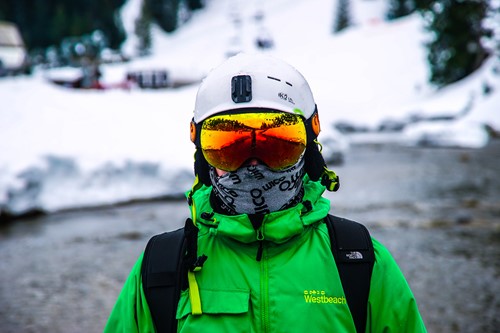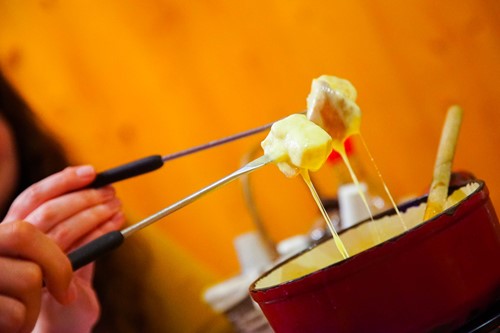 Hawking over the weather forecasts a huge dump of snow the week before seemed sure to set us up for a fantastically snowy blue sky week. But on arrival it became clear the spring had well and truly taken over in the valleys with not a flake of snow to be seen in town, the back-to-resort slopes curtained by brown mountain.
Speaking to Cheryl, the flexiski resort/chalet manager, it seems the trend at the moment was huge snow falls followed by rain and winds that have decimated those snow falls. It hasn't been lasting more than a couple of days. All our carefully laid plans for the photo shoot going up in flames as the clouds rolled in over our heads. Even the blue skies were deserting us.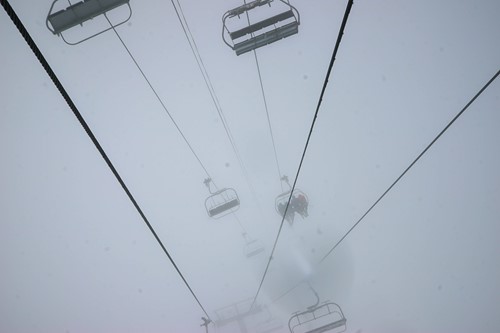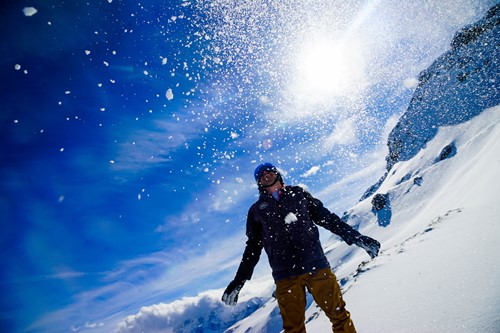 Yet up on the mountain, the muddy scenes of the resort were long forgotten with the Linderets bowl enveloped in white as we came up the Ardent Gondola for our first few hours shooting. The North facing mountains were a wall of white. And getting up to the Point des Mossettes (2,277m) we broke through the clouds to get our blue sky shots. Some serious silver linings with floating peaks bobbing around on a dense sea of cloud.
It really is a testament to just how good the Portes du Soleil region is to ski in. Every run we skied (and boarded) was fantastic. Despite the recent weather. Yes, in the afternoon the snow got heavy and a slightly slushy on the lower slopes, but you could still find empty and firm slopes easily on the upper reaches. 
Want to avoid the queues and still have great conditions? March is definitely the time to come here. True you may not be hitting the gnarly off piste routes. But let's face it, we go skiing a couple of times a year at best and have a lot of fun doing so. We're not pros. But even with festivals such as Snowboxx and Rock the Pistes in full flow whilst we were filming, the slopes rarely got busy and we never saw more than a hand full of people in a lift line.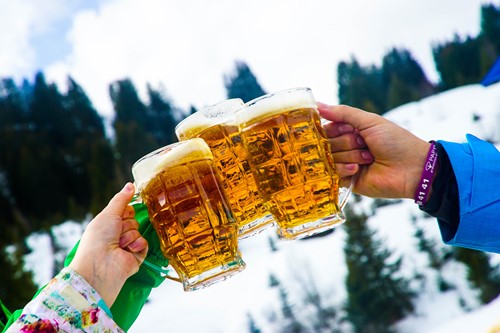 If you really want to avoid any queues what-so-ever, then where you start your day can make a real difference. We found driving up to the Ardent Gondola meant you may not see another person let alone a queue. Or if you want to get into Avoriaz for the day drive up to the TK Chapelle drag lift. There are super cheap parking 20 metres from the lift and it's the shortest, most gentle drag lift I've ever been on. Great views from the top and you can ski all the way back down through Avoriaz itself to the lifts at the valley base.
This time of year it's great to try some jumps in the park as well. The ramps are that little bit softer so you won't be covered in bruises for each botched landing. We did give it a go but the best you could say of our park runs was that we tried.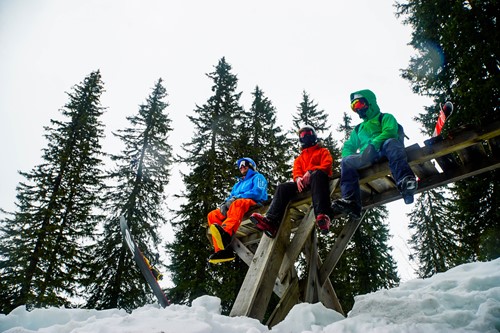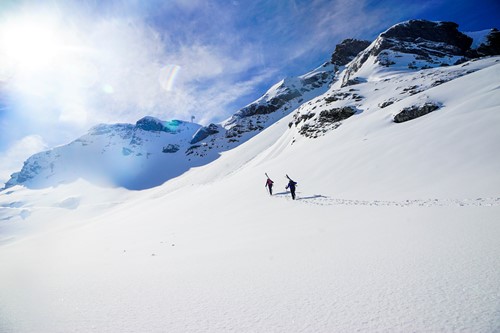 With only half days of sun here and there we managed to capture some great shots and have an awesome few days out of the office doing so. I'd head back to the Portes du Soleil in a heartbeat.
I just wanted to give some serious thanks to Perspective Pictures for the long hours put in, on and off the slopes. As well as having an entertaining affinity for beef.
If you want to hear more just let us know. Tweet us @flexiski, #flexiski on Instagram, follow us on facebook or pick up the phone and give us a call - 01962 587777.