Our Top 10 Foods To Try In Japan
Having recently spent a few weeks travelling in Japan, I could talk about it forever. The skiing is amazing, the culture is unique, and the locals are so friendly. But the one thing I really fell in love with was the food - it's absolutely delicious! I basically just ate my way around Japan...
1. Sushi
It may sound obvious that the sushi in Japan is superior to anywhere else in the world, but it's not until you try it for yourself that you truly appreciate just how good it is.
Make your way down to Tsukiji Fish Market in Tokyo early one morning (and by early, I'm talking 5am!). It's the world's largest fish market and you can wander around seeing all the fantastic local Japanese produce and stop off for a sushi breakfast with the freshest seafood you'll ever eat.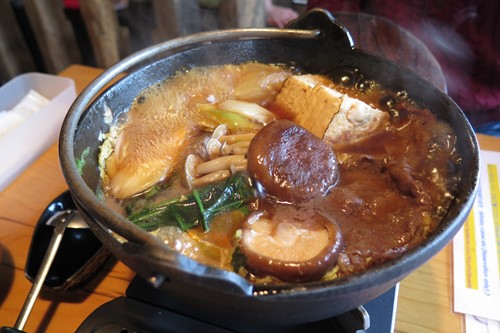 2. Sukiyaki
This was possibly the tastiest dish I've ever eaten. Sukiyaki is a Japanese hot pot and is essentially lots of vegetables, beef and tofu thrown in a hot brothy stock and is the perfect comfort food for when you've just come in off the slopes. The best one I had was at the A-bu-cha restaurant in Hirafu, Niseko.
3. Okonomiyaki
Translated as 'grilled as you like it', this Japanese pancake is from made from just about anything you like, mixed in batter (normally vegetables and meat). If you go to the Kabuki 1 restaurant in Niseko, you get to cook it yourself on the hot plate at the table.
4. Ramen
This is a fantastic (and cheap) noodle/soup dish that comes in all kinds of flavours. It's popular all over Japan but my favourite was at the Niseko Ramen Kazahana restaurant, where their signature dish is a creamy potato ramen called 'Niseko Ramen'.
Expect to queue for a seat as it's small (this is common in Japan) but really quaint and has all the quirkiness you'd expect from a local Japanese restaurant, like this interesting sign...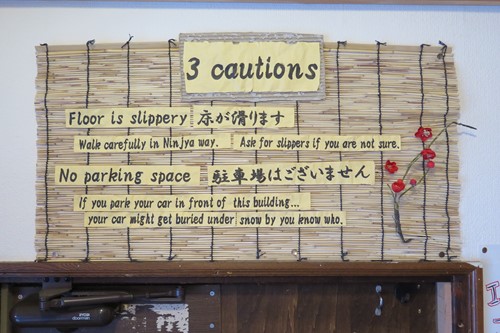 5. Sake
It's not food but it is the Japanese national drink so you have to try it. It's an alcoholic rice wine served hot or cold (I preferred it hot) but it's quite potent so don't drink it too quickly.  Or if you fancy something sweeter, try plum wine – it's a little like a fruit cider.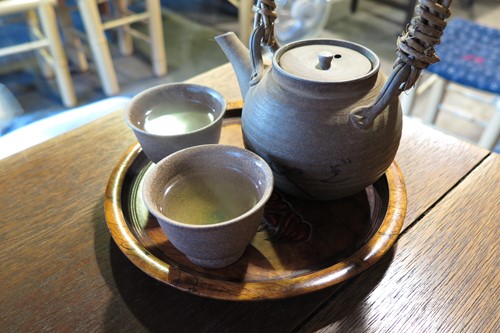 6. Japanese style sweets & Green tea
After visiting some of Kyoto's many temples, we popped into an amazing Japanese tea house called Kasagi-Ya for a rest. It's a cute little wooden hut with incredibly friendly staff who served us some wonderful homemade sticky rice sweets & a pot of Matcha (Green Tea). 
It's a lovely way to restore your energy levels before heading back out to see even more temples.
7. Wagu beef
Melt in the mouth and full of flavour, Wagu beef is really tasty. Portions are generally small as it's quite rich and a little pricey, but don't let that put you off – it's worth it!
I found that everywhere I ate beef, the quality was fantastic, so wherever you eat, you're likely to have a good experience.
8. KFC at Christmas
No, I'm not going mad. After a well received marketing campaign in Japan years ago, it's now traditional for the Japanese to eat KFC on Christmas day. I spent Christmas in Tokyo and queued for at least half an hour, all the while big boxes were being taken out and delivered to hungry locals!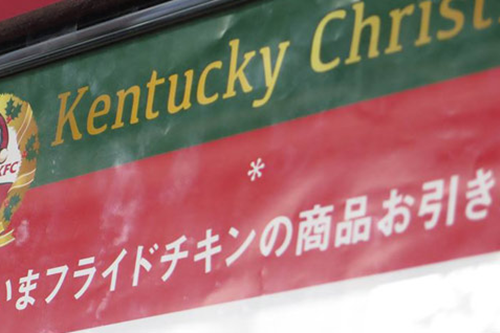 9. Cat donuts
These are donuts created into the shapes of cats – they make all sorts of weird and wonderful things in Japan.
I'm not sure if they're sold everywhere but this little specimen below was found in Kyoto, at the Nishiki food market, which is full of the most amazing (and sometimes a little questionable) food imaginable. It's where the locals go to get all their produce, from dried fish to bizarre fruits!
10. Kaiseki
Served in a small private room and often overlooking a tranquil garden, Kaiseki is a traditional Japanese meal eaten over several small courses with the focusing being very much on the dining experience itself.
We ate in a restaurant called Misoguigawa in the Pontocho district of Kyoto (famous for Geisha). They served an infusion of Japanese and French food over 10 courses whilst we sat in a beautiful private room overlooking the river. I would recommend saving this experience for a special occasion as it can often be expensive, but definitely worth it.
Given the opportunity I'd go back to Japan in a heartbeat. The volume of amazingly delicious and good quality food on offer is something that truly surprised me about it, and that combined with some of the best powder I've ever experienced made it the perfect honeymoon for this snow loving, foodie couple.