Our Top 5 Family Activities In Courchevel
From sunshine and blue skies one minute to freezing temperatures and heavy snow falls the next, weather conditions in the alps can change at the drop of a hat. And whilst seasoned skiers will delight in the prospect of mountains of fresh powder and fair-weather skiers can enjoy a day off the slopes spent by the fire... what about the little ones who can't be out all day in the cold and who certainly wouldn't appreciate a day off in the spa?
Here's our list of the top five family activities in Courchevel for when the snow is falling and it's too cold for the little ones to ski all day...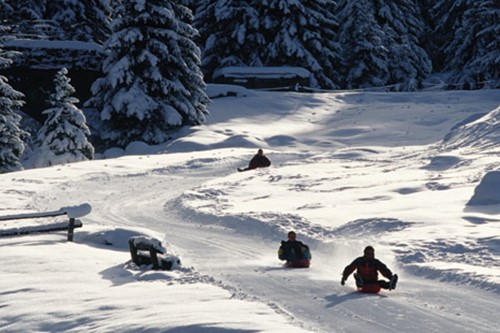 The Luge Run
Starting at Courchevel 1850, the luge (aka sledge) run goes all the way down to the lower village of 1550, winding its way through the trees, providing as much adrenaline as it does entertainment. You can then take the free gondola back up to 1850 and do it all over again.
Bowling
Located in Le Forum (the central complex in Courchevel 1850), the bowling lanes are open from 11am with prices starting from €11.  It's a great way for all ages and abilities to enjoy some friendly competition and while away the time getting those all important strikes!
And if bowling wasn't enough excitement for you, you can pop to the amusement arcade just next door afterwards.
Ice Skating
Le Forum is also home to an Olympic sized ice rink, where you can try out your twists, turns and jumps just like the pro's (or look like Bambi on ice, depending on your skills...).
Soft Play Park
For children aged 3-8 years, the soft play park at La Croisette in Courchevel 1850, is a welcome distraction from the cold with climbing facilities, slides and puzzles which will keep the kids entertained for hours on end.
Pony Rides
Down by La Croisette, children can enjoy a gentle pony ride around the centre of resort. Or you can opt for a family horse drawn sleigh ride and take in the beautiful scenic route around Courchevel in the most relaxing of fashions.
You'll also find a small merry-go-round right in the heart of the resort, which is certainly fun for the little ones!
This is just a short list of family friendly activities as there is so much to do here in Courchevel, both skiing and off the slopes, we'd be here all day if we told you them all so why not come and see for yourself?