Weekend Skiing In Les Arcs
December is when being part of the ski industry comes into its own. For the rest of the year we're cooped up in a suburban office sending you on holidays we can only dream of. But, come December before the season really kicks off, we 'have' to test out our resorts, hotels and chalets. So a few of us headed to Les Arcs to get to know the resorts and 'The World's Best New Ski Chalet 2018" Chalet des Cascades.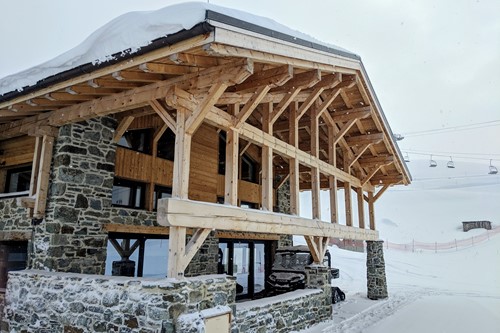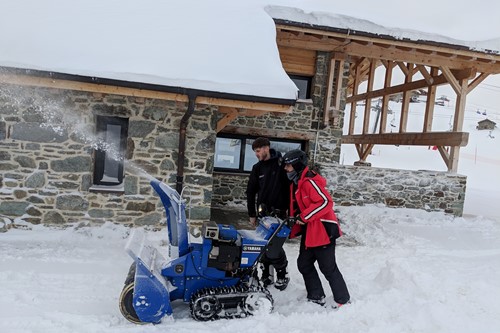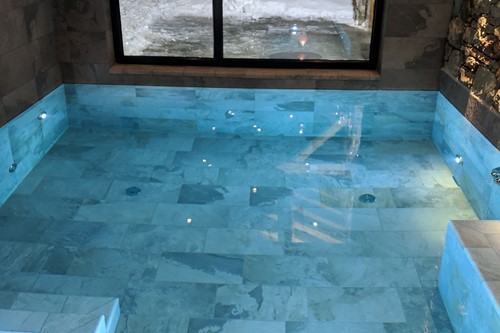 Arriving at Arc 2000
Walking into Arc 2000, I've been to very few places that have felt more like a ski resort than here. Slopes run through the town so it's snowmobiles rather than cars and even the snowmobiles are only allowed out after the pistes have closed. The cars are holed up in underground car parks leaving the mountainside village to the skiers. It's a pretty little cluster of bars and shops and we found some life there after dark - nothing raucous but this was early December, we expected nothing more.

You can take the little télécabine down to Arc 1950 which was a Christmas sight to behold. The pastel coloured buildings, fittingly American like (being the brainchild of the same architect who designed Whistler in Canada) are beautiful. The huge lit up Christmas tree dominates the snowy square as hot chocolate, mulled wine and marshmallows were being handed out for no particular reason. We'd arrived at Christmas it seemed and there was a great little pizza place we discovered for lunch in Le Vache Rouge (the red cow) here as well, you can skip straight to the front door. This is me literally skiing through the village to our lunch spot (well boarding), a gloriously novel experience:
Chalet des Cascades
We stayed in Chalet des Cascades which is in the middle of the piste, the middle of the beginner area no less. After sorting our ski and passes for the morning we were picked up in the ranger - a sort of quad bike come tractor contraption which whisked us up the 100 metres or so to the Cascades which quite frankly blew me away. The pictures don't do the place justice, from the views to the rooms and the simply ridiculous lounge areas to the beer tap it's a roaring fire masterpiece, a posh party pad and a haven of relaxation rolled into one peach of a place. Though admittedly more like a fancy slope-side condo then a cosy chalet vibe but we weren't complaining.

Outside the chalet, pristine banks of fresh powder gave us plenty of snow to play around on with the snow skate we'd borrowed from the hire shop - a largely uncontrollable but hilarious contraption, a cross between a snowboard, skim board and surfboard. Giving us our first taste of the ski area we explored in sheer delight the next day. Dinner only improved the place and a late night sampling the wines with the chalets first two guests saw us heading to bed as the snow fell outside with nothing but mountain to look out upon.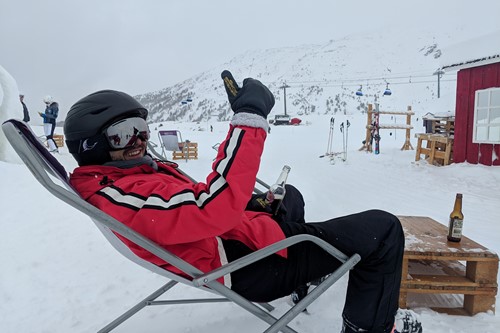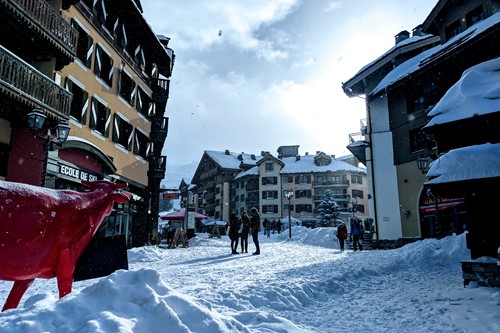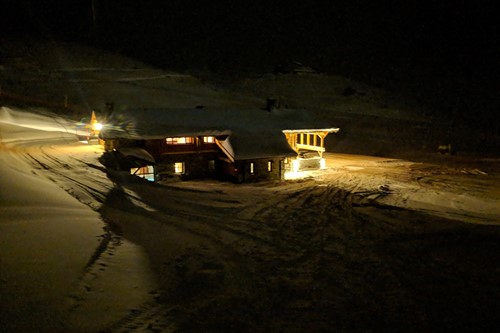 Skiing
The morning was spent grabbing a bacon and cheese croissant and hurriedly slurping at strong coffee before heading out front of the chalet to clear our heads with a little mountain air, clip in and set off. Just avoid the magic carpets or the ski instructors tend to get shouty. We did away with the piste map and just headed for whatever looked good. The viability was low first thing so we headed down to the trees around Arc 1800 which has a great selection of pistes to peruse but the best runs came in the afternoon when, after a long cheesy lunch and a pit stop with a little dutch courage from the igloo bar, the skies cleared to blue and the top of the Col de la Chal at 2,600 metres became a powder playground for sweeping turns between the still almost pristine pistes. A fantastic last few runs on our incredible and incredibly short one night visit to this fantastic resort. We had time to ski back to the hire shop, drop off our gear and head on to our next port of call in Meribel.
Would I go back to Les Arcs?
Would I go back to Les Arcs for a ski holiday? If I could stay in Chalet des Cascades then I wouldn't even hesitate. The ski area is vast and enjoyable and the four villages, five if you count Vallandry, each offer something different and La Plagne linked by the double-decker Vanoise Express lift almost doubles the ski area. Les Arcs is a great resort to really get the feeling of being away from the city with the car-less, road-less village resorts it feels like you're up the mountain away from it all. If I were to go back the Chalet would be my first choice or if I was looking for somewhere a bit more raucous then I'd try staying in Arc 1800 at somewhere like the Aiguille Grive Chalets Hotel which are stunning in their own right.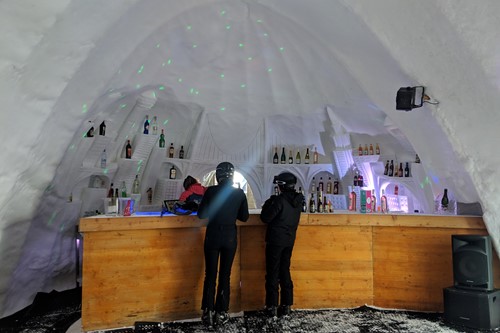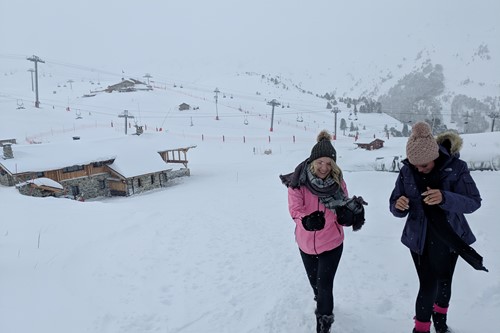 Resort guide
Les Arcs
Resort height - 1,600 - 2,120m
Highest point - 3,226m
Ski area
Les Arcs local area - 200km
Paradiski ski area - 425km
Slopes
Les Arcs is best for intermediate and advanced skiers. Though beginners are also well catered for. The link with La Plagne gives the ski area 425km of pistes. However, the lift is on the outer reaches of both Les Arcs and La Plagne. To get from Les Arcs accommodation to the centre of La Plagne requires a lot of mileage so you may not want to do this every day.
Green runs 5%
Blue runs 52%
Red runs 29%
Black runs 14%
Lifts
Les Arcs - 51
Paradiski - 141
Season length - mid-December till the end of April
Resort ratings
Beginners - 3/5
Intermediates - 4/5
Experts - 5/5
Snowboarders - 4/5
Families - 4/5
Fast lifts - 4/5
Après - 2/5
Eating out - 3/5
Convenience - 4/5
Snow - 4/5  
Activities
Bowling | swimming | ice skating | paragliding | snowshoeing | cinema | tobogganing | winter walking | igloo village | dog sledding | ski joering | ski touring | cross-country skiing
Transfer times
Due to the fact that flights into Chambery tend to be available on the weekends only, we use Geneva as our main airport.
Geneva - 2 hours 45 minutes
Chambery - 1 hour 4 minutes
Les Arcs local lift pass
3 day lift pass from £143
6 day lift pass from £242