A Flexiski Weekend In Breathtaking Trysil
One perk of my job is getting to visit the ski resorts we feature and I recently popped over to Trysil in Norway, one of the latest additions to the flexiski programme. It's new to our programme for winter 15/16 and it's already really popular with our clients for a short ski break so I went to see what all the fuss is about.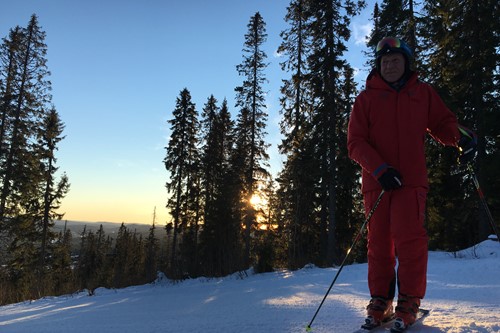 Spending 3 days there meant I got to see what a great resort Trysil really is; fantastic skiing; friendly people; lots to do both on and off the slopes. I could go on but there was one thing I found particularly fascinating - feeling like I was skiing at sunset whatever time of day it was! 
The resort sits just over 2hrs North of Oslo, close to the Swedish border so it's northerly Scandinavian location means that during the winter the sun never fully rises in the sky. As a result, bluebird days during the early to mid-ski season don't get the full force of the sun but see a stunning glow throughout the day. It gives the whole mountain a majestic beauty.
These photos were taken at around 10:30am and you can see the sun 'rising' through the tree lined runs.
For the hardcore skiers and boarders amongst you, I can see the cogs turning 'but surely that means it gets dark early and I get less time on the hill?' It's a fair question but you needn't worry; Trysil offers a great variety of night skiing from late December through until April.
The main runs around Turistsenter and Hoyfellsenter are flood-lit until 8pm (on Tuesday, Friday and Sunday at Hoyfellsenter / on Tuesday and Sunday at Turistsenter). Fridays are when you can ski into the night around Hoyfellsenter. Although the slopes close at the normal time, they are then groomed, ready for late night skiing from 7-10pm.
The sunsets and night skiing alone were enough to make me want to return but the added bonus of a great après offering and meeting genuinely friendly people, made me want to take my husband (a bigger lover of powder than I am) there to experience himself.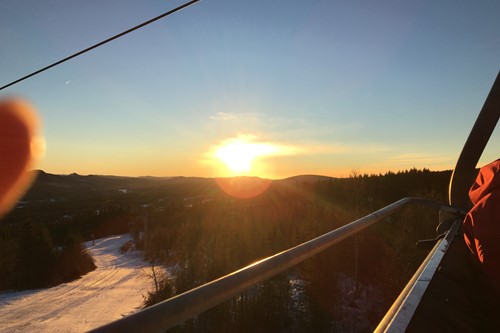 Interested in a ski holidays to Trysil? Enquire online or speak to one of our ski specialists on 020 8939 0862.