Telegraph Ski And Snowboard Festival 2018
The UK's only ski and snowboard festival will return to Battersea Park, London this year from the 25-28 October 2018. That's right in the middle of the English school half term.
This is a landmark year for the rebranded festival (it was a ski and snowboard show up until this year), the only festival of its kind in the UK and with that accolade it is obviously also the longest. This year marks it's 45 year anniversary, starting in 1973 with its heyday 80's 10 day event at Earl's Court, it's a more intimate affair this year.
Re-branding the show as a ski and snowboard festival, the organisers have added even more attractions and entertainment to fulfil the 'festival' tag. In addition to the ever-present Mount Battersea ski slope, ice rink and alpine lodge bar there are new additions to the ski show such as dog sledging, a Ferris wheel, Snow + Rock climbing wall, indoor conveyor belt ski slope (Chel-ski) as well as two nights of après (was just the Friday last year).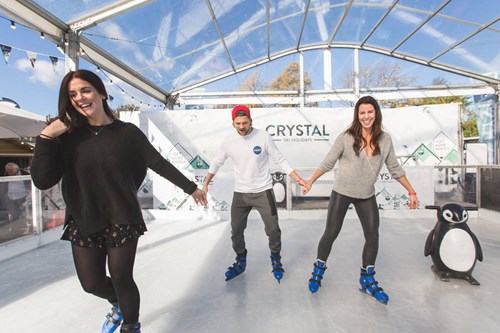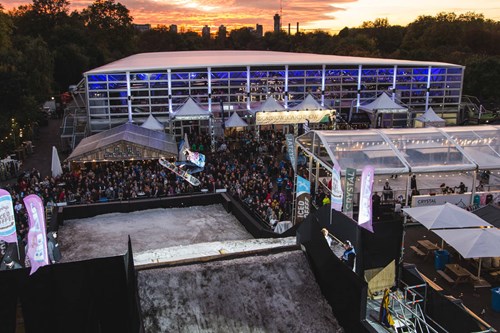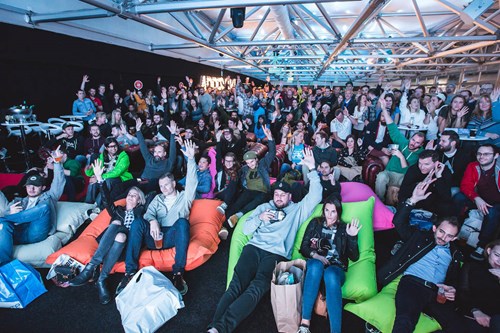 Below is all the information you'll need for this year's London ski and snowboard festival:
How much are the Ski & Snowboard tickets
early bird tickets - available until 25th October 2018
Adult - £20
Family - £40
Child (under 11) - free
Child (11-16) - £8
Student - £10
Concessions (over 60s) - £10
Tickets are also available on the door on a first come first serve basis but tickets do cost an additional £5 or additional £2 for children (11-16)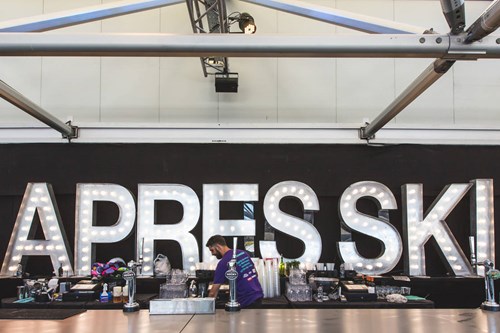 Opening dates and times
Thursday 25 October 2018 - 12pm -7pm
Friday 26 October 2018 - 11am - 10pm
Saturday 27 October 2018 - 11am - 10pm
Sunday 28 October 2018 - 10am - 5pm
What's new?
There are numerous new additions to the ski show for 2018 including:
The Snow + Rock climbing wall
Dog sledging on the slopes of Battersea - a chance to meet some furry, four-legged friends
Vintage Ferris wheel
And it looks like the street food village has upped its game this year (last year we were a little disappointed) but new additions in The 3 Little Pigs Souvlaki, Guasacaca and On Cafe's Chinese dumplings and co. look likely to be utterly delicious - a very welcomed improvement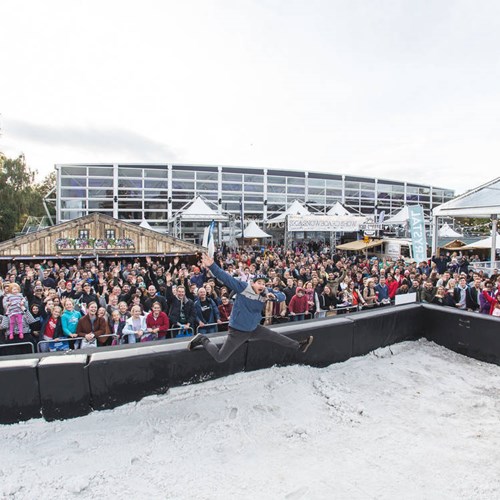 Where is the ski and snowboard show 2018?
The ski and snowboard show is at Battersea Evolution in the middle of Battersea Park.
How to get there
The nearest station is Battersea Park station which is between London Victoria and Clapham Junction, it's a tiny little stop so make sure you don't miss it - I did this last year.
From Battersea Park station it's a 15 minute walk to the venue but there are free shuttle rides operating once you get into the park so hop on one of them if you see one.
Alternatively, it is only a 35 minute walk from Clapham Junction so if you fancy a stroll it's a fairly easy walk.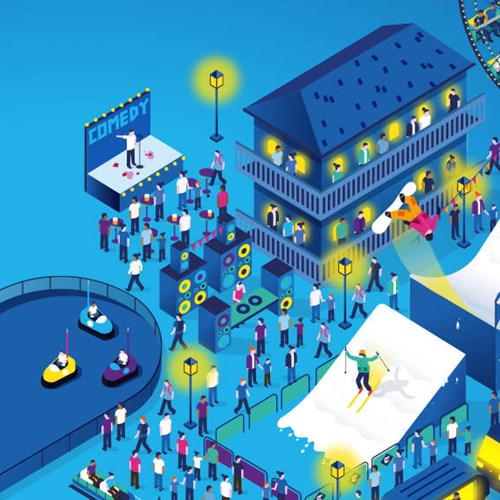 What's on?
Mount Battersea is the main event a 50ft kicker (jump essentially) made with real snow - it's pros performing epic tricks and a mesmerising watch
The Snow + Rock climbing wall is a digital masterpiece and included in the price of your ticket - a race against time for a whole host of challenges.
Dog sledging - great family experience from France Montagnes come and grab a ride of a lifetime on Battersea's slopes - we're certainly intrigued to see how this one pans out
The Airstream Ski Club of Great Britain stage featuring the Sunset Sons and co.
Ice skating rink including penguins to help you or your kids glide around the ring - free of charge
The Lodge - Alpine themed après bar with acts from kids face painting and entertainment to live comedy and live music
Après ski parties with live music and DJs from 5pm on Friday and Saturday
Alpine street food village
Vintage Ferris wheel
Ski boot fitting centre
Avalanche training
A treasure hunt to hunt out the hidden gems of the festival  with plenty of mystery prizes
And best of all, it's all included in your ticket.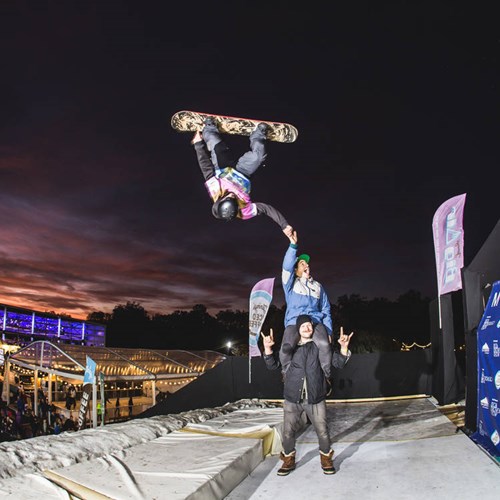 What's it like?
Starting off as more of a trade show and more recently transforming into more of a festival feel. It's a great day out, perfect for picking up all kinds of freebies and bagging a few ski bargains sampling some of the activities on offer and watching the tricksters on Mount Battersea. Over the last couple of years, my particular highlight has been some of the stand-up comedy in the Alpine bar, grab a beer and literally laugh your socks off. 
This year the après sessions have expanded to the Saturday night and these evenings are always great fun with a real buzz around the festival, funnily enough, it's not dissimilar to the pop-up après spots at the bottom of the Austrian slopes.
Overall the whole festival is incredibly friendly and there's so much going on you can easily spend a day or two here.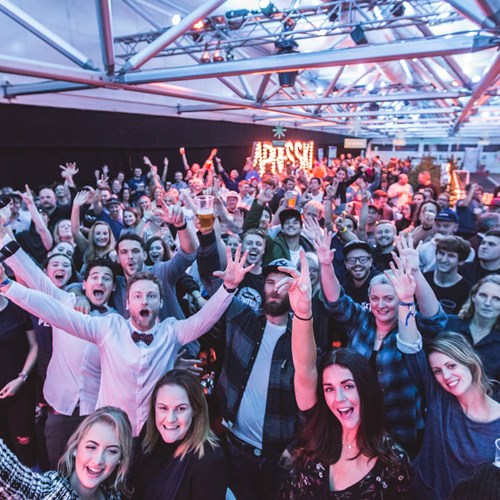 Who is exhibiting?
There's way too many to list here so here's a link to the Telegraph's page on ski show exhibitors and there's plenty more besides those who have made it onto the page too.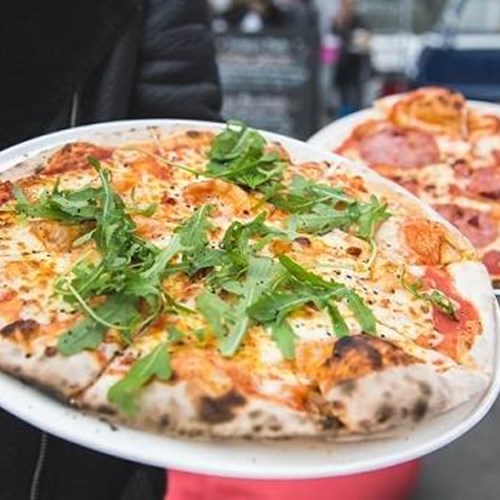 What are flexiski doing at the festival?
Flexiski will be on the Norway Home of Skiing stand with plenty of giveaways, a cheeky game and we'll be giving away a multi-centre ski break; skiing in Myrkdalen followed by exploring the fjords around Flam. Come and see us for a chance to win or just a friendly chat.