Short breaks and ski weekends with children
Skiing for an entire week is not always an option or even the best way to ski with or introduce your children to skiing, a short ski break can offer a taste of the snow-covered mountains without being away for an entire week. There are plenty of family ski companies specialising in childcare and fuss-free week-long ski trips but if you are only away for a few days then it can be harder to find the right options for your family.
Flexiski doesn't specialise in childcare, we specialise in short ski breaks and tailor-made skiing. So, whilst we don't provide childcare ourselves we can find you the most child-friendly resorts and hotels with facilities and childcare suitable to you. It's not all about where you go, however, the time of year, how you get there and even planning before you go can make a huge difference so here are our recommendations for skiing with children.
Tips for skiing with children:
What's the best age to start skiing?
This is hugely down to opinions which vary massively. We'd say putting your children in proper ski lessons before the age they start school can be challenging. It's hard work with semi-formal instruction that can be hard for young ones. Obviously, if your children have older ski-mad siblings, they often want to be part of it at an earlier age. There's no hard and fast rule to it.
For younger children, taking them out to the mountains can be a great idea but only for a taste of skiing, perhaps more time simply playing in the snow, bum boarding or tobogganing. Finding decent childcare can also make all the difference.
When to go skiing with children?
New Year and Half Term are notoriously expensive for skiing. It's much more cost effective to go during the quieter weeks of the school holidays such as Christmas or Easter.
With Easter, in particular, the temperatures are normally not quite as cold and the weather more likely to be sunny which all helps the enjoyment factor for a first-time ski break with the family. There will still be plenty of snow built up throughout the season so you'll have not problems on that front.
Before you go
Once you're all booked it's time to talk up how excited you are to be going skiing and how much fun it's all going to be. 
Taking your children to learn the basics or simply get a taste of skiing in an indoor snow centre can be a great way to introduce the sport. Learning the ropes is a lot cheaper here than in the Alps and means their first day in the mountains won't be nearly as daunting.
Where to go?
Picking a child-friendly resort is harder than you might think, so we've put together a few suggestions below. Convenience and safety are massive factors as are child facilities, entertainment options and suitable ski schools/daycare.
Being close to ski school meeting points it super handy if you're putting your children into lessons, though with short ski breaks often you'll have to book private lessons as the groups run on a weekly basis so their instructor will often come to meet you at your accommodation or close by. A little extra convenience.
How you get to resort can make a difference. We use private transfers, car hire, shared transfers and even train transfers from airport to ski resort so you can choose the best option for your family. Or we can leave any aspect of the holiday to you if you'd prefer to organise it independently. As the name (flexiski) suggests, we're fairly flexible.
Our favourite resorts to take your kids to the mountains: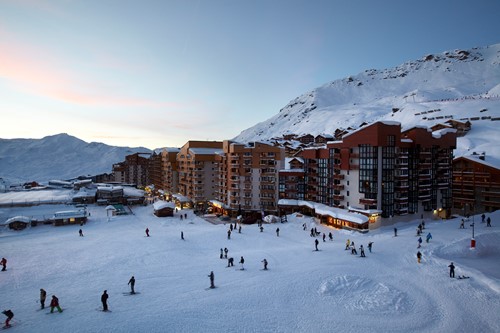 The vast majority of accommodation in Val Thorens is ski in, ski out and which - we're sure you'll agree - makes a huge difference when wrangling the kids into their ski gear and getting them to ski school each morning. Here, you can pick accommodation strategically and head out the door almost directly to the meeting point. 
There are plenty of English speaking ski schools in Val Thorens and the resort offers plenty of snow sure beginner slopes. 
Stay at 4* Hotel Le Val Thorens for easy ski in, ski out access
Transfer time - 2 hours 30 minutes
Resort height - 2,300m
Highest point - 3,230m
Ski area - 600km
3 day whole area lift pass from £178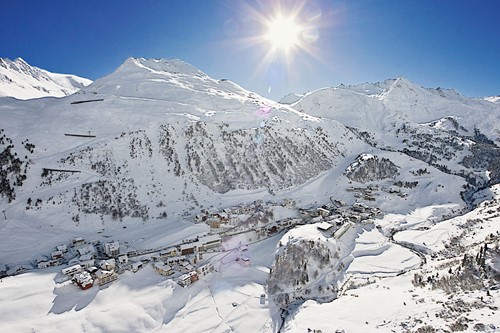 Obergurgl is a ski resort families come back to year and year again due to the snow sure slopes, crowd-free pistes and beautifully traditional Tyrolean setting. The resort gets very few day visitors so the roads are incredibly quiet and almost car-free. 
There are two beginner/easy pistes that run through the largely ski in, ski out village and the whole resort has a relaxed vibe geared towards cruisy beginner and intermediate skiers. The Bobo ski school is a great option for kids, running from Sunday to Friday kids can join on various days depending on their ski level.
Transfer time - 1 hour 30 minutes
Resort height - 1,930m
Highest point - 3,080m
Ski area - 110km
3 day

 

lift pass from £153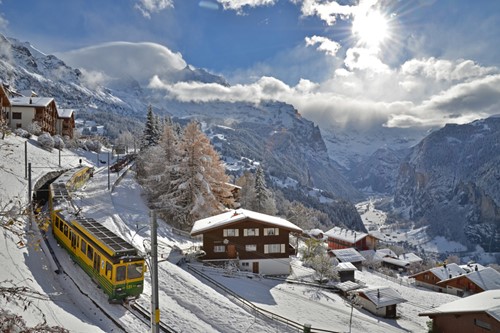 Wengen - Switzerland
Half-way up the mountain and only accessible by train, Wengen has been a hit for families for years with a relaxed atmosphere and super friendly locals. There's a beginner slope in the village and a couple of ski schools catering for children one for kids as young as six months.
The village is car-free, bar the hotel electric shuttle and taxis. The centre is home to an ice rink and a cinema which shows English films on a regular basis. You can even travel up the mountain on the train for spectacular views to reach the highest train station in Europe. Well worth the half day trip.
Stay at 4* Hotel Silberhorn close to the gondola and train station, you can ski back to the door
Transfer time - 2 hours 45 minutes (by train)
Resort height - 1,275m
Highest point - 2,970m
Ski area - 220km
3 day

 

lift pass from £136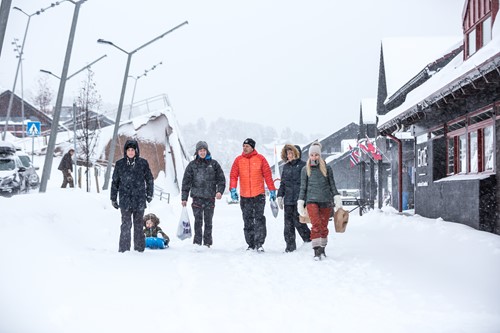 Each of our Norwegian resorts is extremely child-friendly but Geilo perhaps stands out from the crowd being almost entirely orientated towards families with experiencing nature a huge part of the appeal.
Quiet slopes, superb scenery and incredibly reliable snow in a lively local town full of bakeries and cheesemakers as well as winning awards for its sustainable practices. There's a separate fun slope for children and the Trollklubben childcare at Vestlia provides a great service for entertaining and teaching your kids if you want a few hours skiing to yourselves.
Stay at the Geilolia Forest Cabins for a magical experience in the snowy woods
Transfer time - 3.5 hour scenic train journey
Resort height - 800m
Highest point - 1,180m
Ski area - 35km
3 day

 

lift pass from £119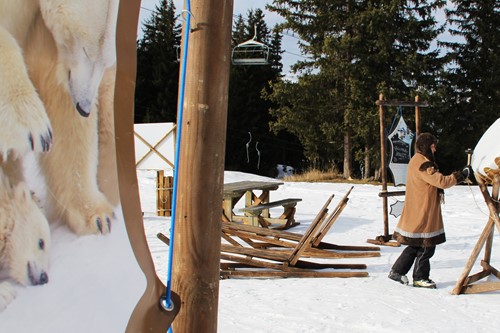 The central valley of the largest linked ski area in the world (Three Valleys) Meribel has access to more skiing than you could possibly need. Yet its the wooden-roofed chalet style, easy-going nature of the resort in the trees that is a huge part of its appeal. Perhaps best for children 4 or older so they can enjoy the incredible skiing on offer.
ESF (ski school) caters for children as young as 18 months but they must be 4 years or older to join the majority of group lessons. Around the Altiport, accessible by the Morel chairlift in town (Altiport 1600), is a great starting point with designated beginner zones. The piste des Animaux is a wooded slope with animal sculptures in the trees for kids to spot, or the Piste des Inuits runs parallel, with its Inuit Village. There's further kids zone around Mottaret as well.
Stay at 3* Hotel L'Eterlou 50m from the slopes and with an outdoor heated pool and hot tub
Transfer time - 2 hours 15 minutes
Resort height - 1,400-1,700m
Highest point - 3,230m
Ski area - 600km
3 day

 

lift pass from £178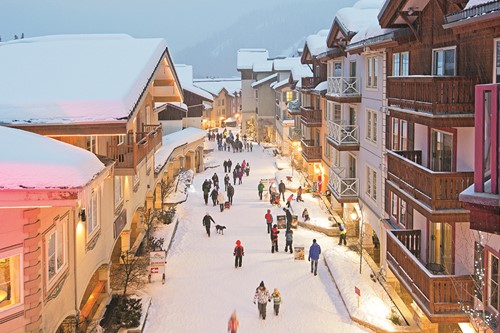 You've most likely never heard of Sun Peaks, yet it is Canada's second largest ski area and well worth the longer flight times to Europe. The village is almost entirely ski in, ski out with a ski way running through the village acting as the high street if you like. 
There are beginner pistes from the resort centre and the whole area is beautifully mellow and lift queues are almost non-existent. The Sundance kids centre has a range of fun activities for children from 18 months to 5 years old. The whole resort has a safe and friendly atmosphere and with the constant investment, it's a seamless resort.
Stay at 4* Sun Peaks Grand for slopeside location, heated outdoor pools and an arcade room
Transfer time - 50 minutes from Kamloops
Resort height - 1,255m
Highest point - 2,080m
Ski area - 4,270 acres
6 day

 

lift pass from £293
There are plenty more options out there to suit your particular needs. Give our ski specialists a call on 0208 939 0862 and take us through what you're looking for so we can give you the best recommendations possible.
Norway is the most child-friendly country we've seen when it comes to skiing. Every resort we feature has great kids facilities and friendly slopes. Geilo has the exceptional Trollklubben Childcare to make your family stay that little bit more magical. The short video below shows you a little bit more: