How To Make The Most Out Of Your First Ski Trip
A long weekend ski break can be a great way to try skiing for the first time. It means you don't have to commit to a full 7 days to a sport you're not even sure that you like. Just take a day or two off work and head for the mountains to try out something we're pretty confident you'll fall in love with. If you do it right that is.
How to get the most out of your first ever short ski break
If you've never put a pair of skis on in your life then choosing which resort to go to is an absolute minefield. And we'd argue getting the right resort is a major factor in enjoying a ski break as a beginner.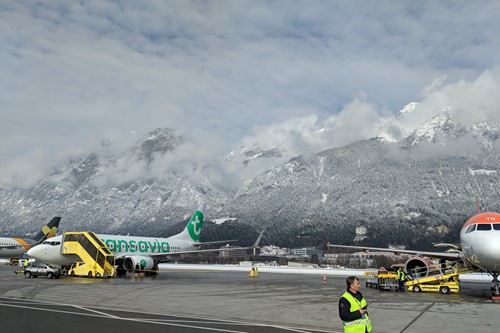 Tip 1. Look for short transfers from airport to ski resort
We always recommend choosing a resort that's a short transfer from the airport. If you only have 3 or 4 nights away you don't want to waste a whole day getting out there and another getting home again. Yes, Val d'Isere is a fantastic resort but let's leave the 3 hour plus transfer for our second or third ski trip.
Take a look at our ski resorts with the shortest transfers: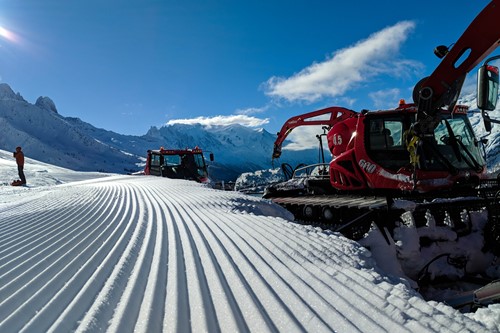 Tip 2. Find beginner-friendly ski slopes
In addition to the short transfer, you need beginner-friendly pistes, and plenty of them so you don't get bored going up and down the same slope each day.
English speaking ski instructors is also a plus to nail the basic techniques without having to overcome the barrier of language as well as the skiing.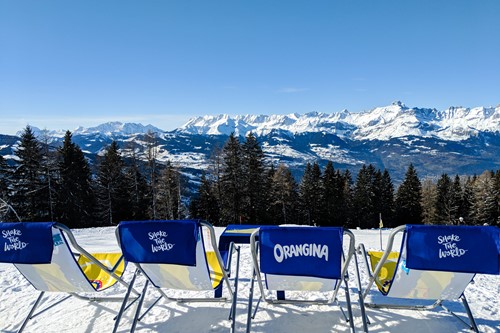 Tip 3. Pick a pretty ski resort
Our third tip would be to pick an attractive resort. This may not make much difference to your ski ability but if it's your first impression of the mountains, why not make it one you'd dreamed of.
Disregard the purpose-built concrete resorts and head for the tree-lined slopes, stone church spires and cascading piazzas.
It's as much the off-slope experience as the skiing. Obviously, this has little impact on your skiing, so it's more a 'nice to have' than a 'must have'.
This way even if it turns out you're not a ski fan you'll still have an awesome weekend in some beautiful snowy mountains.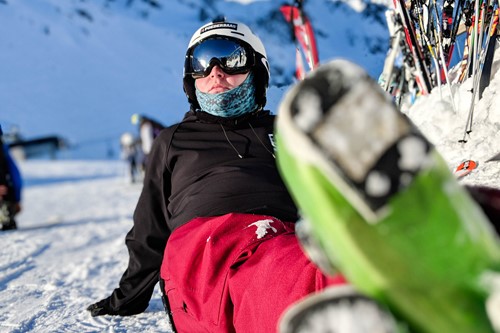 Tip 4. Take it easy on the flight times
Don't stress yourselves out trying to cram some extra skiing in on your arrival and departure days by catching that 7am flight.
Pick flight times around midday that'll give you plenty of time for a leisurely journey and you'll still get into resort in time to fit your skis and enjoy an afternoon/evening exploring the town and testing out the dining options. Plus you won't be knackered from getting up at 3am.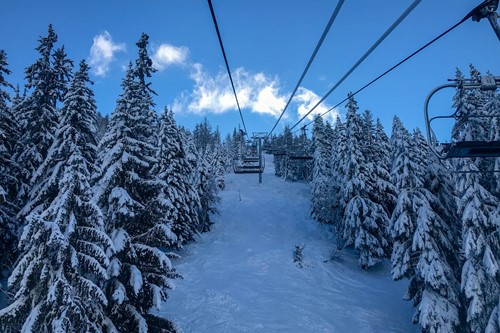 What about ski tuition?
Skiing for a short duration means you can't really join in with the ski schools as they generally run over the period of a week. Some resorts do group lessons but on the whole you're restricted to private lessons. Now this may cost a little extra but for getting to grips with skiing there's not a better alternative.
You'll have one-to-one tuition and with your instructors sole focus your technique will improve in record time. You may even be stepping off the greens and tackling some sweeping blue runs after a couple of days.
Group lessons are great but you can get lost in the crowd and not get many tips specific to your needs. Private instructors allow you to progress much easier as the lessons are tailored to your needs.
Which resorts are best for beginners?
We've already outlined what to look for when getting out to the mountains for the first time. Now, these are our top recommendations. Time to walk the walk and not just talk the talk.
It would be easy to go for the three valleys ski area with all three of Val Thorens, Meribel and Courchevel having great beginner terrain, lively après and plenty of snow. But the transfers are just a little bit too far to make them perfect for us. So here are our lesser known beginner delights: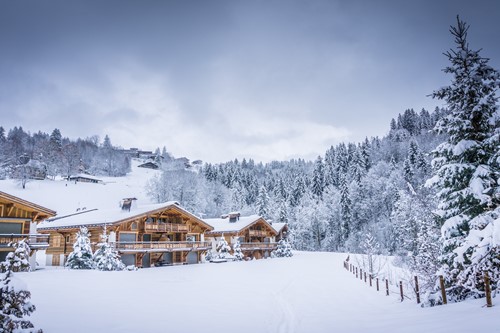 Just over an hours transfers from Geneva you can breakfast in London and lunch in France. The town is built around a 13th century village with a cobbled, pedestrianised centre and open air ice rink surrounded by delicious restaurants, intimate lodges, lively brasseries and rustic farmhouses. It's a foodie's haven and a village to fall in love with. There's even a river flowing through it. 
The slopes are beautifully wooded, a delight come snow or sunshine and beginners are spoilt for choice with well-located learning slopes and plenty of green and blue terrain to progress onto.
Transfer time - 1 hour 15 minutes
Ski Area - 325km
Beginner friendly slopes - 48%
Resort height - 1,100m
Highest point - 2,355m
Stay at the 3* Royal Rochebrune for the ease of being next to the ski slopes.
Another short transfer, around an hour and a quarter to be precise. The town is sandwiched between some impressive mountain ranges and the year round town has a lively local scene. It's a medieval market town and the place is packed with ornate buildings, buzzing squares and inviting restaurants. Gentle slopes cruise from the top of the mountain so you won't be trapped at the bottom. You get to see the best views when you're learning. And with constant investment in a fast lift system queues are a thing of the past.
Transfer time - 1 hour 15 minutes
Local Ski Area - 43km
Beginner friendly slopes - 45%
Resort height - 670m
Highest point - 1,604m
Stay at the 4* Alpenhotel Kaiserfells for ski in, ski out luxury.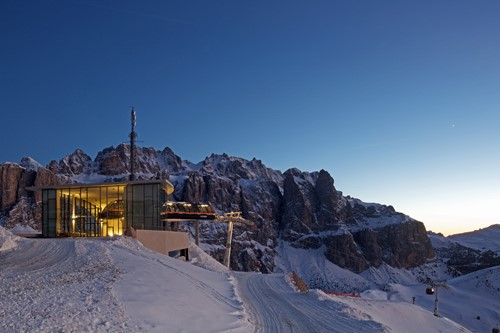 Italy, in general, is underrated for skiing. And Cortina is arguably the cream of the Dolomites. The landscape is breath taking and the resort is stunning. Towering limestone cliffs and pinnacles surround the resort and are tinged pink at dawn and dusk. Stone church spires litter the skyline if you can look up from the cobbled streets and bustling piazzas. It's the wealthy Italians playground and none of them ski so the slopes are empty. The slopes are built for cruising and as a beginner you'll be more at home here than most. It would be our top recommendation for your first time on the mountains.
Transfer time - 2 hours
Local Ski Area - 120km
Beginner friendly slopes - 39%
Resort height - 1,225m
Highest point - 2,930m
Stay at the 4* Hotel Cortina to be right on the cobbled streets winding through bustling piazzas and past boutiques, cafes and restaurants galore.
How much will a short ski break cost me?
Cost is often a major factor when choosing our ski breaks. Heading out for a long weekend in the mountains is not necessarily a cheaper option to a week's skiing. Weekend breaks tend to be tailor made so they a restricted on flight availability and prices that fluctuate throughout the season rather than pre-bought seats and pre-bought week long stays from the mega-ski-companies such as Crystal, Neilson or Inghams.
If you ski with flexiski the dates and duration of your holiday are completely flexible and defined by you. And our ski specialists are there to help guide you in the right direction. They can suggest flight times, transfer types and accommodation options depending on your preferences and ideas about skiing.
To put a very rough price on a 4 night ski break, if you get a great deal in a low season date (early December for example) you may be able to get away for £450 per person for flights, transfers and accommodation. Lift passes and equipment hire would be extra, averaging around £200 per person.
Our typical ski weekends are more often around the £750 per person mark (flights, transfers and accommodation), lift passes and equipment hire extra. If you're looking more on the side of serious luxury then it can get expensive.
So there you have it, our beginners guide to short ski breaks. If you have any questions or something isn't quite clear just give us a call on 0208 939 0862 and speak to one of our ski specialists. Alternatively, why not ask us a question on Twitter or Facebook, or simply take a closer look at a few pictures from Instagram.