The 5 Closest Ski Resorts To Salzburg Airport
We're taking a look at some of Austria's ski resorts with the shortest transfers from Salzburg airport. Ski resorts in this area of Austria are beautiful; from huge frozen lakes dominating the landscape to pastel coloured buildings lining the cobbled town centre, glacial wonderlands and natural thermal waters. It's a spectacular area of the country to ski in and of course, being in Austria, the après ski is lively straight off the mountains - perfect for a piste-side party before heading for an early night to get the most skiing possible.
Speaking of the most skiing possible. For short ski breaks, short transfers from airport to ski resort are essential if you want to get the most out of your time in the mountains. Flying into Salzburg the runway is often flanked by snow throughout the winter season, you're so close to the mountains. But which ski resorts are nearest to Salzburg airport and which will get you from plane to piste in the quickest time possible.
Our ski specialists are always on hand to offer you the best advice - so if you've already booked flights and are looking for accommodation or just want to speak to someone about your options, we recommend giving us a call on 01962 587777 or sending us an enquiry online.
Skiing near Salzburg
Although Salzburg is Austria's second largest international airport, it's still not a massive place and getting through customs is normally a breeze.
That being said flight's do tend to be in the mornings so whilst this is great to ski on your arrival day it means if you want to ski on your departure day then you'd be better off taking the longer transfer to Munich for your return flight. Below we're looking at the ski resorts nearest to Salzburg airport based around our most popular transfer days and times (Wednesday and Sunday mornings around 10am) - which resorts to head to if you want to be on the slopes by lunchtime on your arrival day?
Our 5 closest ski resorts to Salzburg airport: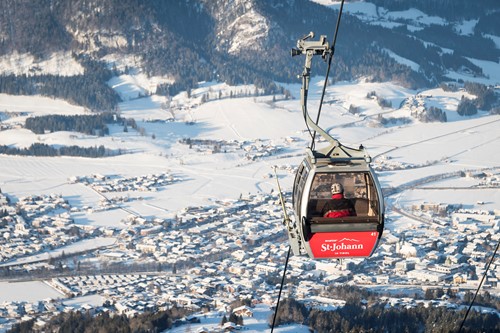 Sandwiched between two impressive mountain peaks, St Johann is a buzzing year-round town with medieval squares rammed with bars and restaurants at its centre. The snow is reliable with mostly North facing slopes and being at the crossroads of two valleys the resort gets blanketed in snow by storms from all directions. It's proximity to Salzburg makes it a perfect weekend retreat.
Best for - beginners and intermediates looking for peak to town cruising
Stay at the 4* Kaiserfels to be right at the base of the slopes with a gondola next door
Transfer time - 1hr 5mins
Resort height - 670m
Highest point - 1,604m
Ski area - 43km
3 day lift pass - £125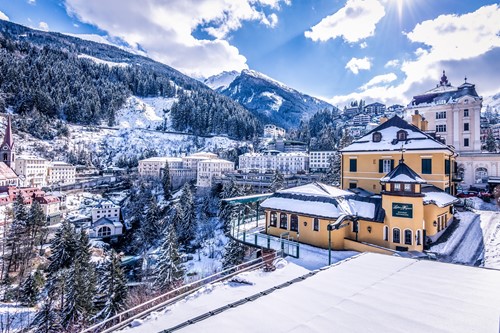 There's a slower pace of ski holiday in Bad Gastein. Teeming with natural thermal waters it's all about the spas here and there's no shortage of them. The skiing is geared towards cruising the red runs all day with wide open slopes at the peak and tree-lined runs around resort.
Best for - intermediates who like a little relaxation with their cruisy skiing
Stay at the 4* Hotel Alpenblick with an extensive spa and central location
Transfer time - 1hr 15mins
Resort height - 1,000m
Highest point - 2,685m
Ski area - 200km
3 day lift pass - £169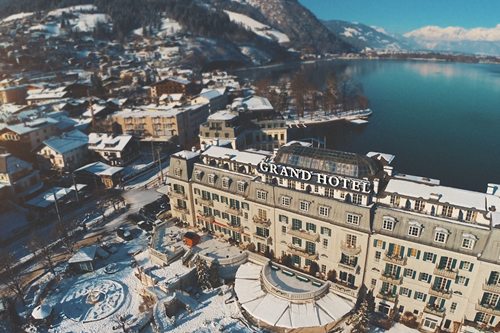 The Instagram king of ski resorts with a frozen lake, horseshoe-shaped mountain and cobbled medieval centre - it's a dramatic backdrop for a stunning ski area. The town is full of life with plenty going on, on and of the slopes and less than 90 minutes from Salzburg airport.
Best for - an all-round ski holiday, great slopes, a galcier up the road and a buzzing atmosphere in town.
Stay at the 4* Hotel Neue Post right in the centre of town and close to the lifts for a great location.
Transfer time - 1hr 20mins
Resort height - 755m
Highest point - 3,030m
Ski area - 138km
3 day lift pass - £140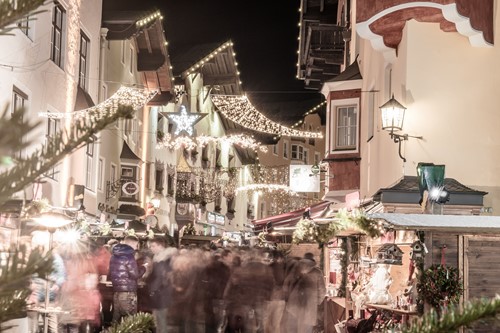 Arguably the most beautiful ski town in Europe, Kitzbuhel is overspilling with charm. The cobbled streets are lined with pastel coloured buildings and there's some impressive mountain heritage here. It may demand a price tag not to be sniffed at but you certainly get your money's worth from the food, mountain restaurants and foot stomping bars to the quiet spas and castle-like retreats.
Best for - having the picturesque ski town with great intermediate skiing to boot
Stay at the 4* Hotel Kitzhof for a stylish stay with fantastic views
Transfer time - 1hr 25mins
Resort height - 760m
Highest point - 2,000m
Ski area - 179km
3 day lift pass - £145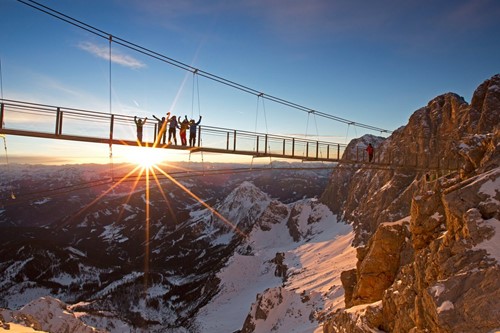 70 minutes from Salzburg airport, so you can be skiing on the Dachstein glacier by lunch on your arrival day. Schladming is the medieval base town from which you can access 4 mountains of skiing fun. The town has two beautiful Romanesque and Gothic churches and a magnificent 18th-century town square, and has plenty of bars both up on each mountain, and back in the town itself for apres.
Best for - family activities, snow sure glacier skiing - most slopes are intermediate friendly
Stay at the 4* Erzherzog Johann Alpin Style Hotel for great spa facilities and a good location
Transfer time - 1hr 10mins
Resort height - 745m
Highest point - 2,015m
Ski area - 230km
3 day lift pass - £145
If you like the look of any of the above resorts near Salzburg airport then give our ski specialists a call on 01962 587777 and they can take a look at what's available and will suit you best for your ski break.
Or if you're looking to ski in Western Austria and the Tirol, then take a look at our closest ski resort to Innsbruck blog.
Skiing in any of these ski resorts will give you the shortest transfers possible and get you to the mountains in record time: