The 6 Closest Ski Resorts To Zurich Airport
It's time to look at the ski resorts with the shortest transfer times from Zurich airport. Zurich is the largest international airport in Switzerland with easy access to many Swiss ski resorts, however, the airport also serves some of the Austrian resorts as an access point.
If you're looking for a short ski break or ski weekend Zurich is an easy airport to reach with nearly 900,000 passengers flying here from London each year; there are flights at all times of day so you can make the most of your limited time on the mountains with early flights out and late flights back allowing you to ski on your arrival and departure days.
Our ski specialists are always on hand to offer you the best advice - so if you've already booked flights and are looking for accommodation or just want to speak to someone about your options, we recommend giving us a call on 01962 587777 or sending us an enquiry online.
The home of SWISS (airlines)
SWISS operates over 50% of the flights into Zurich and is our prefered ski airline as they throw in ski carriage with every seat booked in addition to your hold bag as standard.
This means your flight cost doesn't creep up as you add on extra bags or ski gear as with the likes of easyJet or even British Airways. It makes your journey to the mountains hassle free.
SWISS fly from London Heathrow, City and Gatwick as well as from Birmingham and Manchester so ski resorts around Zurich are accessible for most in the UK.
Zurich train access
There is a train station directly underneath the airport centre with frequent trains to various destinations as well as 13 trains an hour to Zurich city station, a 10-15 minute journey from where you can easily get connections to numerous cities and ski resorts.
Rail is often the easiest and cheapest way to access many of the ski resorts nearest to Zurich. You may have to make a change or two but the Swiss rail system is incredibly efficient and incredibly easy to navigate so you'll have a simple journey. A spacious carriage with toilets and maybe even a bar as opposed to being crammed in a bus or taxi for hours on end.
Is Zurich airport in the city?
The airport is around 13 kilometres from Zurich city centre and the many transport links make it simple to spend some time in the city if you so desire. The airport is also referred to as Kloten airport, as it is in the municipality of Kloten to the North of the city.
Which airlines fly to Zurich from the UK?
There are 24 non-stop flights from London to Zurich each day, 2 from Manchester, 2 from Birmingham and connecting flights from Edinburgh and Bristol. With SWISS, easyJet and British Airways operating the direct flights.
Skiing near Zurich
Zurich's biggest strength is its size meaning there are great flight times available for your ski breaks, especially from London. And with a train station under the airport, you aren't reliant on buses or private transfers to get you to your chosen ski resort. With the ski resorts nearest to Zurich, an early flight in will mean you could be on the slopes by lunchtime and equally a late 3-day back to the UK will see you skiing for the vast majority of your final day in the mountains.
Below we are looking at the average travel time by train on our most popular transfer days (Wednesday 11am and Sunday 5pm) to the nearest ski resort to Zurich airport. i.e. which resorts will give you the most time on the mountain when you fly into Zurich.
Our 6 nearest ski resorts to Zurich airport:
A hidden pocket of Switzerland that doesn't get the fame it deserves. Ridiculously high glacial slopes, tonnes of snow each year and 2,000m of vertical descent. Centred around a town founded by a Benedictine Monastery the resort has plenty of charm and plenty to do. From ice caves to igloo villages, the highest suspension bridge in Europe and buzzing bars at the weekends.
Best for - vertical descent from peak to town and some stunning off-piste routes and a fantastic snow record
Stay at the Trubsee Alpine Lodge halfway up the mountain
Train transfer time - 2 hours 7 minutes
Private car transfer time - 1 hour 30 minutes
Highest point - 3,030m
Ski area - 82km
3-day lift pass - £134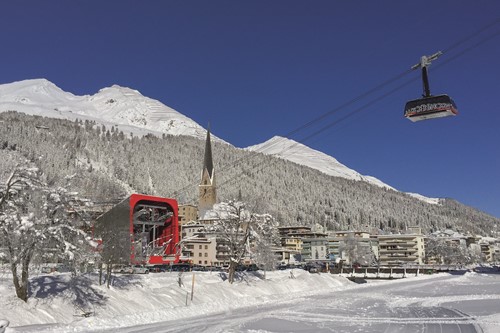 An understated and surprisingly lively resort, Klosters is famed for being the playground of the royals but it's not overpriced. The scenery is stunning and the ski area is an intermediate dream with plenty of long cruisy red runs. The largest ski area is accessed by gondola from the village centre and there are various smaller areas that make up the 320km included on the lift pass - you can travel by snow train to some, a novel experience. 
Best for - intermediates and eating well, the après is surprisingly lively straight off the slopes
Stay at the centrally located 4* Silvretta Parkhotel
Train transfer time - 2 hours 10 minutes
Private car transfer time - 1 hour 45 minutes
Highest point - 2,845m
Ski area - 320km
3-day

 

lift pass - £162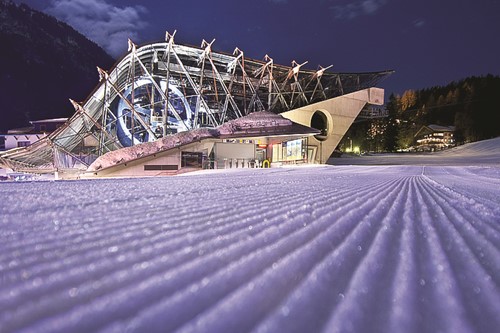 St Anton is famed for its straight off the slopes, table dancing après ski scene. There are slopeside parties that carry on in town until the early hours. If you're looking for oompah blaring fun then look no further and the ski area is just as impressive with 340km of linked piste there's more than you could possibly explore in a week let alone a few days - though possibly not the most suitable resort for beginners.
Best for - Pumping après scene, Krazy Kangeroo and the Mooserwirt are the slopeside pics though we loved Basecamp at the bottom of the piste.
Stay at the Amalien Haus, the best-located chalet in St Anton. Fully catered and in the middle of the pedestrianised main street 
Train transfer time - 2 hours 45 minutes
Private car transfer time - 2 hours 25 minutes
Highest point - 2,650m
Ski area - 340km
3-day

 

lift pass - £150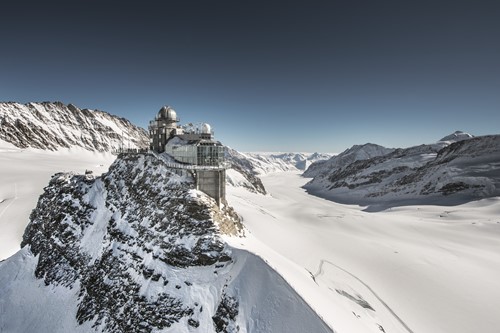 Scenery rarely gets this dramatic with views of the towering Eiger, Monch and Jungfrau mountain peaks. You're surrounded by skiing and you can get the train up the mountain as a ski lift. The resort is easily accessed by train from Zurich airport and the 170km on offer is heavily geared towards intermediates.
Best for - non-ski activities; a 15km toboggan run and numerous others as well as ziplining included on your lift pass
Stay at the 4* Hotel Belvedere for a family run eco-friendly hotel with a great spa
Train transfer time - 2 hours 50 minutes
Private car transfer time - 2 hours 20 minutes
Highest point - 2,970m
Ski area - 170km
3-day

 

lift pass - £136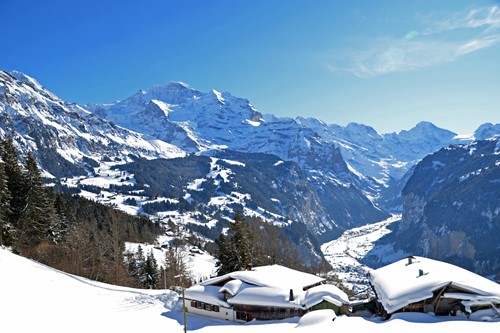 Wengen - Switzerland
On the mountain, Wengen is completely car-free and only accessible by train or skis. The village itself is beautiful, a real ski retreat away from city life. You can take the train up to the ski area or carry on up to the highest train station in Europe or opt for the gondola. The village is much quieter than neighbouring Grindelwald but it makes up for it with a charming atmosphere and stunning views.
Best for - A ski retreat, ski back to the heart of the village and curl up next to a roaring fire with a hot cocoa
Stay at the 3* Hotel Belvedere for stunning views and a quiet location
Train transfer time - 2 hours 50 minutes
Private car transfer time - 2 hours and a train up the mountain
Highest point - 2,970m
Ski area - 170km
3-day

 

lift pass - £136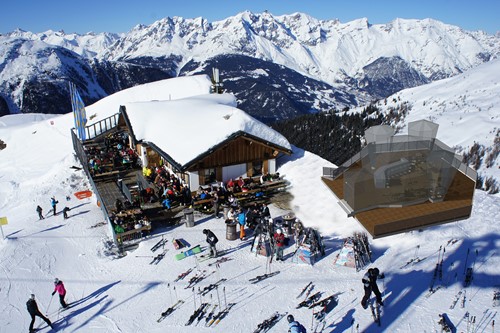 Another party place, Ischgl is generally a slightly older crowd than St Anton and with it, you'd assume more sophistication. Perhaps a little, but it's still table dancing and oompah music however ski boots are banned after the lifts close. Famed for its on-mountain open and closing parties, Ischgl's ski area is perhaps the most rounded in Austria, a superb array of pistes for all ski levels.
Best for - après ski but the ski area is also second to none
Stay at the 4* Hotel Yscla for award-winning food and next to the lift location
Train transfer time - no trains
Private car transfer time - 3 hours
Highest point - 2,864m
Ski area - 238km
3-day

 

lift pass - £137
If you fancy any of our ski resorts near Zurich or simply want to find out more, give our ski specialists a call on 01962 587777. They can run through the best options for you and your dates.
Or, if you can't find what you're looking for above take a look at the beautiful ski resorts around Salzburg.
With these ski resorts easily accessible from Zurich airport it makes it hard to see how weekends aren't made for skiing: