Late-Season Skiing In Snowy Switzerland
With the weakening of the pound's strength in Europe recently; lots of you have been shying away from Switzerland as a destination for your ski breaks. I believe this is a big mistake! With the season coming to an end, Switzerland still has a lot to offer. April skiing is great for those looking to sneak in an extra bit of time on the slopes before we all start thinking about booking a beach break. It's low season, so this means quieter and sunnier! Our Swiss resorts offer some of the best late season skiing available.
Features to look out for if you're looking for late season skiing, and want to make sure you won't be wading through slush, is high altitude or glaciers and good snowmaking. Zermatt can claim some of the highest slopes in Europe on its glacier, and its "lower" slopes are between 3,300m and 2,400m! The resort is actually open 365 days a year - there aren't many resorts that are as snow sure as that! If you want long lunches on panoramic terraces and a traditional, car-free village, Zermatt is the perfect place.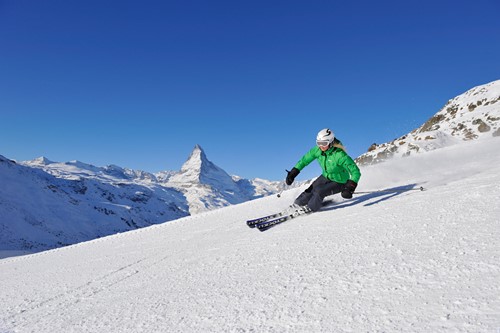 Verbier is well known for good late season snow. Even though a lot of the slopes are south facing, the snowmaking is fantastic, so you can get your tan started as well as enjoying wonderful conditions! The higher slopes form part of the Mt-Fort glacier, so up there you will have no issue with afternoon slush.
Engelberg may be the lesser known of our Swiss resorts but it's a great bet for April snow. This charming resort, based around an old monastery, has north facing slopes which keep their snow well. The snowmaking is also very good for a smaller resort. Engelberg boasts superb off-piste skiing, or head up to the glacial slopes later in the day to avoid the softening lower slopes due to the afternoon sun.
As for those of you worrying about the price, it's a lot more affordable than you might think. Engelberg is one of our best-priced packages, with a stay at the Hotel Terrace including a free lift pass in the bundle. Many of our hotels are on half board basis too, so food is included. True, you may have to save a little more of your spending money for drinks and lunches, but I believe this is worth it to be able to get a really decent April ski, great snow and gorgeous surroundings.
If you'd like to talk to one of our Ski Specialists about a late season ski holiday - call us on 01962 587777 or enquire online