Our Favourite Restaurants In Meribel
We've put together a list of our favourite Meribel restaurants to help you make the most of Meribel's impressive and varied food scene.
As a dedicated member of the long lunch club, it's fair to say that skiing holidays (for me) often revolve around eating opportunities. The good news is that the restaurants in Meribel - along with the mountain huts on piste - certainly deliver. There's no better feeling than loosening your ski boots, settling yourself on a seat with a view, and rewarding yourself with a glass of red and a tartiflette as you swap stories of your adventures on the slopes. 
We want to make sure you're getting the most out of your trip - no matter what the weather might be doing - so, whether you're looking for a lunchtime terrace with a view or a cosy town-centre refuge, we've got you covered. Take a look at our guide to the best places to chow down on your next short break or ski weekend in Meribel.
This tapas restaurant/cocktail bar dishes up all the classic Spanish small plates you could ask for, alongside an impressively vast drinks menu. If you're in the market for a cocktail, the Copiña Spritz is well worth a try - as is pretty much every other drink on their books. The restaurant offers a lot in the way of ambiance, with a buzzing atmosphere come apres hour and beyond.
Route du Centre, 73550 Les Allues, France
A slightly unusual entry, because Le Close-Up's specialty is something you won't find on the menu. The draw (excuse the pun) of this place is its resident magician, who wanders around the restaurant performing close-up card tricks and sleight of hand. On the menu, you'll find a selection of delicious Savoyard delicacies which are equally as impressive as the entertainment.
Route du Centre, Galerie des Cîmes, 1er étage, 73550, France
3. Restaurant Le Cèpe
This cosy, wood-clad restaurant places a big emphasis on locally sourced ingredients and the care they take here really shows through. You'll be treated to a menu of gourmet specialities and a chance to enjoy the picturesque outdoor terrace if you visit for lunch. Le Cepe has even featured in the Michelin guide as a Bib Gourmand restaurant, that's just one rank down from Michelin star.
Immeuble les Merisiers, Route du Plateau, 73550, France
For those of you who've grown a bit tired of the traditional Savoyard cuisine that's widely available in Meribel, we'd recommend a trip to sample the authentic Indian dishes of Tsaretta Spice. Since opening in 2016, this restaurant has been the talk of the town, so we'd recommend booking well in advance if you want to secure a table. 
Immeuble La Saulire Route de Morel - Altitude, Route 1600, 73550 Les Allues, France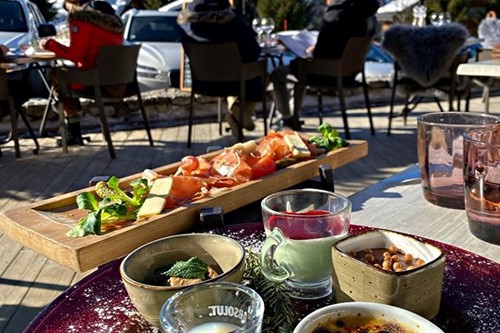 5. L'Igloo Lounge Bar Restaurant
This novel, igloo-themed bar and restaurant certainly provides a memorable setting for your next meal in Meribel. Known for its simple 'fast food' style dishes such as pizza and burgers, L'Igloo is both casual and special. This is in part due to the restaurant's striking decor - if you're dining with a large party just make sure you book the private igloo room.
26 Avenue de la Muzelle, 38860 Mont-de-Lans, France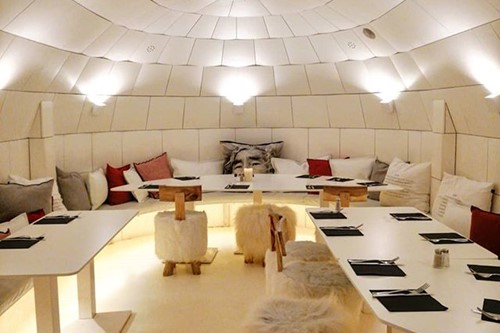 Restaurants on the mountain:
Favourite of Made in Chelsea stars Ollie Locke and Binky Felstead, this hidden woodland haven makes the perfect pitstop. With the added fun of a signposted ski through the trees to get there - or a horse-drawn sleigh ride from Altiport - you're sure to fall in love with this restaurant. Le Clos Bernard's terrace is perfect for sunny lunches, while their menu of chargrilled meats, charcuterie, and classic, cheese-based fare is sure to satisfy your post-skiing cravings. This is definitely a book-in-advance kind of place though, so make sure you've planned things out before dropping in. 
The service is slightly patchy but the food is well worth the wait and the atmosphere alone provides enough reason to visit. Just make sure you've carefully consulted the piste map on departure from Le Clos Bernard, otherwise, you might find you've accidentally skied through the forest and onto the main road. Trust me, having to hitchhike back to the nearest slope as you curse the injustice of missing the last chairlift up to Folie Douce is not the perfect end to a ski day.
Route de l'Altiport, 73550 Les Allues, France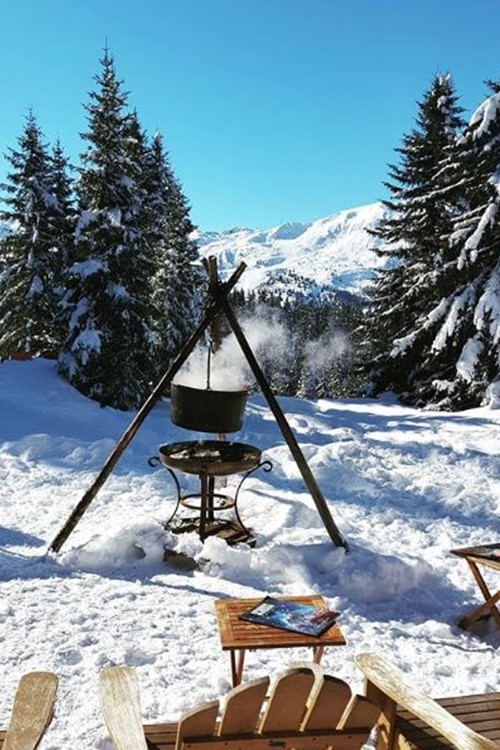 Meribel's Folie Douce is legendary for its prime partying location, situated at the mid-station of Saulire cable car. While a civilised lunch isn't the first image that springs to mind when you utter the words 'Folie Douce' their La Fruitiere restaurant proves us all wrong. Before the tables transform into makeshift dance podiums they're decked out with table runners, glassware, and proper linen napkins. They've made service a priority, both outside on their panoramic outdoor terrace and in their stylish indoor space. 
However, that's not to say that this lunch spot is all work and no play, because diners at La Fruitiere get the added benefit of a lunchtime cabaret. You'll certainly have plenty to talk about as the leather-clad warm-up acts set the scene for après ski. Don't be surprised though if, once you've polished off your duck breast shepherd's pie, the ice-cold bottles of rosé and the temptation of a little table dancing puts the breaks on your afternoon skiing plans. 
Lieu dit Burgin Gare intermèdiare Saulire Express, 73550, France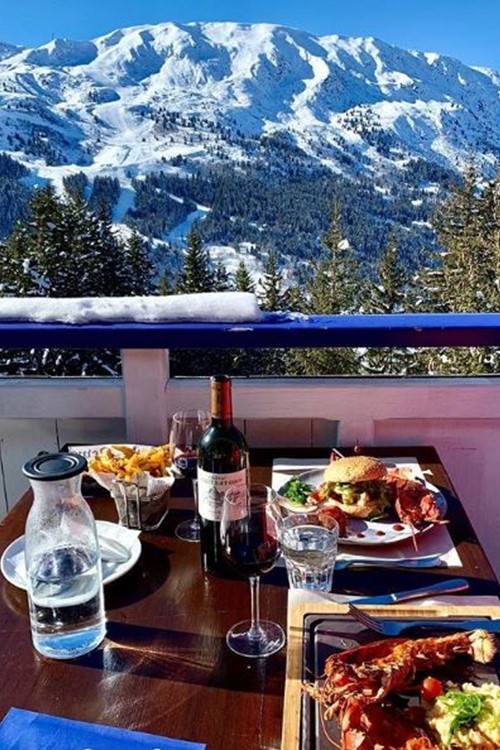 An ideal choice for bluebird days, Le Monchu can be found on Meribel's gentle Rhodos piste. There's plenty to choose from here, with both an upmarket bistro menu and a light bites selection featuring child-friendly pizzas, burgers, and croques. We'd highly recommend Le Monchu's (significantly more affordable) 'Le Casier du Monchu' menu. Their efficient service and large, outdoor terrace offer the perfect solution for those of you looking for a simple meal in the sunshine. 
Having visited Le Monchu on one of my first ever ski trips, I certainly appreciated the comforting sugar rush provided by their brioche french toast after a hair-raising morning at ski school. Stop in with your kids after they've conquered their first green and we promise they'll forget all about that embarrassing, face-first wipeout.
Lieu dit les Darbollées, 73550 Meribel, France
4. Le Panoramic
Situated at the peak of Saulire between Meribel and (Meribel's flashier cousin), Courchevel, Le Panoramic makes an excellent special occasion option. This place does what it says on the tin, offering (in my humble opinion) the best panoramic view of the Three Valleys on the mountain. With easy access for non-skiers, Le Panoramic can be reached by taking the Saulire Express from the Chaudanne in Meribel. 
Don't be fooled, though, because views aren't all Le Panoramic has going for it. While the sight of the Three Valleys sprawling out beneath you certainly makes for an excellent photo-op, there's something really special about huddling inside this traditional cabin on a whiteout day for a chocolat chaud 'avec Baileys' and a hearty French meal. Their staff never fail to finish-off your visit with a complimentary shot of génépi and their delicious, traditional menu can't be beaten.
La Saulire, 73120 Courchevel Saint Bon, France
Looking to plan a short ski break or ski weekend to Meribel?
Our Ski Sales Specialists are on hand to help you organise every aspect of your trip. We specialise in tailor made packages and ski breaks outside of the usual Saturday - Saturday format and offer one flexiski operated chalet and a selection of fantastic hotels in Meribel.
If you'd like to learn more or want some help putting together a package just give us a call on 01962 587777.