Flexiski Does Norway: Part 2
Day 3 – Hemsedal, off-piste in April
13 hours in Geilo just wasn't enough but the lure for the slopes was beckoning and off we went to Hemsedal. Once again, we were driving to a resort with no idea what we had in store for us! After a quick snooze in the car we arrived, fresh-faced and ready to hit the slopes. This was our first full day on the mountain, what a blast.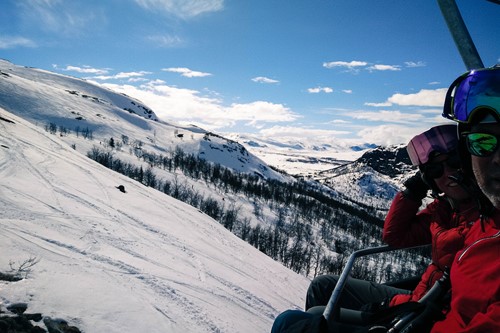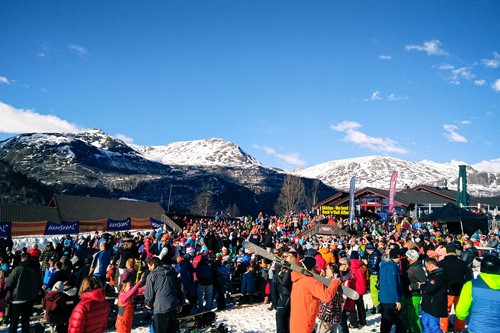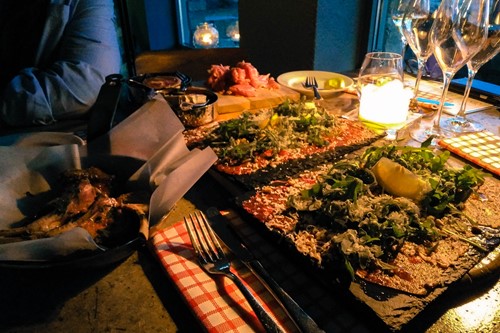 Top to bottom as a warm-up via the 4.4km Sentrumsloypa run which is descending from 1,450m down to 620m starting out at the top which is a green you'll find yourself taking in the jaw-dropping views of the surrounding area before diving turning off onto the blue section that takes you into the trees for some wide piste skiing, feel free to dip in and out of the trees on the way down. You'll end up in town so perhaps tackle this run either just before your morning hot chocolate break or before lunch, walk across the bridge and you'll find yourself standing in the middle of town with the restaurants and coffee shops within easy walking stance. The ski bus is every 20 mins which will take you back to the Hemsedal base which is where you'll start your day's skiing.
Lunch and more locally sourced food
Personal favourite lunch spot actually isn't in town, it's up on the east side of the mountain at the tip of Skarsnuten chair. Here you can choose to eat inside or outside and relax into the big sofas and booths. The menu is all once again locally sourced produce cooked fresh to order and the panoramic views of the resort/mountain make every bite taste that little bit better.
Once we finished lunch we got geared up and headed back up the mountain to get stuck in. The sun was shining and the pistes were holding up perfectly. You could even sample the off-piste there was so much snow. We tried our best to hit every run in the limited time we had, unfortunately, we didn't quite make it. We had tackled the vast majority of the reds on show. One thing I can't speak of highly enough is the views you get out and over the Tinden peak from either Tinden itself or Totten. One for everyone to enjoy is heading up the Tindenheisen lift and look out over the plateau off to the right.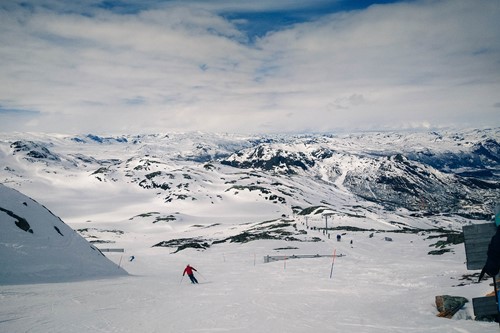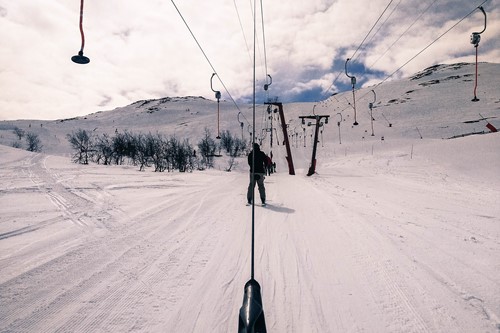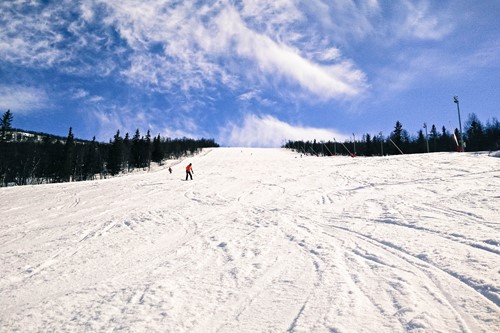 Après ski, where champagne is cheaper than beer
Being the last weekend of the season Hemsedal was in full party mode, there was a fantastic open-air music festival going on right in the heart of the ski area. There was a local band who, apparently, were famous once. Their name passed me by, the atmosphere was incredibly friendly and welcoming, suitable for all ages and party-goers. Hemsedal is often voted as one of the top destinations for après ski.
The mountain party carried on well beyond the point when we had to leave for our next après experience, we walked down the road to a venue like no other, and this was like something out of après dreams. Stavkroa was the bars name, 4 floors of Europe's hottest after-ski (according to their website) and I honestly can't find a reason to disagree. We stayed on the top floor and located ourselves tactically close to the bar for obvious reasons… Beer was the initial drink of choice but if you want to play it smart, ordering champagne actually works out overall a far better deal (not that I'm usually a boring person without alcohol, but no good story starts with. 'There I was, having a salad'). One thing I did notice though, in this bar, there wasn't a massive drinking culture, loads of the locals were just there with friends for the good atmosphere and friendly environment! We even found ourselves sharing drinks with 2 Olympic Gold Medallists at the Pyong Chang games. We lost track of time in a big way here, before we knew it we had to drag ourselves away and dive into the taxi to take us to one of the resorts hot spots in town for food.
Tapas Club, as the name suggests, it specialises in tapas. Being a big fan of tapas I was a little sceptical as to just how good this place could be, it's a wonderful thing to be proven wrong and on this occasion, I was very wrong. Really good food, highly recommend the prawns or the local hams as a sharing platter. Please just make sure you pre-book, there wasn't a seat in the house free. If you happen to find yourself dining late like we did you'll notice that on the far side of the restaurant (Out of earshot of the diners) it turns into a bit of a lively bar/club. Post dinner I recommend sticking around for this, the dance floor isn't big but it's large enough to teach the locals the YMCA…  We stayed here until very late. The drinks were flowing, classic songs being played by the DJ and being so openly welcomed by the locals it made for a really great night, one I'll certainly remember for a long time.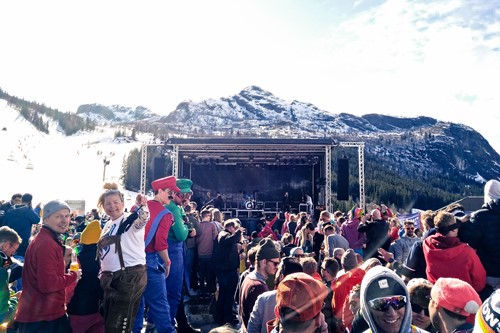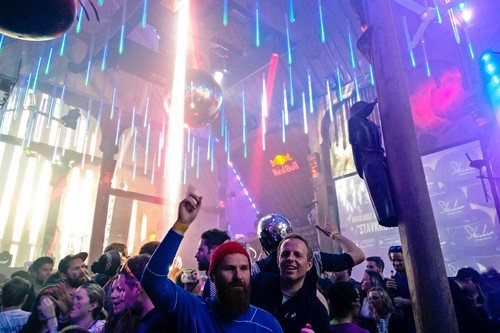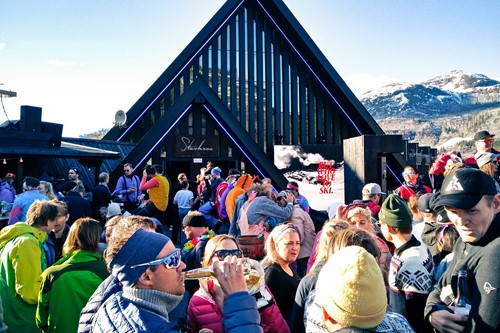 Day 4 – Norefjell, spas and epic views
Hemsedal to Norefjell, the final leg of our epic tour. After nursing some sore heads and some tired eyes we arrived by train into Hønefoss and were picked up in yet again, another Tesla! After a short drive (1 hour) we were greeted by an incredible sight of the Norefjell Ski & Spa Hotel set into the mountain as if it belonged there. Choose to go self-catered in the apartments or half board within the hotel, the choice is yours but the only thing I would say you don't have a choice about is the spa. You must go, either during the day or my personal recommendation – just before evening. There is a small bar in the spa area which serves bubbles and beers including soft drinks which can be enjoyed whilst you find yourself in the hot tubs or getting your feet massaged in the relaxation area. One thing I suggest is heading outside to the hot tubs or the small pool which contains built-in beds to sink into whilst you watch the sunset and I can't think of a better way to close out a ski day.
The ski area was unfortunately closed during our visit but that didn't stop us having one of the best times ever. I've been fortunate enough to ski in many places, USA, Canada and the vast majority of Europe but never have I come across a resort like this. Panoramic Mountaintop views as far as the eye can see with the ability to ski from top to bottom and arrive at the local lake, words can't quite describe how unique this is and you can have your mountain vistas but also this lake that partially freezes over with a mirrored finish (highly recommend seeing the pictures for yourself).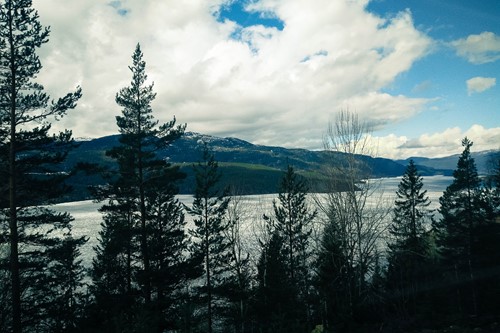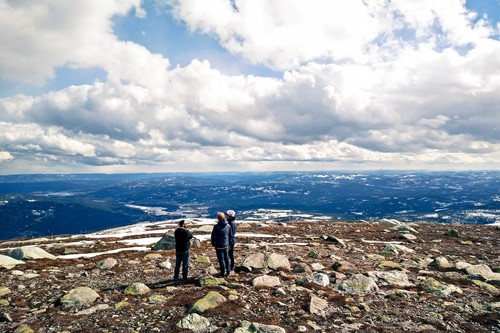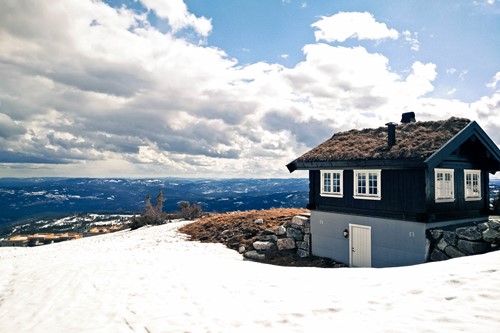 End of play dining (with more locally sourced food)
Evening came all too quickly here, play time was over and it was time to feast. Having been given the half board treatment we ventured into the restaurant for our last meal in Norway. Our company for the evening was the managing director of sales and the head of marketing for the hotel. Just the guys you need, the experts for all those questions you didn't even know you had.
Dinner consisted of 3 courses (of course), reindeer to start followed by a local fish delicacy and apple crumble to finish. Sounds relatively basic but the presentation and execution were second to none, you also knew it was all locally sourced. Flicking back onto the skiing side of things, the guys were saying you actually stand a pretty good chance of seeing wild reindeer when out and about in the trees so do keep your eyes open.
THE END