Our Favourite Things To Do In Banff
Chances are if you're looking at this, you're interested in skiing in Banff and Lake Louise, Alberta. Why the hell wouldn't you want to go there? With nearly 8,000 acres of ski terrain split across three areas throughout the intimidating Rocky Mountains in Canada's oldest national park, Banff has some serious ski credentials. If you've come to shred the slopes you'll be in for a treat with lightweight fluffy powder in abundance against a stunningly scenic backdrop (excuse the alliteration, I promise there won't be too much more). Yet there's plenty to do besides skiing, plenty of unforgettable and completely separate activities to skiing or boarding. 
Banff National Park is full of life, as they say in the promotional taglines 'this place is alive'. That's not just the wildlife, but an idea of what Banff represents; an explosion of nature and those who come to experience it. It's not often on a ski holiday you get the chance to partake in cultural experiences and meet genuinely interesting locals, away from ski guides and instructors, but Banff is full of them. It's a winter destination as much as it is a ski resort. With the town being a year-round affair and, in many ways, completely separate to the notion of skiing, it's not just a resort full of tourists. Just try not to get too caught up in nature, as Travel Alberta put it - 'remember to breathe'.
Early bookers get the best deals and we've found many trips available for less than £1000 per person! For just a few examples of these, visit our North America offers & packages page, otherwise enquire online for a quote to your exact specifications...
So what is it that gets us excited about Banff?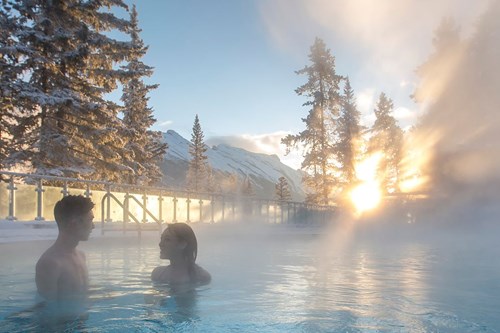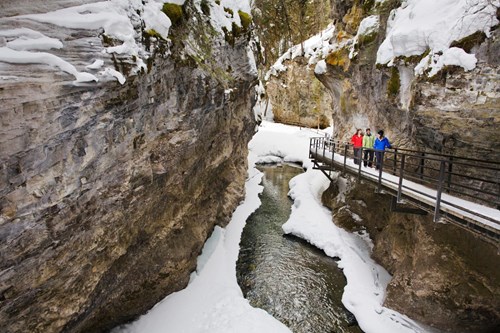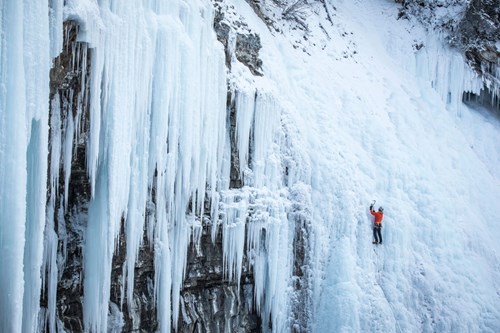 Hot springs
Banff houses the highest hot springs in Canada at 1,585 metres, they're the reason the area became a national park in the first place. That gives you an idea of the importance of the hot springs to the local heritage. You can head up there in the mornings to bath in serenity as the locals do, but the best time to hit the hot waters (in our opinion) is as darkness is falling and you can gaze up at the stars on a clear night. It's definitely an 'I can't believe we're here' moment, and anywhere that makes you say that you know you made a good choice in coming.
If you fancy completing the relaxation experience, many of the hotels have there own spas where massages and beauty treatments are available. But if where your accommodation doesn't have the facilities, or you just fancy getting out of the hotel then there are some good options in town. The Cedar & Sage Co. is a great shout and it's got a nice website to boot. Enjoy a massage, go for a spot of yoga or relax into some Japanese healing.
Johnston Canyon ice walk
Not everyone is a spa lover, so if you fancy something a little more exploratory then the Johnston Canyon Ice Walk may be just the ticket. A steel catwalk skirts the edges of the narrow canyon where the thundering waterfalls of the summer months have frozen over into glittering natural ice sculptures. A guide can educate you on what you're looking at, you get to see inside the mountain, not just looking at or on it when you're skiing. A pretty spectacular walk and it only takes a few hours of your time. The entire route is 3.4 miles and if you go with Discover Banff Tours they'll give you ice cleats to clip onto your boots for a little extra grip. Group sizes are also kept to a minimum so it will feel personal rather than coach loads of people there and they can pick you up from your hotel.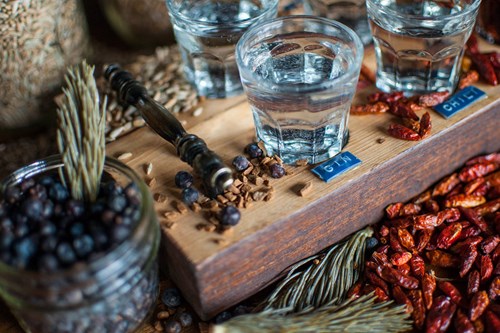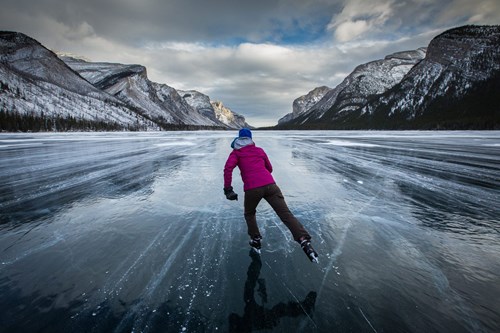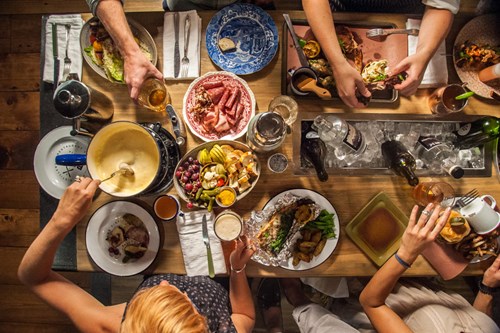 Ice skating
A game of pick up or shinny hockey is a classic Canadian past time, however, chances are, if you're anything like us, skating isn't your strongest skill. Luckily you can leave the hockey to the Canadians and simply wobble around on your skates on one of the most picturesque ice rinks in the world. Lake Louise. During the winter the lake freezes over and you can skate on the natural rink in some stunning surroundings. The Fairmont Chateau maintains the surface and there's a hut to take a break and warm up your fingers.
There's plenty of other ice rinks dotted around Banff but up at Lake Louise is the cream of the crop. It's iconic. If you're there during the Ice Magic Festival (normally towards the end of January) the ice carvers create a huge ice castle on the lake as well as some interesting sculptures.
Park Distillery
If all this is sounding a little alcohol-less to you, then this next suggestion should help. The Park Distillery creates it's magic in the self-proclaimed 'purest place on the planet', though we wouldn't argue with the sentiment. Glacial waters and high-altitude family grown grain go into the spirits, produced in small batches with some wicked flavour.
You can hop on a free distillery tour, they run daily at 3.30pm, we'd advise booking as they do fill up fast. Get to know the process behind the delicious tastings. Or step into the restaurant for some campfire inspired cooking and twin the grub with a boozy flight. All six of the housemade spirits in one sitting, maybe call a cab home. Take a look at the drinks menu here.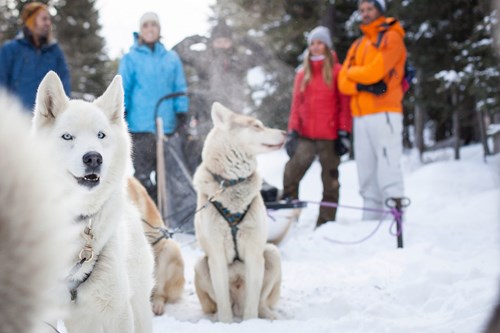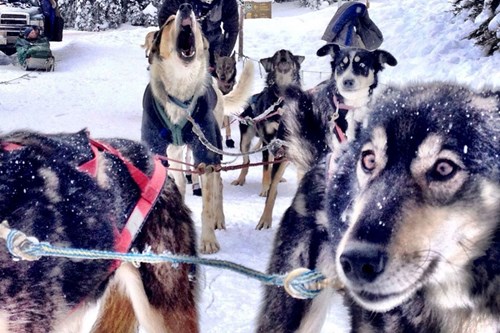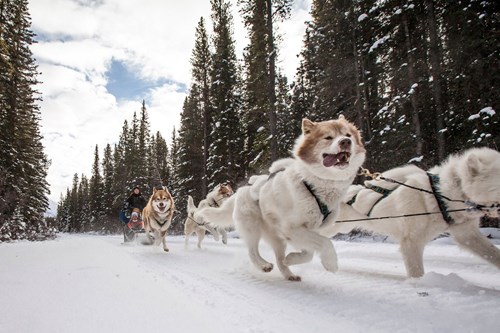 Dog sledding
So we've picked off the peas and gobbled the potatoes, we've come to the main event, the great big juicy slab of Wagyu steak. That's right, we've saved the best till last. Now if you could close your eyes and think about bucket-listly-epic (non-ski/snowboard) winter escapades, go on give it a try. If you haven't just thought of dog sledding then we'd like to know what you did think of. Dog sledding is what we thought of. And deep in Canada's oldest national park, brimming with life and spectacular scenery, we couldn't think of a better place to try it out.
It's time to make some awesome dogs incredibly happy, by sprinting through the snow and releasing some of their relentless and pretty contagious energy. Forget about horsepower, dog power is far superior. You'll get to know the dogs who'll take you through the frozen wilderness along with a skilled musher. Kingmik dog sled tours offer some fantastic experiences with 90 dogs and 11 full time mushers, you'll learn about the history and environment whilst you're snuggled up in a low slung sled watching the sights fly by. If you only do one thing on this list whilst you're in Banff make sure you get on a dog sled.
We're happy to recommend and book any of these experiences for you, give our ski specialists a call on 0208 939 0862 if any take your fancy.
There's even more information including restaurant, tour and site seeing recommendations on our partner's site; Travel Alberta.