A Guide To Spending New Year In Banff
Liking the sound of hurtling down the mountains all day followed by some seriously lively après? Or perhaps just tootling through the  trees to take a long lunch in some off the beaten track mountain hut before curling up beside the fire in your cosy suite with a nice bottle of red? Who could blame you for slipping on your slippers when you're on holiday?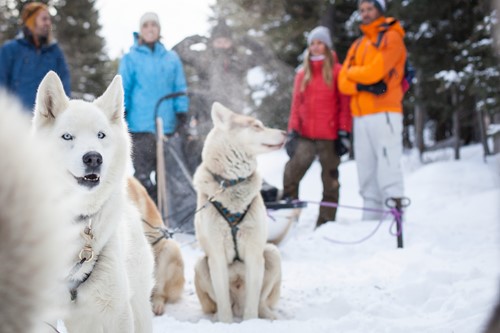 New Year's in Banff, Canada
Possibly more of a wildcard than the European options and you may want to go for slightly longer given the 9 hour flight time involved. Though with what Banff offers it's worth it in our eyes. A spectacular transfer from the airport takes you through the Rocky Mountains and Banff national park. The wild elk and caribou are a welcomed upgrade to Europe's marmot spotting and the nature of the place continues to impress.
The ski area is split over three mountains, each worth plenty of your time and the main town is separate from each. Lively all year round, it's a mini city break within your ski holiday. You can head over to Lake Louise for a couple of nights with spectacular views across the lake from the Fairmont Chateau.
So what would a ski trip to Banff look like?
You're heading to the oldest national park in Canada, amongst the towering Rocky Mountains and more wildlife than you can shake a Jumanji-an stick at. The ski areas are coated with the lightest, fluffiest snow in epic proportions. Sweeping, tree lined greens, impressively exploratory blues and wide, open black bowls packed to the rafters with fun. And the skiing is just the beginning.
Banff's winter experiences
Banff is packed with experiences jumping out to be discovered. It's what makes the resort a world-class winter destination that surpasses the mere realms of skiing. You can test out a couple of the following:
Relax watching the world go past being whizzed through fantastic winter-scapes by a sled drawn by Huskies
Spend a day lounging in the highest hot springs in Canada (it's a great spot in the mornings)
Go on winter ice walks through amazing landscapes such as the Johnson Canyon Ice Walk - well worth checking out
Ice skating, there's plenty of rinks or head up to Lake Louise for a spectacular natural lake rink
Tour a distillery that creates's its magic in the self-proclaimed 'purest place on the planet' - we're not arguing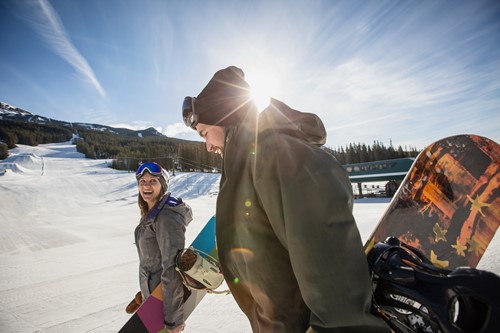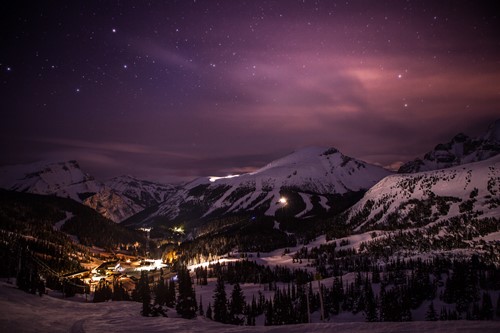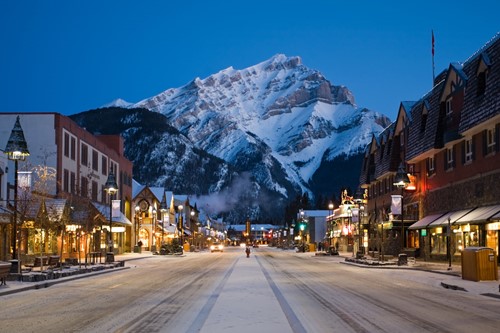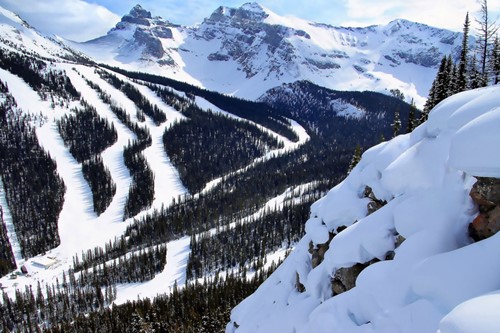 Example Itinerary, 7 nights from 26th December
- 26th December - Hop on your trans-Atlantic flight and tuck into the complimentary food and drinks - if you want to eat peanuts and drink mojitos all flight you can. Just save a little time for the new release films and napping so you're ready to tackle the mountains on arrival.
- The transfer is less than 2 hours and you'll take in plenty of scenery on the way. The eco-system linking wildlife bridges are something that caught our intrigue. You can check them out at National Geographic here.
- If you're not in awe of nature by the time you get to resort then you'll just have to get in and amongst it in the coming days.
- Hotels - The Elk + Avenue has a nice central position complete with hot tub and chic mountain design. A decent price tag is another reason we like it. There're plenty of other options from your basic bolt hole to castle-in-the-Rockies luxury.
- Eating out - Most hotels are room only or bed and breakfast giving you ample freedom to explore Banff's culinary scene.
- The Park Distillery is a definite highlight, grab a distillery tour and tasting session or head to the restaurant for some campfire inspired grub. They have the cleanest Vodkas around and if you like the smokey-savoury style you're in for a treat.
- The skiing part - Norquay is the smallest of the areas at just 190 acres. Great nursery slopes for beginners and plenty of tree lined runs to get your ski legs going. The blacks can be steep offering testing descents for the most advanced skiers. And best of all it has night skiing so you can always come here in the evenings.
- Sunshine Village and Lake Louise make up the bulk of the terrain and you could happily spend a week in each. Sunshine Village is the closer of the two and you could spend most of your time here. Free ski guides (locals that will take you round the mountain) operate twice a day from the ski school meeting point. A great way to get to grips with the area.
- Après ski tends to be a little later on as the town isn't connected to the slopes, Wild Bills is a line dancing phenomena we'd highly recommend. Don't be shy, give it a go yourselves.
- New Year's Eve itself is a street party affair; bars and restaurants will be super busy and storytellers, campfires, music, games, and food stalls will line the streets. Fireworks mark the clocks striking midnight. Make sure you grab a warming hot chocolate for the spectacle as it's going to be cold.
- Non-ski activities - One of the best things about Banff is the natural beauty of the place. It's well worth taking some time to explore. Fancy a husky dog sledding experience or ice skating on, possibly and quite probably, the most picturesque ice rink in the word? It's part of everyday life here.
- 2nd December - unfortunately, it's time to head home. There's still Fast & Furious 74 to look forward to on the flight back across the pond.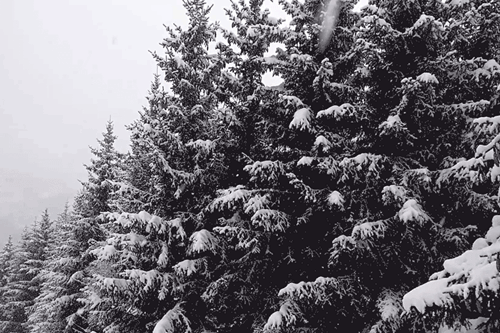 We hope you have an awesome winter experience and will think twice about attending your dodgy mates 90's themed house party next New Year's Eve.