A Guide To Spending New Year In Trysil
Perhaps it's time to leave the disco ball in the cupboard, forget the stay-cation and run far away from the mass crowds in central London. Grab a real winter experience over the festive break and head for the snow, strap on some ski's and down those un-pronounceable shots/liqueur-soaked pear pieces to get into the light-hearted spirit of the mountains.
New Year's in Trysil, Norway 
Trysil may not be on your radar until just now, but, it's a fantastic spot if you're looking for a well-rounded winter experience. On New Year's Eve, they put on a torch lit descent followed by fireworks. A family favourite with hotels featuring bowling alleys and climbing walls in the pool, the slopes are pristine and empty. When you do get off the pistes you may want to try your hand at ice fishing or husky sledding.
So what would a ski break in Trysil look like?
The Radisson group have two hotels in Trysil both have fantastic facilities and sit in ski in, ski out positions. To top it off they offer some serious value for money and the flexibility of a slinky when it comes to check-in dates and durations - even over peak dates.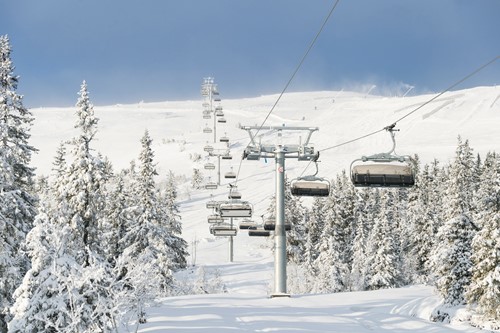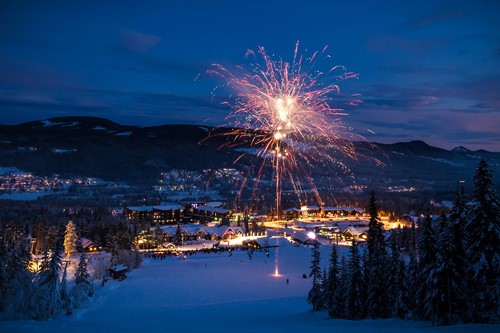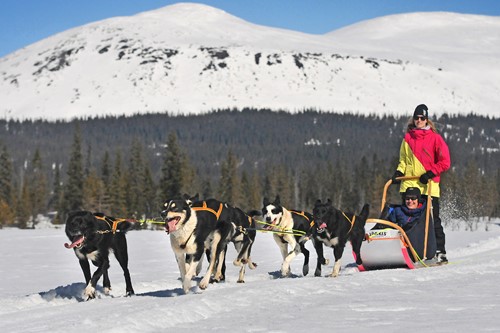 Example itinerary, 5 nights from 28th December
- 28th December - the flight from London to Oslo take two hours so pretty similar to most ski destinations in Europe.
- Transfers - We'll match your shared transfers to leave about an hour to an hour and a half after the plane lands. This gives you enough time to get through customs, head to the toilet and grab a bottle or water or a coffee, without panicking for time.
- Last time we went we hired a car, it's pretty much one long, straight, empty, tree lined road all the way to Trysil. It gives you a little more flexibility, both to stop off on the way at some nice frozen lakes and scenic spots as well as getting around in resort.
- The transfer is just under 3 hours, so you'll get into resort in enough time to grab you hire equipment after check in and collect your lift pass ready for first lifts in the morning.
- Evenings - Head back to the hotel for a dip in the pool, cheeky sauna, there's even a Flowrider for a spot of surfing or try out the bowling alley and mini arcade. Re-ignite your childhood love of air hockey.
- There's a couple of restaurants to choose from in the hotel, whether you fancy Italian style pizzas, American diner burgers or a more refined brasserie style. 
- There's also a couple of places in the village above the hotel (2 minute walk) Happy Faces is worth one night with some fantastic burgers and, oddly, sushi as well. It's delicious and has rave reviews to back up our testaments.
- Night skiing - Every Tuesday, Friday and Sunday there's floodlit night skiing included on your lift pass - a novel experience to see the town lit up below you.
- The slopes are wonderfully groomed with plenty of tree runs to explore and views into Sweden from the summit. We highly recommend the blue and green slopes of Vihammerskogen that lead down to the Hogegga lifts, you'll have to look it up on the piste map, but we loved flying through the trees in this section. Could spend all day playing around here.
- There's plenty of options for kids including Valle's World where they can meet and learn to ski with others their age, along with a massive skiing snowman.
- New Year's Eve hosts the torch lit descent, a spectacle to watch the snakes of flames winding down the mountain before the fireworks add to the stars in lighting up the night sky.
- Apres - Restaurant Laavan 1790 is the place to head to for a little après straight off the slopes (you're technically still on them). It's always lively with plenty of table dancing, though it begins to wind down as dinner approaches.
- 2nd January - pop your skis back to the hire shop if you haven't done this already and hand in your lift pass to claim the deposit back (you can buy a coffee at the airport with it). Meet the transfer and head back to Oslo.
- Something worth considering would be to spend a few days in Oslo before or after the skiing, it's a fantastic city so would be a shame not to.