Where To Eat In Whistler
We all come to Whistler for the mountain. Fantastic skiing, superb snowboarding and friendly locals. But let's not forget another love of our lives, food. Here are a few of our favourite places to indulge.
An Australian Canadian love affair brought the Aussie meat pie to Whistler's shores. Grab your pie, pile on the mash, dump the peas on top - you've just been peaked, then smother it in gravy and dig into pie heaven. Go mental, it tastes mental, it's bloody delicious. You can even grab them frozen to cook in the comfort of your own apartment. 
At the north end of the village, peaked pies is on main street - 10 minute walk from Skiers Plaza (main gondola station) but boy is it worth it. Stop off and grab your picture with the Olympic rings whilst you're there.
Whilst you can ski right up to the huge outdoor patio near the gondola in Creekside, this isn't the reason Dusty's has been a local staple for decades. A BBQ heaven full of slow cooked, pull apart meats slathered in BBQ finger lickin' sauce. It holds the Canadian BBQ championships each year if you need further proof.
A western saloon style full of legend and lore going back to a stuffed horse riding into Whistler in 1979 and coming to life in the bar 10 years later. The locals come here to let loose, swap secret snow stash stories and sing along to the live bands after an epic mountain day.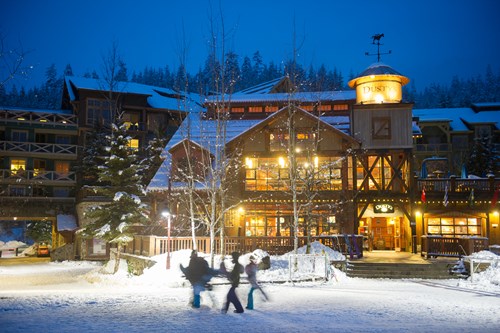 This is your ticket to a top of the mountain breakfast before the lifts open. It'll be just you and the other fresh trackers who'll get to ski the first lines of the day. You'll be at the top before anyone else leaves the bottom. 
Head up the Whistler Village Gondola between 7:15 - 8am and step into the Roundhouse Lodge for a seemingly endless buffet style breakfast. When the bell rings the mountain is open. Head out, snap on your skis and enjoy the empty mountain. Stay high to keep ahead of the crowds for a few more runs.
Starting out as a family of bread lovers, their baked goods caught on quick, whirled up a storm and transformed the face of baking in Whistler. You can't step foot in here without being enticed by the dribble inducing array of beautiful cakes, brownies, pastries, macaroons, meringues, salted caramel bars, cookies, tarts, scones, muffins, brioche, croissants and of course, breads.
In the north village next to the Olympic Plaza, it's a delicious treat that you won't feel so guilty about after a rip roaring day burning off the calories on the slopes. How about a chocolate packed outrageous brownie to tuck into after lunch?
Fantastic fish and vegetarian dishes are on the menu but Sidecut earns its stripes with the steak. Heavenly cuts that melt in your mouth. We think it's the best steak we've ever had. Complete with signature rubs and some seriously tasty sauce, make sure to try the 'Yuzu Wisely'.
In the upper village, Sidecut is part of the Four Seasons' hotel. It is a little walk from the main village but it's well worth the trip out. Sit around the fire pits on the terrace for a post dinner tipple.
If you're looking to get out to Whistler this season take a look at our North American offers or give one of our ski specialists a call on 0208 939 0862. Pete used to work in Whistler and will happily chat about the place all day long if you let him. Just don't mention Creekside if you're short on time. You've been warned.