Our Favourite Après Ski Spots In St Anton
Après ski in St Anton is one of the major draws of this unassuming Austrian ski resort.
St Anton is our most requested resort and, once you've experienced its après ski scene, it's not hard to see why. Packed full of buzzing bars, restaurants and clubs, this small village certainly makes an impact when it comes to après. Add to that its 340km ski area, one hour transfer from Innsbruck, and abundance of flexiski operated short break chalets and you've got yourself the perfect ski weekend.
For those of you hoping to let off some steam on your next ski break we've put together a guide to our favourite après ski in St Anton. With numerous party venues across the slopes and seemingly endless options down in town, you won't be short of options here. It's time to step out of your skis and get boot stomping in one of St Anton's famous (or should we say infamous) après bars. There's nothing we like better than raising a beer stein to good times as we take in that mountain sunset.
The best spots for après ski in St Anton: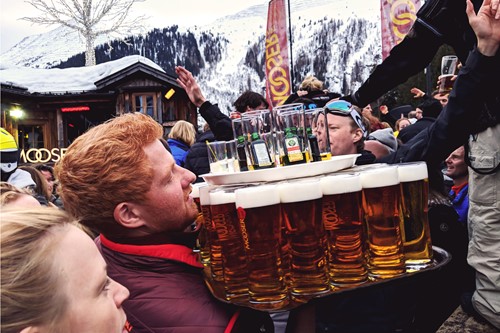 1. Basecamp
At the base of the Gampen lift, Basecamp is one of our favourite places to grab a few beers at the end of the day. Located at the foot of the slopes, you won't miss Basecamp or its huge umbrella bar out front. The central bar dishes out an impressive array of drinks and there's a DJ playing here every afternoon. They've also started to do more and more live music in recent years, so we're hoping this continues. There's nothing quite like a live saxophonist for creating a party mood.
Kandaharweg 13, 6580 St. Anton am Arlberg
Up on the piste, this place gets rocking. Every table is crammed full of revellers dancing their hearts out - the Mooser is the place to be for après ski in St Anton. There's an umbrella bar on the outskirts which is slightly easier to get served at, though your best bet is to wait till the superhumanly-strong bar staff come through the crowds with a mega tray full of beers, Jägerbombs and shots of Schnapps; just grab a couple and pay your way for table service at its most amazing. Don't forget that you'll need to take a short run back down to town from the Mooser, although it is possible to walk it if you really can't be trusted.
Unterer Mooserweg 2, 6580 St. Anton am Arlberg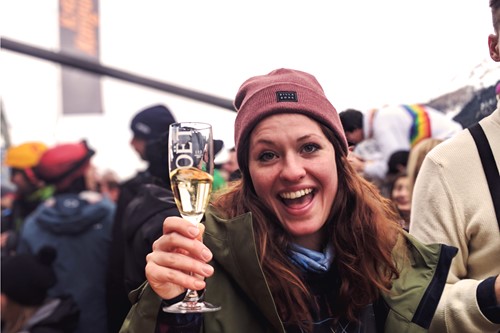 Just across the piste from the Mooserwirt, the Krazy Kanguruh is the other big name on St Anton's après scene. Owned by the recently crowned Olympic slalom champion Mario Matt, KK's is a great place to have a relaxed beer until around 3pm when the music turns up and the après ski kicks off.
This bar is where you're most likely to bump into someone buying a bottle of champagne as big as your car and getting the entire bar in on the act of trying to finish it off. It definitely gets the party going. Just be prepared for a wobbly ski down... though the biggest danger here is definitely the other revellers on the slopes.
Mooserweg 19, 6580 St. Anton am Arlberg
KK's slightly less well-known neighbour, Taps, has long been a ski instructor favourite. If you're visiting at the end of the season, don't miss the famous Taps race, where seasonnaires and holidaymakers race down the piste in various different receptacles.
Mooserweg 17, 6580 St. Anton am Arlberg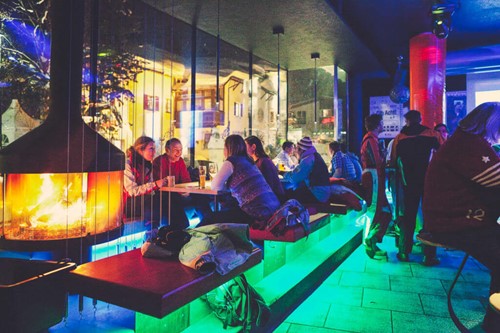 5. Underground on the Piste
Located on the Galzig piste and tucked away in a wooden chalet, you'll find Underground on the Piste. Underground may not be the sleekest ship in St Anton but, when the drinks are flowing and the atmosphere is buzzing, you can't fault it. Live musicians are known to entertain the crowds by handing out various instruments to play along with during après, so it's an experience you're unlikely to forget… Plus, the bar's owner (Joan) is a great laugh. 
Rudi-Matt-Weg 9, 6580 St. Anton am Arlberg
Sat at the base of the Galzig gondola and situated within Hotel Anton, you'll find Anton Bar. An excellent option for those of you looking to escape the crowds in search of something a little less rowdy, Anton Bar offers an open fire and a laid-back soundtrack. Find yourself a seat and discuss the day's on (or off) piste antics in style.
Kandaharweg 4, 6580 St. Anton am Arlberg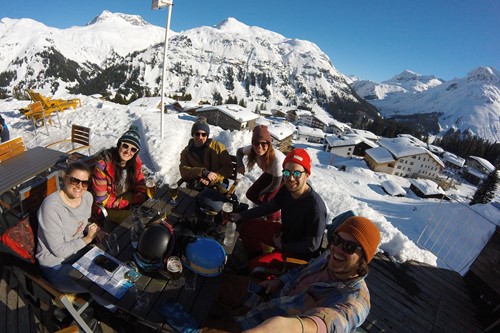 You'll find Heustadl on the left hand side as you head down the Blue 1 down to St Anton. Featuring a stage and live music, Heustadl is another slightly less exuberant après ski option. Oh, and if you're skiing on a Sunday, don't be put off by the lack of live entertainment, because this is the one day of the week you'll find a DJ instead. 
Dengertstraße 625, 6580 St. Anton am Arlberg
Both of these bars are located in town and not on the piste, we still felt they were worth a mention. Partly due to each bar's signature tropical cocktail, named 'Love Juice' in Bar Cuba and 'Party Island' in Scottys (our personal favourite). Both bars offer excellent après atmospheres and we'd recommend heading to either of these after having some dinner. Monday means 2 for 1 cocktails from 10pm until midnight at Scotty's, so it's an excellent place to get the party started.
Bar Cuba: Dorfstraße 33, 6580 St. Anton am Arlberg
Scotty's: Arlbergstraße 63, 6580 St. Anton am Arlberg
Looking to plan a short ski break or ski weekend to St Anton?
Our Ski Sales Specialists are on hand to help you organise every aspect of your trip. We specialise in tailor made packages and ski breaks outside of the usual Saturday - Saturday format and offer three flexiski operated chalets and a selection of hotels in St Anton.
If you'd like to learn more or want some help putting together a package just give us a call on 01962 587777.
A few extra snaps of the St Anton après ski scene: