Why Plan A Sunday To Wednesday Ski Break?
Midweek skiing is becoming more and more popular as hotels and chalets are finally adapting to the short break model. Weekend days certainly come with a premium, with Friday and Saturday nights costing significantly more. So, why not avoid those peak day prices by opting for a midweek ski break?
Here at flexiski, we generally operate on a Thursday to Sunday, Monday to Thursday or Sunday to Wednesday format, and we know which days we'd pick. Skiing Sunday to Wednesday means taking just one more day of annual leave and the price savings are more than worth that extra holiday day. An opportunity to escape the office without breaking the bank? Where do we sign up?!
And it's not just the hotels putting prices up on the weekends. You'll also find that flight prices come out significantly higher if you're looking to return on a weekend in time to get to work on Monday. Delaying your flight out until the Sunday means you'll save a tidy package and still get the same number of ski days out on the mountain.
Benefits of skiing Sunday to Wednesday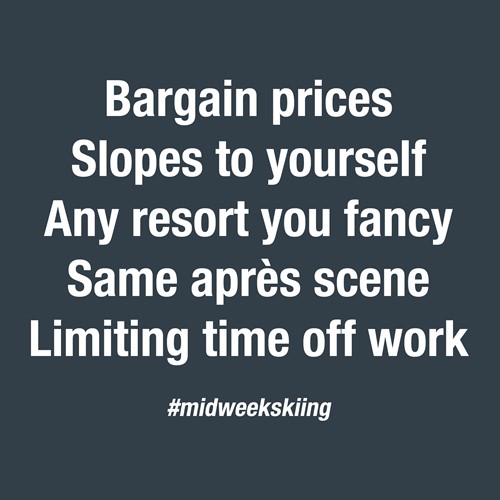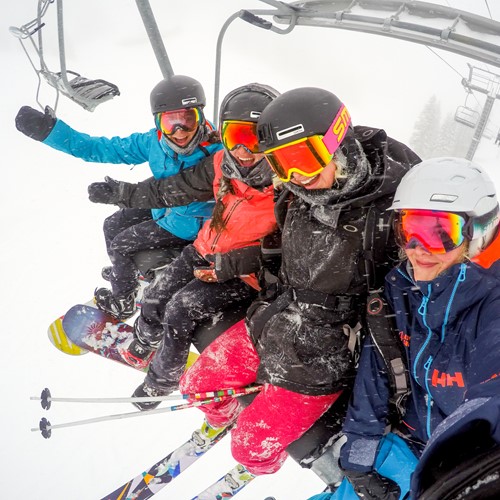 What are the advantages?
Flexiski puts together tailor made midweek ski breaks, even offering fully catered short break chalet options. A quick trip out to the slopes can provide the perfect opportunity for beginners to give snowsports a go or for advanced skiers to escape the grind at short notice. Whatever your requirements, we really are midweek specialists here at flexiski.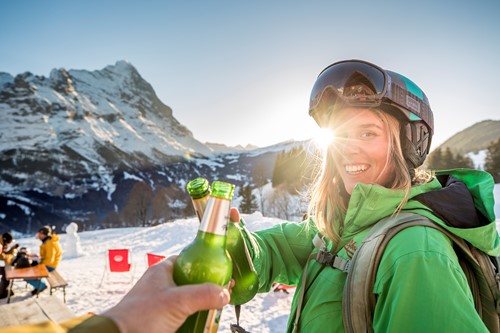 Price
Midweek breaks will save you money. Fact. If you fly out early on Sunday morning and fly back late on Wednesday evening you'll fit in four days of skiing. You'll also spend far less than you would if opting for a weekend break. 
Flight prices and hotel rates are lower when flying out on Sundays, giving you some thrifty savings to splurge on long mountain lunches or new ski gear. What's not to love about that?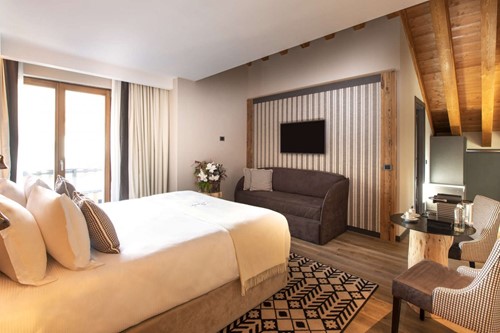 Availability
In hotels and chalets alike, weekends will always sell out fast. Midweek breaks will give you much more flexibility when it comes to accommodation, so that's another strong incentive to fly out on Sunday. 
Not only will you have complete choice of the best resorts, hotels are also much more accommodating. You'll find our entire programme at your disposal: hotel, chalet or apartment, 3-5 star, the choice is in your hands.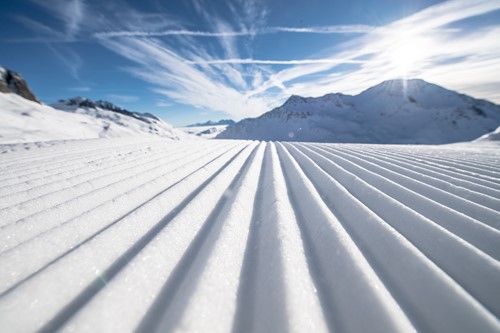 Quiet slopes
A major convenience for Sunday to Wednesday skiing. You'll miss the weekend crowds and find blissfully quiet slopes to yourselves. Locals flock to the slopes on Saturdays, so you'll certainly avoid the rush in resorts such as St Johann if you opt to ski midweek. 
This is great for beginners as they won't have to worry about weekend skiers flying past them whilst they perfect their technique. More advanced skiers will be able to enjoy perfectly groomed pistes for longer and explore the ski area efficiently, without getting caught up in long lift lines.
Save time
There's no need to take a full week off work to get your ski fix. The tailor made nature of flexiski means we can fly you out on any date. Whether it's your first taste of snow or your 500th, we're not always able to spend a whole week away from home and work. A midweek ski break makes sense. It's easier to fit in a couple of shorter breaks throughout winter than it is to account for a week-long holiday.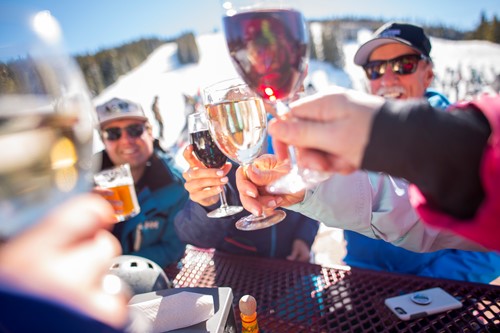 Après ski
In the major après resorts the weekends are irrelevant as the party continues all week. It doesn't matter whether you're there for Friday night or Monday night. You'll still be dancing on the tables with a cold beer in hand.
Take a look at our offers page, enquire online or give one of our Ski Specialists a call on 01962 587777 to find out more and see if we can find the perfect ski break for you.