A Guide To Skiing In Chamonix
Here's where to ski in Chamonix - from beginner-friendly to thrilling and fast, these slopes provide something for every type of skier.
We love Chamonix here at flexiski. If it was ski in, ski out with a few more beginner slopes it would be the king of resorts… As it happens, though, Chamonix is much more of a haven for intermediates. 
The ski area in Chamonix has a fearsomely challenging reputation; a resort for the veterans, the bolshie youths and the foolhardy, not those strapping on their skis for the first time. We'd argue that there was much more to skiing in Chamonix than this, though. It really just depends on how you look at the resort and its range of ski areas. 
With the valley of Chamonix sat at a fairly low altitude of 1,035m and the peaks reaching 3,840m, there is plenty of vertical descent to explore and find the slopes you are looking for. From the dramatic glaciers, peaks, steep drops and colouirs of the Aiguille du Midi and Grands Montets to the rolling hummocks of Domaine de Balme, Chamonix is a resort of many faces and we're here to de-mask its delights to help you decide where to ski in Chamonix. 
Best for beginners:
Here, we'll be telling you where you should be looking to ski if you're just starting out. After all, no one wants to be staring down what looks like a black cliff when you're trying to find a cruisey blue to kick your day off.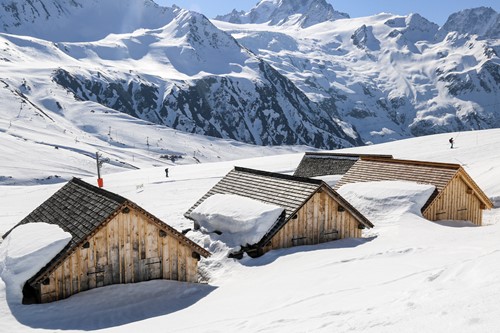 Le Tour and Vallorcine (Green and blue)
At the bottom of Le Tour there is a beginner area serviced by three drag lifts of various lengths and speeds that lead to wide green runs with wonderful views of the Le Tour glacier. If you go up the bubble, you'll get to an area full of blues. It's a wonderful area for progression or getting your ski legs back at the start of a ski break. Here, you'll also find a couple of nice mountain restaurants for lunch. At the top of the valley, this area goes up to around 2,200m and has 29km of slopes.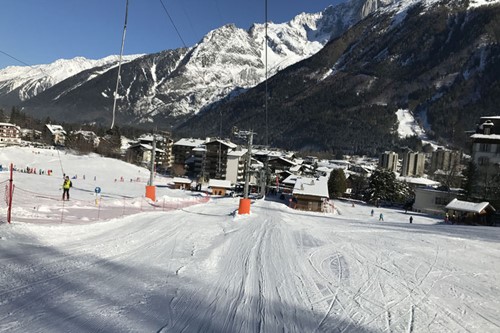 Le Savoy (Green)
At the bottom of the Brevent ski area, the beginner area is serviced by two drag lifts and a magic carpet for getting your first turns in. The area is linked to Brevent, which means if you have some more advanced skiers in your group you can ski the same area and easily meet for lunch.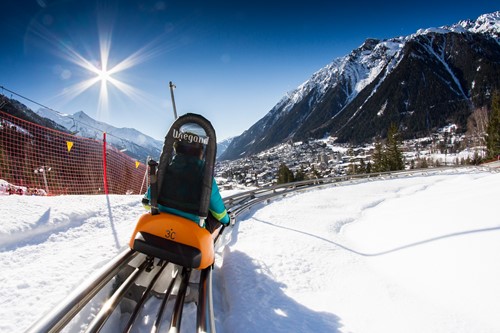 Les Planards (Green and blue)
This area is on the opposite side of the river, with a couple of drag lifts to take you up to the green runs as well as a chairlift for a blue piste to progress to. The restaurant has a large terrace at the bottom of the slopes, meaning non-skiers can watch all the action with a mug of hot chocolate in hand.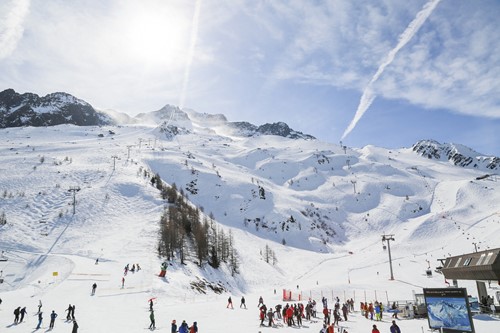 Grands Montets (Green and blue)
Les Chosalets, at the bottom of the Grands Montets ski area, offers a nursery slope as well as a gently meandering green run, from which you can see the cable car. Take this and you'll go higher up the mountain to some longer blue runs - the perfect inspiration to improve your technique. 
Chamonet.com recommends taking the Plan Joran gondola and then the Tabé chairlift to access some blue pistes, taking you back down to the Retour pendant and Tabé chairlifts. These runs are the best to progress on but can be challenging in parts so make sure you're ready. Take the gondola back down rather than trying to ski the reds down the mountain.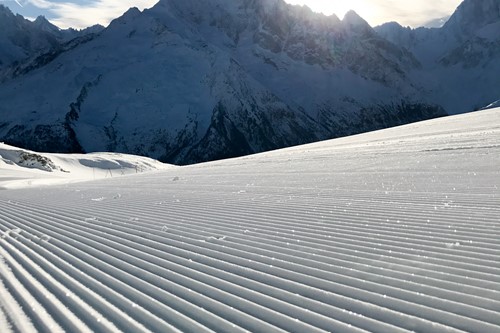 Le Brevent and La Flegere (Blue and red)
Reaching 2,525m, this is Chamonix's largest ski area with 57km of pistes and 15 lifts. There are slopes for all here, but it does seem a little steeper in general. The blacks and reds start to get icy by lunchtime and the greens can get pretty busy - so it's maybe not the best spot for tentative beginners. 
Brevent and Flegere are on the sunny side of the valley and close to the town centre. The area has a wide variety of runs, from cruisey blues to long steep blacks, as well as access to some challenging off piste itineraries. All the guides and locals we've spoken with unanimously named Flegere as their favourite area to ski. We'd highly recommend it for those of you looking to grab a guide and sample some of the off-piste that Chamonix is so famous for.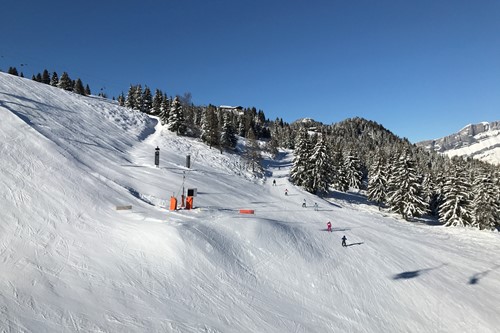 Les Houches (Blue and red)
6km down the valley from Chamonix centre, Les Houches is the home of long, rolling descents through the trees with fantastic views up the valley. This wonderful area is full of mountain restaurants tucked between the trees and served by runs for all abilities. There are 4 black runs, 13 red runs, 8 blues and 2 green runs spread over 55km of pistes including a world cup downhill slope.
The Kitsch-in at the bottom of the Bellevue has live music six days a week and a decent choice of local beers. Think retro 60s cafe on the slopes… Certainly an interesting post ski stop.
Best for advanced skiers: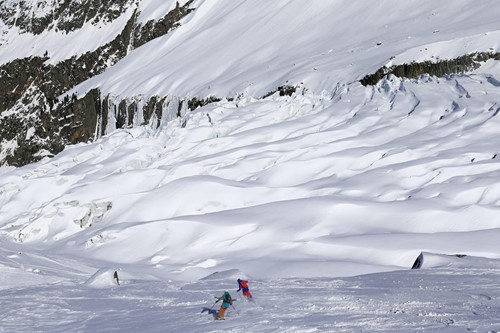 Les Grands Montets (Black)
Above Agentière and up the valley from Chamonix town, Les Grands Montets has a reputation for offering some of the most challenging pistes in Europe. This area has a big draw for thrill seekers and you can often see long queue lines here on powder days. However, we reckon it's worth the wait. Les Grands Montets rises up to 3,275m with North facing slopes holding their snow well into May. Along with the 29km of pistes, there's plenty of off piste to discover with a guide. A great area for deep exploration.
Aiguille du Midi - Vallée Blanche (Off piste)
Whilst there are no pistes from the top of the Aiguille du Midi this is an area full of world famous off piste itineraries. Hire a guide and, weather permitting, you can scale the ridge from the top of the lift into some fabulously long runs. Routes range from intermediate to highly advanced. Taking a guide will allow you to thoroughly enjoy some spectacular scenery on your 4 to 6 hour descent. Not a bad day's skiing at all.
How to get around Chamonix
All of Chamonix's ski areas are linked by the bus and train system that is included in your lift pass so there are no hidden costs there. The bottom line is that buses are a part of life in Chamonix. Once you know where your nearest stop is, though, (no more than 100m from any of our hotels) you pretty much forget about the hassle of it.
You'll find all the Chamonix bus timetables here and we've found that they run like clockwork. The website also gives you the latest snow reports, webcams, and lift opening status, so you can choose the best area to ski each day. Even if you get the bus timetable horribly wrong, you'll only ever have to wait a maximum of around 20 minutes. Not exactly world ending.
Brevent and Flegere are the nearest areas to the town centre, taking maybe 10 to 15 by bus. Grand Montets is a little further out, and Le Tour and Les Houches are the furthest - taking up to 45 minutes depending on which bus you take (the more direct ones that bypass Grand Montets are a lot quicker). We think the longer bus journeys are well worth it though, especially for Le Tour.
If you get up early you may find yourself sharing the bus with kids going to school, which was surprising and novel for us. The town is busy year-round, so it gives a very different feel to most ski resorts we've visited.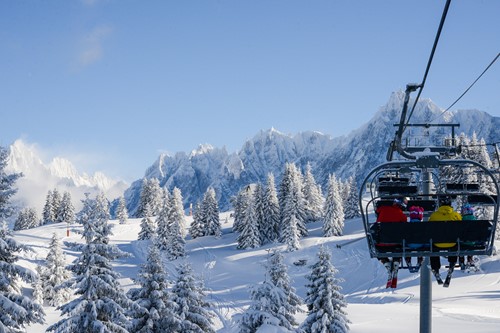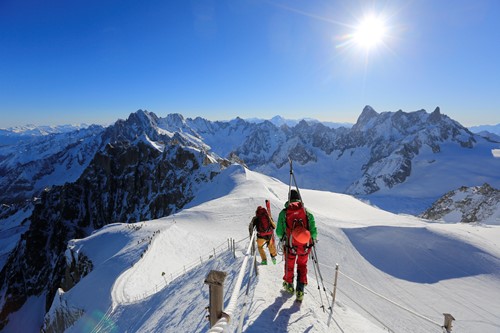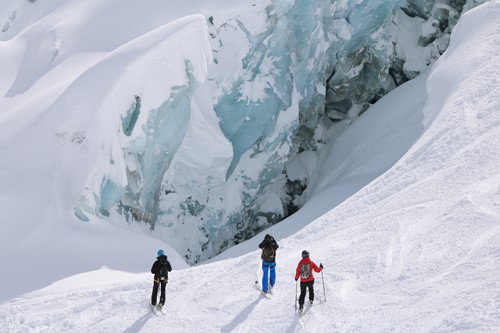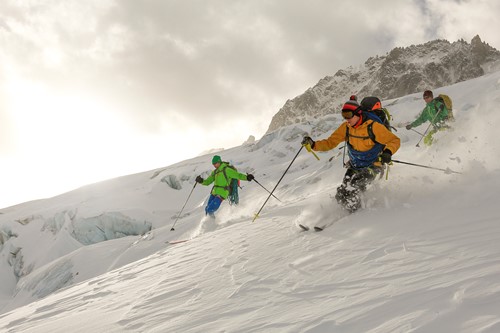 Off piste skiing in Chamonix
Chamonix is arguably the best off-piste ski resort in the world. There's plenty to discover here, from the infamous off piste routes in Vallée Blanche to the lesser known - and far less tracked - Combes de la Vormaine from Le Tour. We've teamed up with the Compagnie des Guides de Chamonix to help talk you through your options off piste.
Private guiding
Price: €500 for a group per day, maximum 6 persons.
This includes transportation in and out of the valley in a private minibus, guide's fee and technical gear (transceivers and harness for off-piste skiing).
This is ideal for a group of friends or a family. Here, you can decide where you want to ski; including a day to the Vallée Blanche. You can expect a full day with a guide until 4.30pm. If you'd like to keep things short and sweet it's €300 for a group for a half day, maximum 6 persons. This is, of course, dependent on availability and during peak season half-day guiding is rarely available.
Off piste group session
Price: €92 per person for one day €250 per person for three days
This includes transportation in and out of Chamonix, guide's fee and technical Gear (transceivers and harness for off-piste skiing). 
This option is ideal for one or two people wanting to join an off piste ski group. You won't be able to choose the destination as the guides decide where they'll go the night before depending on snow conditions and group level. You'll need a good ski level (confident on groomed red and black runs) and some experience in deep snow as a minimum.
Vallée Blanche group session
Price: €89 per person for one day
This does not include the transportation. You will meet the guide at the Aiguille du Midi lift. This is easily walkable from the town centre and the vast majority of our accommodation options. The price includes the guide's fee and the technical gear (transceivers and harness). You will be back down in Chamonix around 3pm.
Perfect for one or two people looking to join a Vallée Blanche ski group for the day. Here, you will be mixed with other skiers and riders of all nationalities. Available every day from mid-January through May, depending on the snow conditions. You should allow 4-6 hours for route completion. You'll also need the same good ski level as previously stated.
Final thoughts...
Whichever area you choose to ski in offers more than enough to occupy even the best skiers for a whole day. And, if you want more, it's easy enough to hop across the border to Italy to ski in Courmayeur for a day (there's a bus to take you there for €15 return with a Mont Blanc Unlimited lift pass) or down to Megeve (which is even on the piste map).
It may not be the ski in, ski out convenience many are used to but you'll feel like you get to ski a completely different resort each day. There are more restaurants, bars and shops in Chamonix than you could possibly sample in a month let alone a few days. And that's not to mention what's on offer for non-skiers. The Aiguille du Midi is the second largest tourist draw in France after the Eiffel Tower and the train to the stunning Mer de Glace (glacier) and ice cave is well worth a try.
 Looking to plan a short ski break or ski weekend to Chamonix? 
Our Ski Sales Specialists are on hand to help you organise every aspect of your trip. We specialise in tailor made packages and ski breaks outside of the usual Saturday - Saturday format and offer a selection of hotels and self-catering accommodation in Chamonix. 
If you'd like to learn more or want some help putting together a package just give us a call on 01962 587777.